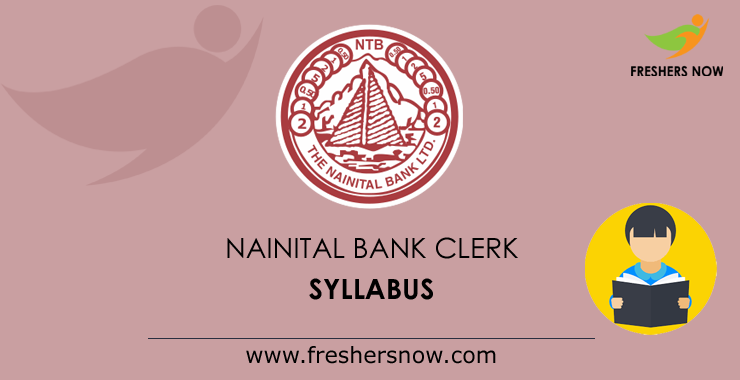 Nainital Bank Clerk Syllabus 2020 & Probationary Officer Exam Pattern PDF Download: Nainital Bank officials will conduct the Clerk & PO Exam for all the candidates who have applied for the Written Test. Moreover, we have given you the Nainital Bank Selection Process along with the Nainital Bank Exam Pattern for the Clerk, Probationary Officer Posts in detail. Go ahead and then check the details. Also, start preparing for the Nainital Bank Clerk, Probationary Officer Written Test by downloading the Nainital Bank Syllabus 2020 PDF through the link attached below.
You Can Also Check: Nainital Bank Syllabus & Nainital Bank Recruitment
Nainital Bank Clerk Syllabus 2020 – Overview
Nainital Bank Clerk Exam Syllabus 2020 – PO Exam Pattern PDF Download
Organization Name
Nainital Bank
Post Name
Clerk, Probationary Officer
Category
Syllabus
Selection Process

Written Test
Personal Interview

Job Location
Across India
Official Site
nainitalbank.co.in
Nainital Bank Selection Process 2020 – Clerk & PO
In this section, we had given the Nainital Bank Clerk Selection Process 2020 for the sake of applied aspirants. Applicants first attend the Nainital Bank Clerk Written Test as per the selection process. To crack the Nainital Bank Written Exam candidates must know the Nainital Bank PO Syllabus 2020. By knowing the syllabus aspirants can easily score good marks in the written test. After the written test, applicants need to attend the final round that is Personal Interview.
Written Test
Personal Interview
Nainital Bank Exam Pattern 2020 – Clerk, Probationary Officer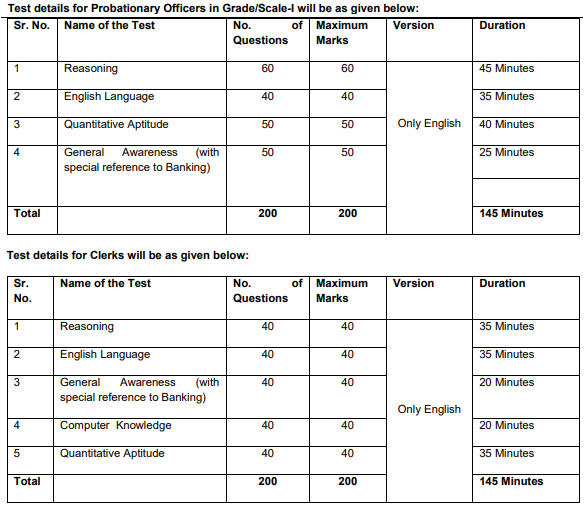 NOTE: There will be a negative marking of 0.25 Marks for each wrong answer. The number of Answer choices per question is 5 Options.
Download Nainital Bank Syllabus 2020 PDF
All the aspirants download the given subject wise syllabus topics of the Nainital Bank Clerk Written Test. And also start your preparation from now onwards. And also grab a job in the Nainital Bank as a Clerk. This Nainital Bank Syllabus 2020 PDF helps you to gain good marks in the written Test. And also applied candidates concentrate on the high weightage syllabus topics.
Nainital Bank Clerk, Probationary Officer Syllabus
Reasoning
Number, Ranking & Time Sequence.
Deriving Conclusions from Passages.
Logical Sequence of Words.
Alphabet Test Series.
Arithmetical Reasoning.
Situation Reaction Test.
Coding-Decoding.
Direction Sense Test.
Analogy.
Data Sufficiency.
Clocks & Calendars.
Statement – Conclusions.
Logical Venn Diagrams.
Statement – Arguments.
Inserting The Missing Character.
Puzzles.
Alpha-Numeric Sequence Puzzle.
English Language
Reading Comprehension.
Jumbled Sentence.
Phrase Replacement.
Sentence Improvement.
Cloze Test.
Fill in the Blanks.
Wrong Spelt.
Fill in the blanks (Infinitive, Gerund, Participle).
Identify the sentence pattern.
Find out the Error.
Select the correct Plural forms.
Identify the sentence.
Identify the correct Degree.
Form a new word by blending the words.
Form compound words.
Alliteration.
Allusion.
Simile.
Metaphor.
Personification.
Oxymoron.
Fill in the blanks with suitable Preposition.
Select the correct Question Tag.
Onomatopoeia.
Anaphora.
Ellipsis.
Select the correct Voice.
One Word Substitution.
Error Spotting.
Active Voice and Passive Voice.
Direct and Indirect Speech.
Match the following words.
Choose the correct 'Synonyms'.
Select the correct word (Prefix, Suffix).
Fill in the blanks with a suitable Article.
Select the correct Tense.
Repetition.
Apostrophe.
British English – American English.
Quantitative Aptitude
Mixture & Allegations.
Time and Work & Pipes and Cisterns.
Speed, Time & Distance (Train, Boats & Stream).
Mensuration.
Trigonometry.
Geometry.
Number System & Simplification.
Time and Work.
Probability.
HCF & LCM.
Algebraic Expressions and in Equalities.
Average.
Percentage.
Profit and Loss.
Number System.
Speed, Distance, and Time.
Simple & Compound interest.
Ratio and Proportion & Partnership.
Data Interpretation.
Number Series.
Computer Knowledge
Computer Hardware.
MS Word.
Computer Software.
MS Excel.
Internet Usage
MS Power-Point.
Operating System.
General Awareness
Abbreviations.
Science – Inventions & Discoveries.
Current Important Events.
Current Affairs – National & International.
Awards and Honors.
Important Financial.
Economic News.
Banking News.
Indian Constitution.
Books and Authors.
Important Days.
History.
Sports and Games.
To Download Nainital Bank Clerk and PO Syllabus 2020 & Exam Pattern PDF – Click Here
Note: The above-provided information is for reference purposes. So, check the official site for more details.
To get more latest updates regarding the Results, Admit Cards, Previous Papers, Syllabus, Private, Govt Jobs, Answer Keys Subscribe to our web site Freshers Now. Thank you.
Nainital Bank Clerk & PO Syllabus 2020 – Frequently Asked Questions
For how many marks, will the Nainital Bank PO, Clerk Exam be conducted?
The Nainital Bank Clerk & PO Exam will be conducted for 200 Marks.
How many number of Answer choices will be there in each question of the Nainital Bank Clerk & PO Exam?
5 Options
What is the version of the Nainital Bank Question Paper?
English.
Which subjects should be covered for the Nainital Bank Clerk Exam?
Reasoning, English Language, General Awareness, Computer Knowledge, Quantitative Aptitude.