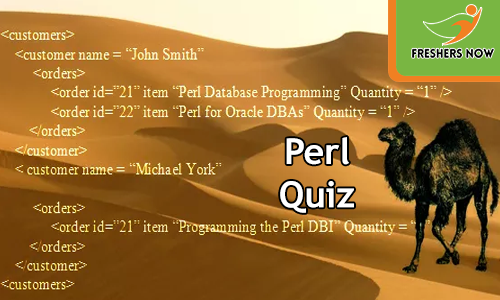 Aspirants can check their level of performance in Perl Quiz through this article. Here we are providing you with the complete information regarding the Perl MCQ Online Test, an overview of the quiz, benefits of taking the test, how to check your results, etc. Nowadays candidates are showing a lot of interest to practice quizzes to learn how to improve the time management skills. Keeping this point in mind, we are furnishing a Perl Online Test in the form of Multiple Choice Questions and Answers. Here contenders can attend the test from the beneath sections to improve their accuracy and speed. So, candidates who are interested in taking the test can go through this page thoroughly.
Perl Quiz Details
| | |
| --- | --- |
| Quiz Name | Perl |
| Category | Technical Quiz |
| Number of Questions | 25 |
| Time | No Time limit |
| Exam Type | MCQ (Multiple Choice Questions) |
Candidates can check the above table to get an overview of the Perl Quiz. We are providing you with the number of questions asked in the online test, time limit allocation, type of the exam, and a lot more other details. So, contenders need to check the above table before anything else in this article. Also, candidates who are willing to practice the test can move to the next section, but before that try to check the instruction that is present in the next session.
You can also check: Perl Interview Questions
Perl MCQ Quiz Instructions
Here we are providing you with some instructions that you have to follow while taking the quiz.
There is no time limit to complete the test.
The total number questions are 25 questions.
Each question carries one marks.
Also, there are no negative marks.
Candidates have to click on Submit Test for submitting your answers. If you do not do so, the results will not be displayed on the screen. In addition to this, candidates should not refresh the page during the time of the test. Otherwise, there is a chance of losing answers that you have mentioned earlier.
Perl Online Test
About Perl Language
Perl start for Practical Extraction and Report Language. Also, it runs on various platforms like Windows, Mac OS, and multiple versions of UNIX. It is used for mission-critical projects in both public and private sectors. And, Perl is extensible, it supports Unicode, and is Y2K compliant. It also supports both procedural and object-oriented programming.
Benefits of Practicing Perl Quiz
Improve Speed, Accuracy, and Versatility.
Learn the skills to solve a problem.
To Enhance Coding Skills.
Maintain proper time management which is essential to qualify any campus interview.
How To Check Perl Programming Online Test Results
Results can be checked on the quiz page, as soon as you click on submit the test. Candidates have to know that, if you do not submit your test, then you cannot check your results.
Check a lot more details and relevant online tests on various other programming languages through our website Freshersnow.com