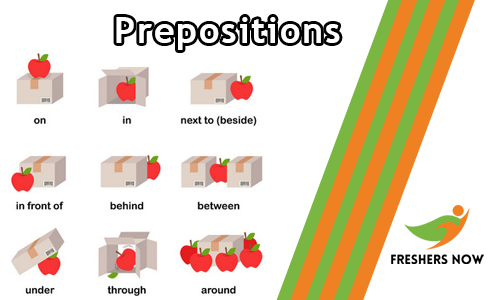 Are Prepositions a problem for you? Don't be panic. Our post provides you a Prepositions English Quiz. Therefore, this Prepositions Quiz guide you Where to use and when to use prepositions. This article will help you to crack Difficult entrance exams like SSC, RRB, Bank P.O's, CGL, UPSC and GRE, TOEFL. Look ahead you have an excellent opportunity for you to clarify your doubts. Prepositions English Questions make you confident on the topic. And, this post is not only for college students and competitive aspirants but also for primary and secondary high school students. Irrespective of age group this Quiz is helpful. Furthermore, in this post, we are providing you Prepositions Questions and Answers. And this is to recheck the answers that you have answered in the  Quiz. Move on the details we have provided for the Quiz.
Details of Prepositions English Quiz
| | |
| --- | --- |
| Quiz Name | Prepositions |
| Category | Verbal Ability Questions |
| Number of Questions | 27 |
| Time | 30 Minutes |
| Exam Type | MCQ (Multiple Choice Questions) |
The details here provided to you are the number of questions in the quiz are 27. And the time given to answer them is 30 minutes. So, hurry up, don't waste your time in seeing different exercises on the Internet. All the information regarding these is on this page. Moreover, this page gives you tips to solve questions in competitive exams for better performance. And, important points to the concept are available in this post. Here the below table gives you the complete details of the Quiz. Stick on to our page.
Prepositions English Online Test
About Prepositions English Quiz
Prepositions one of the parts of speech mean expressing relationships between two things or two nouns or two pronouns. It includes the relationships between the words in a sentence. And, It also helps out to understand where something is or when something happened. These are defined in different context everywhere you see. We can even end a sentence with these, but according to the situation we have to check its usage. Unnecessary usage is also a problem.
Types of Prepositions
Prepositions are of four categories. They are:
Indicating direction: Defines the directions of the locations or particular places in these type and helps to direct a location.
Specification of time: These tell us about the time indications like since 12:00 clock, for the past ten years and others.
Indicating location: Specifies locality of the action or any places.
Describing spatial relationships: These are according to the primary definition that means the relationship between two nouns or things.
Moreover, this parts of speech present other abstract types of relationships also with examples.
Benefits of practicing the Prepositions Quiz
You will get to know about the Concept by continuous practice of our Quiz on this page.
English vocabulary will be improved.
Evaluate yourself which is useful for competitive exams.
English communication is boosted up.
This Quiz helps to reduce the unnecessary use of this parts of speech.
Results of Prepositions English quiz
The view of results of the Quiz is in grades, points, and marks. The results entirely depend on your performance in the Quiz. Quiz results in extraordinary usage of this concept by you people. And, For more English improvement Quizzes continuously visit our site Freshers Now for further details.
Practice More English Questions and Answers