Punjab Government Employment List
Punjab Employment News 2021 List in Punjabi: Punjab government has now put an open tab for all the jobless contenders who are eagerly waiting for jobs in Punjab. Moreover, aspirants can visit the official website of Punjab for more queries and updates. Furthermore, contenders can easily grasp the information through our article. In general, some candidates are unaware of this Punjab Employment News 2021. So, we have decided to create awareness in all the candidates who are in search of this Employment News of Punjab.
New punjab.gov.in Employment Updates 2021
Moreover, aspirants who are eagerly waiting for the job notification of Punjab in both the Government and the Private sector can have a look at this page. Furthermore, the aspirants are unable to read the Employment News in English. So, we made it easy by providing the Punjab Employment News in Punjabi. For, more relevant information keep reading our web page.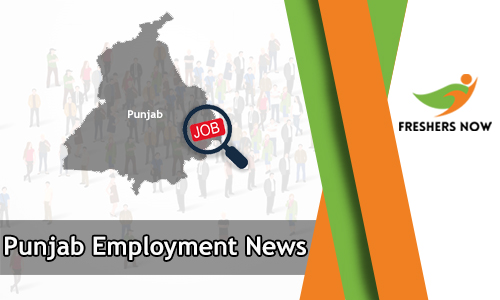 Punjab Employment News Paper 2021
Job Hunters who are hunting for jobs in Punjab get ready. Punjab Government is now inviting many Graduates and Postgraduates to test their luck. And also, the contenders who are 10th/ 12th/ graduate/ postgraduate can now apply for the job notifications that Punjab is releasing. The main thing every aspirant has to check is the eligibility criteria. Moreover, if the contender does not meet the eligibility criteria then he will be rejected for the application. So, we suggest all the aspirants be careful while filling this application. And also, we advise the aspirants to check out our web page before applying for any job post. When we come to Punjab Employment News, it is nothing but the government of Punjab is now giving an opportunity for all the contenders to prove their skill sets.
Punjab Employment News 2021 in Punjabi
Employment News is a page where every candidate can check out the latest activities as well as, upcoming job notifications. In addition to this, aspirants can easily download the employment news in Punjabi. Contenders who are waiting for government job notifications for many years can now have a look at the table given above. So, the table consists of the important stuff regarding the name of the post, name of the organization, number of vacancies, important dates, registration links, etc. Therefore, contenders can easily get the information about these criteria mentioned above.
Moreover, the aspirant can now download this employment newspaper in Punjabi for convenience. We are providing you this newspaper in Punjabi in a PDF format. So, the contenders can download it for free of cost. Hence, for more information about the Punjab Employment Exchange Portal read the content below.
Punjab Employment Exchange Portal
In general, Employment Exchange Portal is nothing but a web portal where every aspirant will be registering in order to get notifications about the latest government jobs. Moreover, contenders can now easily download the employment news in Punjabi in a pdf format for free of cost. Moreover, the aspirants can get the coaching free of cost along with benefits like free food, accommodation, and various other benefits.
We can provide you with a state employment exchange website for online registration, how to get employment exchange registration number, state employment exchange online registration, Punjab employment exchange renewal, employment card online registration Punjab, Punjab online registration status, Punjab employment exchange card registration, how to apply for unemployment allowance in Punjab.
Punjab Employment Exchange Portal Registration Process | Online
Go to the official web portal of Punjab Employment Exchange Portal @ punjab.gov.in.
Click on " Log In " if you are already a member of this exchange portal.
If you are new click on " Register Here ".
Select your native state and district name.
Fill in the details in your particulars.
Educational details, qualifications, academic details, employment details, name, phone number, email id, etc.
Moreover, fill the details with appropriate details.
Upload the details regarding the currently updated resume, along with photocopies.
Submit the important documents like native address, experience certificate, income certificate (if any).
And also, submit the address proof of Aaadhaar card/ PAN card/ Voter id/ Ration Card/ letter from current MLA or MP/ and a letter from higher officials etc.
After the registration, you will be issued a registration card that contains the registration number, employment exchange details, etc.
Save the credentials for further use.
In addition to this, many departments are hiring both freshers and aspirants for various posts. So, the aspirants can apply for any job notification according to their comfort. For, more updates and relevant information about Punjab Employment News 2021 in Punjabi | Punjab Employment Exchange Portal stay tuned to our website Freshersnow.com
Crack TCS NQT with the best course & faculties | Learn everything for TCS NQT at your own pace with 1-1 live doubt support. Click Here