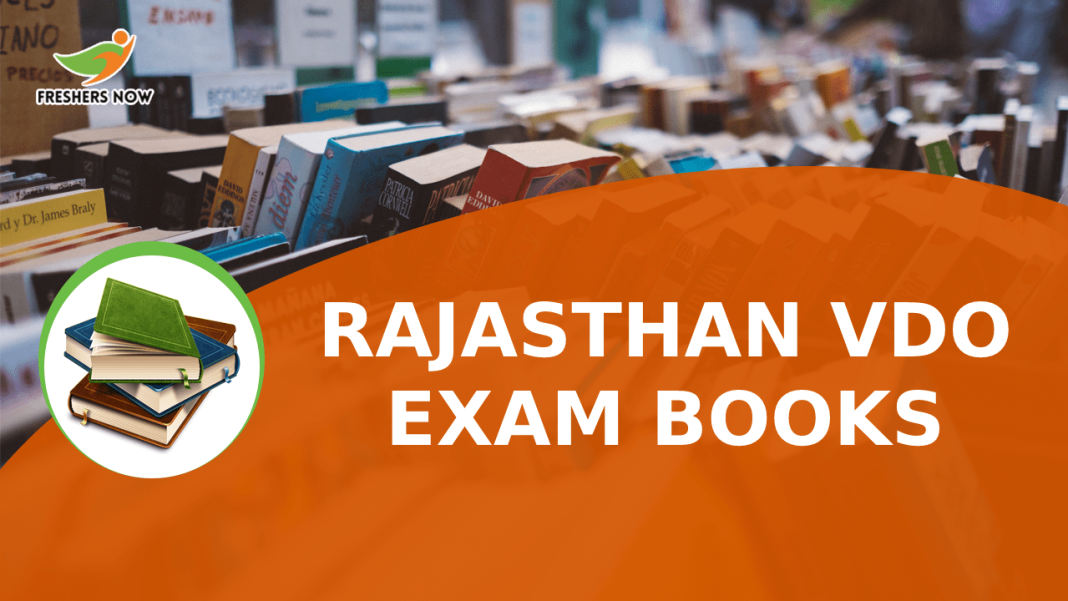 Rajasthan VDO Exam Books – Best Books For Village Development Officer Exam: Grab this list of Rajasthan VDO Exam Books. the article will guide you through the Best Books For RSMSSB Village Development Officer Exam. Ensure that you are well aware of the preparation levels. This will let you pick out the best books for Rajasthan VDO Exam. All you need to do is to know your preparation criteria so that you can easily pick out the list of books for the Village Development Officer Exam. Tead through this article and do not miss any of the sections mentioned. Additionally, do take notes of the best books so that you can conveniently choose for your preparation.
★★ Best Reference Books ★★
Rajasthan VDO Books for Culture, Literature, Tradition, History, Art & Heritage of Rajasthan
Rajasthan Political and Administrative System 2020-21 – Moomal
Lakshya Rajasthan
Rajasthan Adhyayan Bhag 4
Panorama Books for Rajasthan History
Rajasthan Adhyayan Bhag 3
Contemporary Rajasthan by L.R.Bhalla & Kuldeep Bhalla
Rajasthan Aajtak by Dr Dinesh & Pushpa Sharma
Rajasthan Adhyayan Bhag 1
Prerna Constitution Administrative and Panchayati Raj System (samvidhan prashasnik evan panchayati raj vyavastha) – Prerna
Rajasthan Adhyayan Bhag 2
Rajasthan VDO Geography of Rajasthan and Indian Geography Books
Maps of Rajasthan (Rajasthan Manchitravali) by Moomal
Geography of Rajasthan – by Dr L. R. Bhalla
Rajasthan Bhugol – Rajasthan BSE e-book
Fundamentals of Physical Geography – Class – 11
India Physical Environment – Class – 11
Rajasthan VDO General Knowledge Books
Best Book of General Knowledge by Subhash C Sonie
The Usborne Internet-Linked Book of Knowledge by Various
Mega Current Affairs Combo for Competitive Exams by Disha Publications
The Yearly Current Affairs 2020 with Rapid General Knowledge 2021 Combo for UPSC/
RRB by Disha Publications
General Study 14,000+ Objective
General Knowledge Latest Who's Who & Current Affairs
Moomal Current Affairs – for Rajasthan
Rajasthan Patrika
Rajasthan VDO Computer Books
Rani Ahilya Lucent Publication
Basic Computer Knowledge _ Arihant Publication
Computer awareness for general competitive exams by Soumya Ranjan Behera.
Computer general awareness by Alok Kumar.
Rajasthan VDO Logical Reasoning Books
Reasoning Books for Competitive Examinations by Pearson
Lucents Verbal Reasoning
A new approach to Reasoning Books By B.S. Sijwali & S. Sijwali Arihant
Multi-Dimensional Reasoning Books by Mishra & Kumar Dr. Lal
Ace Reasoning Ability For Banking and Insurance (English Printed Edition) by Adda247
General Reasoning Ability for Competitive Exams
Rajasthan VDO General Hindi Books
एन टी ए-, यू. जी. सी. (नेट /सेट/जे आर एफ) सामान्य पेपर-1 : शिक्षण एवं शोध अभियोग्यता (UGC NET/SET
Paper 1 – in Hindi (Old Edition) by K V S Madaan and Anshu Bala Madaan
Bharatiya Arthvyavastha: Civil Seva Evam Rajya Civil Seva Pariksha Ke Liye Upyogi by
Ramesh Singh
RRB Group D Guide Hindi 2018 by Arihant Experts
Samanya Hindi by Arihant Publication
सामान्य अध्ययन हिन्दी: अरिहंत
Rajasthan VDO General English Books
Word Power Made Easy by Norman Lewis
English (From Plinth to Paramount) by Neetu Singh
Objective General English by SP Bakshi
High School English Grammar By Wren and Martin
The Best Book Of English Grammar by Vijay Sharma
30 Days to a More Powerful Vocabulary by Wilfred Funk and Norman Lewis
Verbal Ability and Reading Comprehension
General English- Arihant Publication
To conclude, Rajasthan VDO Exam Books are well covered in this article. Hope you have taken note of all the Best Books For the Village Development Officer Exam. Good luck and stay connected with us for more informative articles here at – freshersnow.com