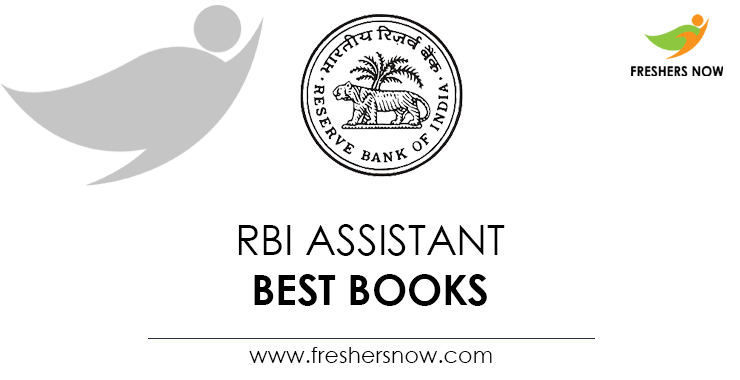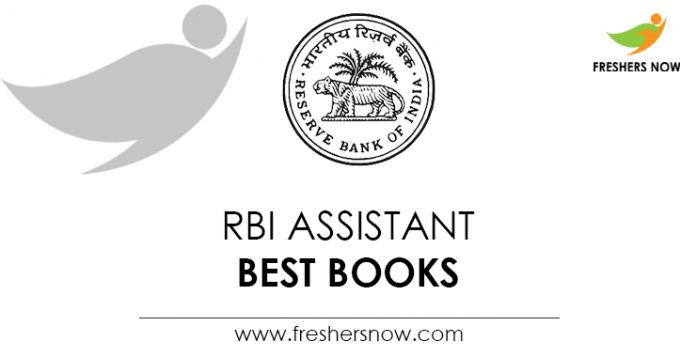 RBI Assistant Books 2021 | Best Books For RBI Exam: In this article, aspirants are provided with the information regarding Best Reference Books for RBI Assistant Exam. So, one can refer to this article to know the best reference books for RBI Assistant exam preparation and to have an overview of the RBI Assistant Exam.
The full form of RBI is the Reserve Bank of India. It's the Apex Bank of India which was established on 1st April 1935 under the Reserve Bank of India Act. As a Central Bank of India, RBI is entitled to the powers to issue currency notes, controls the credit through its monetary policy, acts as a custodian of foreign exchange, etc., and performs various functions as a Banker to the Government.

About RBI Assistant Exam
RBI recruits its assistants by conducting the preliminary exam, Mains exam, and Language Proficiency Test. These Assistants are Hired to assist in the various departments of RBI throughout the Country. When RBI releases new currency and demonetizes the old currency it's the RBI Assistants who are entitled
to significant responsibility.
The following are the functions/ Job role of RBI Assistants:
Collection of Receipts
Banking Document verification
Maintenance of Ledger
Balance Tally
Attending to Government Treasury Work
Ensuring Financial Stability
Replying to mails on a daily basis
Data Entry (day to day transactions)
Eligibility Criteria for RBI Assistant Exam:
Candidates must have to hold a Bachelor degree in any of the stream (commerce, Science, Arts, etc.,)
The minimum Aggregate percentage should be 50%-60% (50% for SC/ST/PWD candidates)
The age limit to appear for the RBI Assistant exam is 18-28 years. The date will be prescribed in the notification for age eligibility has to be fulfilled by the aspirant.
Latest Syllabus for RBI Assistant Exam:
General Awareness RBI Assistant Syllabus:
National and International News, Sports News, Awards, Summits and Conferences, Schemes, Agreement and Deals, etc
Banking & Financial Awareness – Banking terms, Current rates (Bank rate,repo rate, reverse repo rate), RBI, Fiscal-Monetory Policies, Social Functions of the bank.
Monetary policies, Important guidelines, Financial & Economic News, Economics terms, etc
Economic News – Indian and International Economy, Finance, shares, various schemes of Government
Parks, Dam, Thermal Power Plants, Mountains, Temples, Stadiums, Airports, etc
Reasoning Ability Syllabus for RBI Assistant:
Seating Arrangement – Circular, Linear and Square, Syllogism, Puzzle, Blood Relation, Inequality, Data Sufficiency, Coding and Decoding, Distance and Direction, Ranking.
English Language Syllabus for RBI Assistant: Cloze Test, Vocabulary Based Questions, Reading Comprehension, Double Fillers/multiple sentence fillers/ sentence, Sentence Improvement/ Correction, Paragraph Based Questions (Paragraph Fillers, Paragraph/ Sentences Restatement, Paragraph 1,2,3 and Paragraph Conclusion), Odd One Out cum Paragraph Jumbles.
RBI Assistant Quantitative Aptitude Syllabus: Data Interpretation (Bar Graph, Line Chart, Web/ Radar, Caselet, Pie chart, Tabular ) Miscellaneous Mathematical Problem(Profit and Loss, Problems on Ages, HCF/ LCM, SI/CI, Work and Time, Probability, Permutation and Combination, Speed, Distance and Time, Mensuration, Ratio, and Proportion, Mixtures, and Allegations, Partnership, Problems on Streams and Boats, Approximation and Simplification, Pipes and Cistern, Problems on Trains, Average) Number Series, Data Sufficiency, Inequalities (Quantity 2, Quantity 1, and Quadratic Equations).
Computer Knowledge Syllabus for RBI Assistant: Computer Generation, MS Word, MS Excel, PowerPoint, Operating System, Internet, Computer Hardware, and Abbreviations related to Computer Knowledge.
Best Reference Books for RBI Assistant Exam:
English:
English Language Question Bank- G.K Publications
Word Power Made Easy- Norman LewisQuantitative Aptitude:
Fast Track Objective Arithmetic- Rajesh Verma
Quantitative Aptitude for Competitive Examinations- S. Chand, R.S AgarwalReasoning:
A New Approach to Verbal & Non- Verbal Reasoning- B.S Sijwali
A Modern Approach to Verbal Reasoning- R.S AgarwalGK:
Manorama Yearbook English/ Hindi- Mammen and Matthew Manorama
Indian Yearbook English/ Hindi- Publications Division
Computer Knowledge:
Objective Computer Awareness- R. Pillai
Computer Knowledge- Sikha Agarwal
A Complete Preparation Reference Books for RBI Assistants (Exam Guide):
| | |
| --- | --- |
| RBI Reserve Bank Assistant Preliminary Study Guide 2020 | Arihant Experts |
| RBI Assistants Exam Guide for Preliminary & Main Exam 4th Edition | Disha Experts |
| RBI Assistants 2020 Preliminary Exam 18 Practice Sets with 3 Online Tests | Disha Experts |
| RBI Assistants (Preliminary Exam) | V.V.K. Subburaj |
| Reserve Bank of India: RBI Assistants (Preliminary & Main) Recruitment Exam | RPH Editorial Board |
| Kiran RBI Assistant Prelim Online Exam Practice Work Book English (2802) | Think Tank of Kiran Institute of Career Excellence (KICX) |
In Conclusion, We hope that the provided information regarding Best Reference Books for RBI Assistant Exam, RBI Assistant Exam Eligibility Criteria, and Syllabus will be helpful for the aspirants to prepare for RBI Assistant Exam.
For any other queries feel free to ask us through the below comment section. We will get back to you as soon as possible.
We would like to say that, we are striving our best to make accessible accurate information updates to the students and aspirants who are preparing for various competitive exams. 'Stay Tuned' to our website www.freshersnow.com for more educational updates. Bookmark our website (ctrl+d) and never miss essential updates from freshersnow.