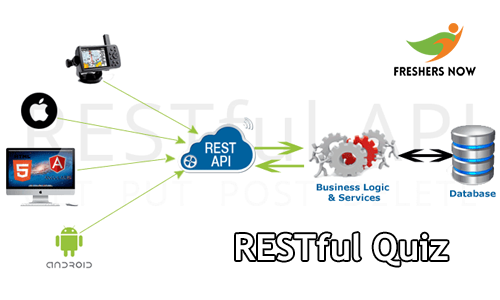 Are you preparing for campus interviews? Also, want to take part in RESTful Quiz? Then check this post. Contenders can take part in the RESTful MCQ Online Test to improve their experience in technical stream. We have provided the Multiple Choice Questions of the RESTful language in this article. Also, we all know that the IT Companies will first conduct an online test and then they will take the technical interview. So, to qualify for the first round, aspirants have to practice Quiz based on the RESTful more frequently. Hence, applicants can learn the various questions of the RESTful from the below sections.
RESTful Quiz Details
| | |
| --- | --- |
| Quiz Name | RESTful |
| Category | Technical Quiz |
| Number of Questions | 10 |
| Time | No Time Limit |
| Exam Type | MCQ (Multiple Choice Questions) |
Aspirants can practice the RESTful Quiz with the help of this post. We are providing you with the detail information regarding the RESTful MCQ Online Test in this post. Also, contenders can have a glance at the table that we are offering above to get an overview of the exam. Moreover, check the number of questions present in the test, the number of marks allocated for each answer.
RESTful MCQ Quiz Instructions
By following these instructions, candidates can score good marks in the quiz. Also, you have to hope that this is the stepping stone to learn many questions. In this section, we are providing you with the necessary steps that you need to follow while taking part in the quiz.
The total number of questions in the quiz are 10
There is no time limit for the RESTful Quiz
Each question carries one mark each.
Also, there is no negative marking
Click the " Submit Test " button given at the bottom of this page to Submit your answers.
Also, we request the candidates not to refresh the Page.
RESTful Online Test
About RESTful
Aspirants who are unaware of Representational State Transfer (REST) can go through this section. RESTful is a web service that is built on REST Architecture. We can say that in REST Architecture everything is a resource. Moreover, RESTful architectures are lightweight and highly scalable. These are also maintainable and are very commonly used to create APIs for web-based applications. RESTful uses HTTP Protocol for data communication. Moreover, there are commands through which you can perform the task. These commands include GET, PUT, DELETE, POST, and OPTIONS. From the below sections, candidates can take the RESTful online test to improve your programming skills to the next level.
Benefits of Practicing RESTful Quiz
Aspirants can gain knowledge on the subject. And, the applicants can improve their time management skills. Furthermore, the contenders can learn different questions that will be asked in the interviews.
How To Check RESTful Programming Online Test Results
Contenders can check their result after completing the test. In addition to this, each question consists of accurate explanations. So, we advise the candidates to refer to the reasons not to repeat the mistakes.
We hope that the information present in this post is useful. For more relevant details, stay tuned to our website Freshers Now