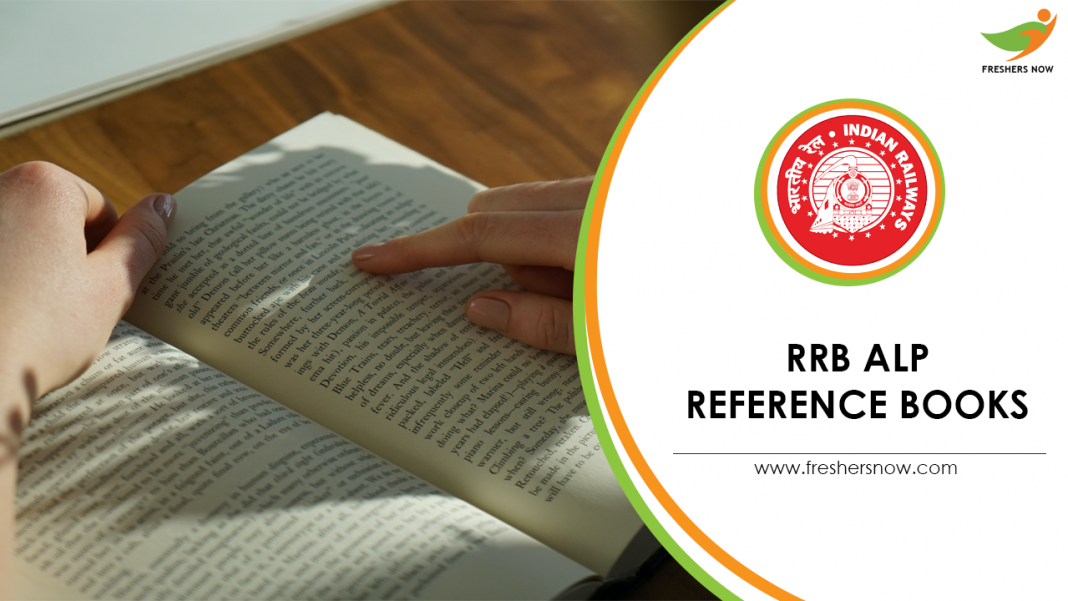 RRB ALP Reference Books 2021 | Best Books For RRB Exam Preparation: The information provided in the article is about Best Reference Books For RRB ALP Exam. Assistant Loco Pilot abbreviated as ALP. RRB ALP Exam will be conducted by Railway Recruitment Board to select candidates who can fit the role. The ALP Selection Process will undergo 4 stages and a candidate should qualify all stages to acquire a position. They are CBT -1, CBT -2, Computer Based Aptitude Test, Document verification. To overcome the RRB ALP CBT 1 & 2 Tests, all the applicants are advised to collect the RRB ALP Best Books and prepare the necessary concepts for the RRB ALP Examination 2021.
★★ Best Reference Books for All Competitive Exams ★★
The initial step for any candidate is to know the exam pattern, weightage of concepts, and best reference books. Best reference books help to prepare thoroughly to get grip on concepts required for the test. Mathematics, General Intelligence & Reasoning, General Awareness & Current Affairs are sections divided for RRB ALP CBT -1 and RRB ALP CBT -2. Variation in RRB ALP CBT 1 and RRB ALP CBT 2 is the number of total questions and duration of the test. The weightage of concepts i.e the number of questions on any concepts in every section varies year to year.
RRB ALP Mathematics Books – CBT 1 & CBT 2 Exam
Fast track Objective Arithmetic – Arihant Publications
This book will help candidates to get an idea about all Mathematical / Aptitude concepts and practice on levels of problems. Framing of all level of questions are perfect and are included by covering previous, latest syllabus and pattern of RRB ALP CBT 1 & CBT 2 test.
Quantitative Aptitude for Competitive Examinations – R.S Aggarwal
This book is from the top seller of Quantitative Aptitude books for all category students to prepare for the respective exam. Concepts explained and solved in good standard to use for all types of students to follow and it will be a guide for RRB ALP CBT 1 & CBT 2 test.
Quickest Mathematics – Kiran Publications
The book is from a top author who was a master in writing competitive exam books. Quicket Mathematics book is included with previous and latest concepts. So the student can follow this book to learn Mathematics from scratch and can succeed in exams
Practice Book on Quicker Maths – M.Tyra, K.Kundan
Candidates who have applied for the RRB ALP CBT 1 & CBT 2 Exam can surely follow this book to practice all concepts in Mathematics and Aptitude section. It will help to increase the ability to solve quickly with tricks and shortcuts. Any student can follow this book because of the standards and explaining the process.
RRB ALP General Intelligence & Reasoning Books | CBT 1, 2 Exam
A modern approach to Verbal and Non-Verbal Reasoning – R.S. Agarwal
This book covers all Verbal and Non- Verbal Reasoning topics that are necessary for RRB ALP CBT 2 stages. The reasoning section can easily qualify with the practice of R.S. Agarwal. So Students can include this book in preparation to qualify and score high in the Reasoning section.
Test of Reasoning – Edgar Thorpe
This book provides the required knowledge thinking ability for candidates to easily qualify and score high. A vast number of topics are included and test papers are provided with the solved answers for RRB ALP CBT 1& CBT 2 exams. Students can follow this book to enhance their ability to solve reasoning.
RRB ALP General Awareness and Current Affairs Books
Lucent GK – Lucent
It covers Indian history, economy, Modren history, laws, constitution, Indian geography, etc. Lucent books are the top publisher for all types of Competitive exams. This book was available in Hindi and English language to help students to follow according to comfortable language. So students can follow this book to make an added advantage in qualifying the General Awareness section.
Manorama Year Book – Malayala Manorama
This book is a mini encyclopedia with plenty of General Awareness topics. It was one of the top-selling books for the RRB ALP CBT 1 & CBT 2 exam at the E-commerce site and achieved a high rating. So students can follow this book for Current Affairs section in the RRB ALP exam.
Pratiyogita Darpan – Upkar
This is book was from a top-class seller for General Awareness on Current Affairs topics. This book was available online with day-to-day updates. It helps a lot of aspirants to qualify for the General Awareness section and score high. A lot of experts are suggesting this to follow for RRB ALP CBT 1 & CBT 2 test for the General Awareness section.
We believe that the above-provided Reference book for RRB ALP CBT 1 & CBT 2 test will help your preparation and qualify for the exam and move to a further step in the selection process. It is very important to refer to the Railways Assistant Loco Pilot Study Material for all the candidates who are in RRB ALP Exam Preparation. For any other competitive exams reference books and details of exam reach to freshersnow.com website and make a bookmark for more educational updates.