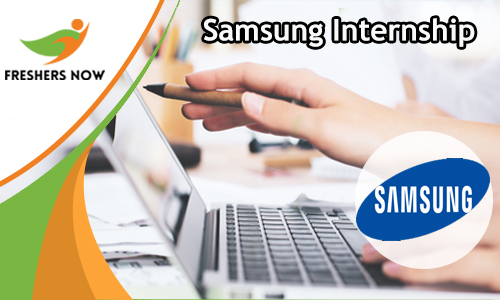 Samsung Internship 2020-2021 – Stipend, Eligibility & Selection Process: Samsung is offering a wide range of Internship Positions for the students as well as freshers. Well, many of the candidates know that the Samsung Internship 2020-2021 is very precise to know that real-time experience. In this article, we have shared detailed info regarding Samsung Stipend, Samsung Eligibility Criteria, Samsung Selection Process, Samsung Summer Internship, Samsung Winter Internship, the procedure to apply for Samsung Internships 2020-2021, and much more details. Samsung is attracting candidates across India.
Accordingly, there are many opportunities for the interns in Samsung at various locations like Ahmedabad, Bangalore, Bhubaneswar, Chennai, Cochin, Gurgaon, Hyderabad, Jaipur, Kolkata, Lucknow, Mumbai, New Delhi, Noida, and Pune, etc. Also, definitely, you are waiting for the eligibility criteria details. As per – the latest news, we received the Samsung is looking for the students who are pursuing their Graduation, Post Graduation, Bachelor's Degree, B.Tech, M.Tech, MBA, B.A, B.Com.
Samsung Internship 2020-2021 Overview
| | |
| --- | --- |
| Name of the Company | Samsung |
| Qualification | Graduation, Post Graduation, Bachelor's Degree, B.Tech, M.Tech, MBA, B.A, B.Com |
| Eligibility | Fresher, Student |
| Program Location | Across India |
| Category | Internship |
| Official Website | samsung.com |
★ You Can Also Check ★
Samsung Internship 2020-2021 For Students
We all know that they are many reasons to choose your career as an Intern at Samsung. Samsung Internship 2020-2021 will be definitely a valuable opportunity for the students who are pursuing their studies in various colleges. At now, Samsung is very busy conducting the On-Campus Drives at various colleges across India. We suggest the students that participate in the On-Campus Drives as soon as possible and grab a chance to work with Samsung as an Intern. Also, there are many possibilities to do an Internship. Students can easily acquire information about new things. Also, you can know about work experience in the industry. So this process helps you a long time journey. In the end, we have also shared some of the benefits of Samsung Internship 2020-2021 for the sake of candidates. Hence, follow it and grab the opportunity.
Samsung Internships India 2020-2021
Samsung Group is a South Korean multinational conglomerate headquartered in Samsung Town, Seoul. A huge number of businesses are tied up with the Samsung Groups. It was founded on the year 1 March 1938 (79 years ago Daegu, Japanese Korea). Lee Byung-Chul is the founder of Samsung. Its headquarters is located on the 40th floor of Samsung Electronics Building, 11, Seocho-daero 74-Gil, Seocho District, Seoul, South Korea. Its Area Service is provided worldwide. Moreover, Lee Kun-heeis the Chairman, and Lee Jae-Yong are the Vise Chairman. Advertising, construction, entertainment, financial services, hospitality, information and communications technology, medical and healthcare services, retail, shipbuilding are the services providing by Samsung. The official web portal of Samsung is samsung.com. Scroll down and check the Samsung Internship 2020-2021 details.
Samsung Summer Internship 2020-2021
Samsung Summer Internships 2020-2021 are filled with many chances for the students to develop both personally and professionally. Also, enlist with executives, work together-functionally, and put your impression on this global organization. Moreover, Samsung is at the leading edge of the technology industry. Many of the candidates want an experience the scope and breadth of working for Samsung. Also, a huge number of students are choosing the Summer Internship at Samsung. Therefore the time duration of the Summer Internship is eight to twelve weeks.
Samsung Winter Internship 2020-2021
Fewer candidates are selecting the Samsung Winter Internship 2020-2021. Also, the time span of the winter internship is lesser than Summer Internships 2018. Also, there is less chance to know about the new technologies. Interested one can apply for the Samsung Winter Internships 2020-2021.
Benefits Of Samsung Internship 2020-2021 For Students
As an Intern, you can get many benefits.
Students can easily learn about new technologies
Real-world experience with leading-edge technologies
Aggressive Stipends
Networking with managers and executives of Samsung
Approach to Samsung classes for professional and personal growth
Attention to full-time employment when you graduate
Samsung Internship 2020-2021 Eligibility Criteria
For applying for the Samsung Internship 2020-2021 all the candidates who are pursuing their Graduates, Post Graduates, Bachelor's Degree, B.Tech, M.Tech, MBA, B.A, B.Com.
Samsung Internship 2020-2021 Selection Process
Samsung will select the candidates by conducting Online Test and Interview rounds. Those who are going to participate in the tests need to prepare well with the help of Syllabus and Placement Papers.
Samsung Internship 2020-2021 Stipend Details
Don't worry about the Samsung Stipend details because you can get an expensive salary. According to your work, Samsung will offer a salary for each and every candidate.
Steps To Apply For Samsung Internship 2020-2021
First, of all candidates visit the official website of Samsung @ samsung.com
Search for the latest Samsung Internship Jobs 2020-2021
A list of Samsung Internship 2020-2021 appears on the screen
Pick up one as per your education qualification and location
Check the details
Fill all the mandatory information
Submit it
Lastly, take a hard copy of the reference purpose.
To Apply For Samsung Internship 2020-2021: Click Here
Keep visiting our website FreshersNow.Com and check the latest updates. Also, check the below-given links and get the complete location-wise Internships in India.