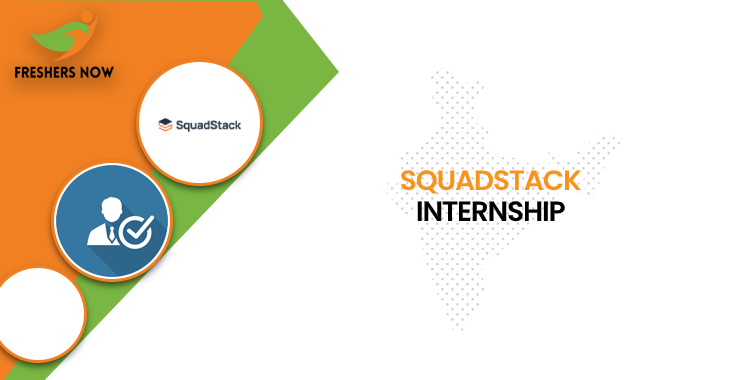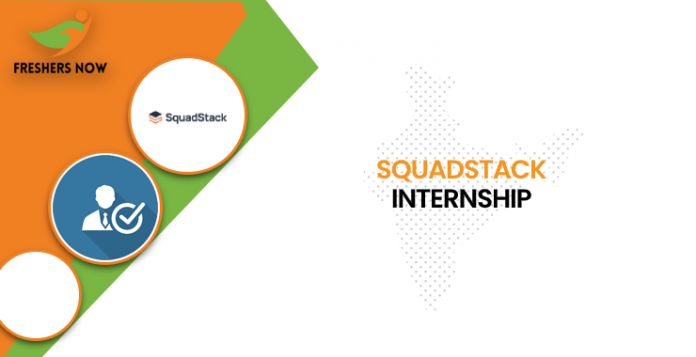 SquadStack Internship 2020 For Business Development Associate Intern in Delhi: Are you the one who is searching for an Internship in Delhi can refer to this page. On this page, we have provided the required information about SquadStack Internship 2020 and the direct link to apply. For SquadStack Internship, any graduated candidates with 0 – 1 Year of experience can go through this page. Moreover, SquadStack Internship For Business Development Associate Role, the internship period is of 6 months, and the stipend during the internship is 12-15k per month. So, all the internship and eligible candidates can apply for SquadStack Internship in Delhi. For more SquadStack Jobs, visit the website @ squadstack.com.
You Can Also Check: Freshers Jobs
SquadStack Internship 2020 – Overview
| | |
| --- | --- |
| Company Name | SquadStack |
| Qualification | Any Graduate |
| Experience | 0 – 1 Year |
| Job Location | Delhi |
| Job Role | Business Development Associate |
| Category | Internship Jobs |
| Official Website | squadstack.com |
SquadStack Internship – Job Description
About Squad
Humans + A.I. = Future of Work
SquadVoice: SquadVoice is a lead outreach and engagement platform. They help digital consumer companies massively increase revenue-generating opportunities across their sales and fulfillment funnels. SquadVoice bridges the gap between digital transactions (marketing, online) and human conversations (sales/ fulfillment, offline) through real-time data attribution, smart multi-channel automation, and a massive on-demand workforce of 5000+ pre-trained, industry-ready callers, present pan India. With its tech platform + distributed workforce, SquadVoice enables companies to qualify, engage, and convert more leads into customers, without worrying about scale, speed, or service quality. As they venture into their next phase of growth, they are looking for passionate individuals to be a part of our journey and co-build Squad with us.
SquadStack Internship For Business Development Associate – Summary
The primary function of the role revolves around creating and maintaining a comprehensive social and public presence for the brand. SquadStack is seeking a dynamic and self-driven individual who is adept at communication, promotion, research, and writing. This opportunity is perfect for someone who wants to learn the process and craft involved in building brands from scratch, establishing a unique voice, researching about audiences, and collaborating with different functions across the organization to understand how work gets done in a high growth startup. The desired candidate must be comfortable and proficient in collaborating with teams, managers, partners, and customers to drive results. Understanding the tools, techniques, trends, and best practices of the trade is a must.
You Can Also Check: Interview Questions
SquadStack Internship in Delhi – What's in it for you?
People who have joined us in the past have experienced tremendous growth. You will not only become a better marketer, but they believe that you will have a much more well-rounded growth. Being part of a small team, you will also work directly with the cross-functional stakeholders and have good transparency into the business strategy, and get to see how a business is built. People who join Squad are extremely smart and you will end up forging lifelong bonds here.
SquadStack Jobs – Roles and Responsibilities
Help drive more qualified leads to the sales team through various channels – cold-emails, introductions, social media, etc
Knowledge of social media tools and basic graphic design, email marketing, and blogging is a plus
Effectively search and identify prospective clients and generate leads using market research, competitive analysis, industry reports, prospecting tools, etc
Managing social media communication and accounts on behalf of the product/ organization
Track pipeline metrics around conversion, velocity, channels, team productivity, etc. and work on improving them
Interact with cross-functional teams to generate ideas for content and promotion
Create and implement a social calendar to distribute branded content to achieve specific, measurable goals
Develop frameworks for business communication across public platforms
Assist sales, business development, and product teams to boost brand awareness and enable a consistent outreach
Actively participate in events, webinars, and virtual conferences to boost brand voice and drive partnerships and new initiatives
Prepare written marketing materials for external communication such as press releases and public relations initiatives
Proven experience in building brand awareness, developing a communication strategy, and driving results on social media is a plus
SquadStack Internship 2020 – Requirements
Experience: Candidates must have 0-1 year of experience are eligible
Education: Graduates in any domain (drop-outs are cool as well!)
Location: Remote (Till September end), Candidate must be based in Delhi NCR (not a telecommute position)
Joining Date: ASAP
Traits: Motivated, social, energetic, humble, patient, and hard-working having great attention to detail. Impeccable written & spoken English. Must be proficient in Excel.
Most important – willing to go that extra mile to get the work done!
You Can Also Check: Placement Papers
Logistics
Internship Period: 6 months
Stipend during Internship: Rs 12-15k per month
Compensation (Post-Internship): 3.8 – 4.2 LPA
Why Should You Consider Us Seriously?
They believe that longer-term, people >> product & profits and prioritize culture over everything else. Check out our reviews on glassdoor reviews.
SquadStack has an audacious vision of reimagining how work gets done! We're one of the few applications of AI/ Machine Learning that actually has a massive market and proven business model to create a long term valuable business.
They have plans to grow 10x in the next 2 years.
They are a Series A funded startup backed by top investors across India and the Silicon Valley (Blume Ventures, Abstract Ventures, Emergent Ventures; Senior execs at Google, Square, Genpact & Flipkart; Co-founders of Infosys, Snapdeal, Slideshare, Zomato, etc).
Our platform empowers stay at home mothers and grey collared workers as a stable source of income. For us, this is truly impactful. Every day, we see success stories such as – how a single mother is sustaining herself. Empowering our contractors to be financially independent is a strong part of our vision!
Other benefits
All meals are on the house (Not right now though, as we are operating remotely)
Unlimited vacation policy, which means you are not entitled to a specific number of leaves per year. You can take time off from work according to what suits you the best.
Needless to say, the system works on trust and we expect you to make fair decisions based on the team's needs.
About SquadStack Company
At SquadStack, they believe that an asynchronous combination of Humans + AI is the future of work. SquadStack leverage technology to build sales-acceleration solutions for consumer companies across the globe. They are looking for individuals with the right mix of hunger, passion, and cultural-fit to help us realize our vision of 're-imagining how work gets done' while building a people-first organization. If you're excited by the prospect of using technology to transform consumer sales, go and build SquadStack with them.
How To Apply For SquadStack Internship 2020 in Delhi?
Make a click on the link given below or visit the official site www.squadstack.com
Read all the details given by the recruiters of SquadStack
Then, click on the Apply Now Button
Fill all the details in the application form
After completing, click on the Submit Button
You can download the application form for further usage
Click Here To Apply For SquadStack Internship 2020 For Business Development Associate
Hope all the candidates got the required information about SquadStack Internship 2020. For more details, visit the website FreshersNow.Com. If you want any clarification, you can drop your queries in the comment section below.