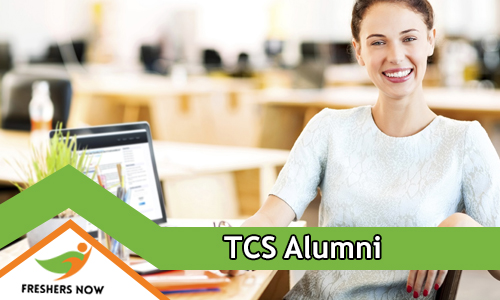 TCS Alumni Portal: So, by checking this article, all the candidates will get the complete details such the process to log in and Registration Process. Therefore, all those Ex-employees who want to reconnect can check this article. And then proceed to register and then Log in to get the access. By using this TCS Alumni Portal, candidates can check if they are any offers available for them to rejoin or to get any certificates that you got missed. In other cases you can also write to corporate.ffs@tcs.com regarding the issues you are having, they will come back to you with the solution. And those who are resigning or who had already resigned can check this portal and can make their registration. It is always good to be in touch with your previous company so that it will come handy in inevitable situations. For more information, check this post further.
★★ TCS NQT ★★
★★ Free TCS NQT Mock Tests ★★
★★ Free TCS Digital Mock Tests ★★
TCS Alumni Portal
Now, get the complete information and processes you can do with help of the TCS Alumni Portal. We have come across so many requests about the data related to the TCS Alumni site. So, we have decided to give the fair details we know about this. Now we all know that TCS has a big reputation when it comes to providing big opportunities for their employees or hiring fresh talents. And there are some people choose other opportunities and might leave the company after some time. This might include higher Studies, or offers in other companies like that. After certain period many of the Ex-Employees might want to rework with the TCS or they might want to get into contact with Company for any other business purposes. keeping this kind of situations in view, TCS has designed its own Alumni site. Check this article further to know more services.
You Can Also See: ★ TCS Placement Papers & TCS Syllabus
So, apparently, TCS is inviting all their employees to be in touch. Therefore, register with TCS Alumni portal and stay in Touch. And also take advantages of TCS Alumni Events. Also, a network of Colleagues. Now, at the time of registering on the Alumni portal you have to enter some details. Therefore, it would be best if you keep them in handy. After going to the official TCS Alumni portal at www.alumniportal.tcs.com, you can click on login or Registration according to your status. So, at present initially, we are going to discuss the Registration process. By Clicking on the Register now, you will be sent to a page, where the TCS will ask you some details. And try to enter them all correctly, to get the Login credentials. Apparently, TCS Alumni portal will ask for certain details like TCS Employee Id, password, and other details. Check this post further.
You Can Also See: ★ TCS Careers & TCS Webmail Login
TCS Alumni Portal Registration Process
Register now to gain access to stay connected with your friends and colleagues while you were at TCS. Also, access the news and literature from the company. Now, down in this article, we are going to give some points which will give you all overall idea about how to Register on the TCS Alumni Portal. Check them and make your way to get your registration done. Remember while making your registration process, you need to enter some of your details. Therefore, keep them all handy, to get the Registration fastly.
You Can Also See: ★ TCS NextStep & TCS iON IntelliGem Contest
Now, go to the TCS Alumni Portal at www.alumniportal.tcs.com.
So, if you are a new user, then click on Sign Up Now.
Then you will be sent to a page like below.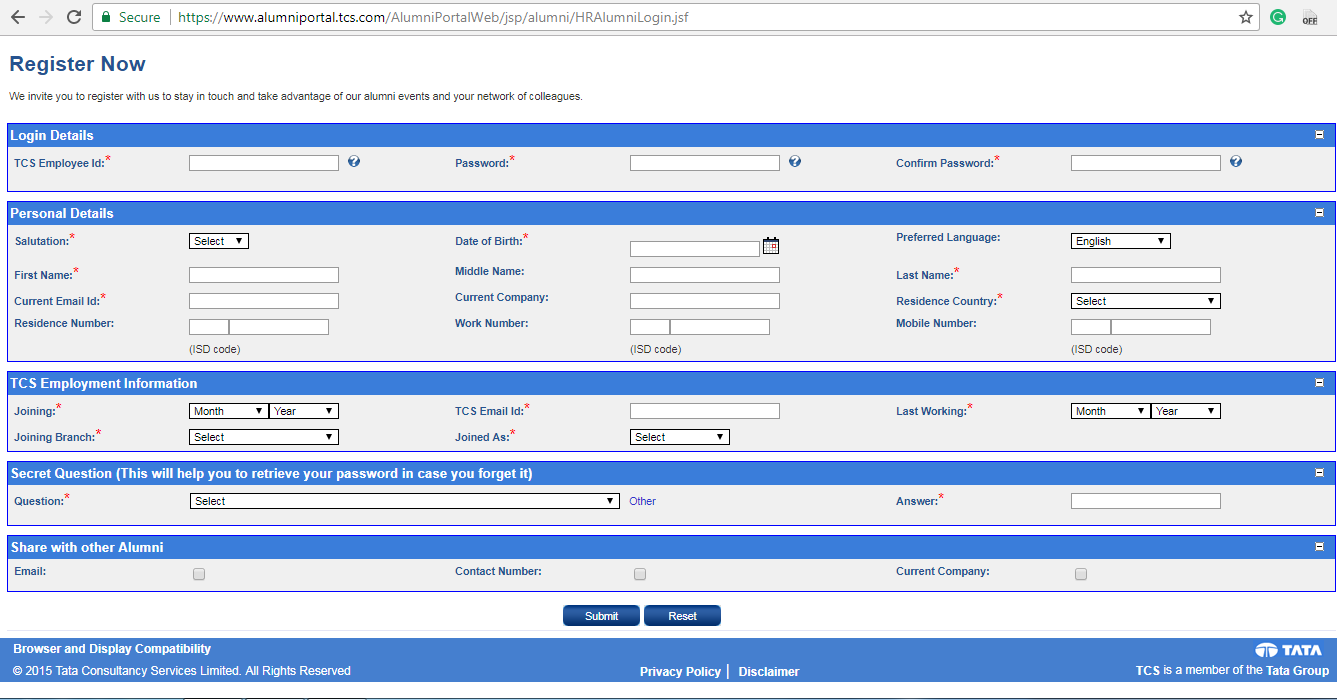 There enter all the details asked by the TCS Alumni Portal.
Enter Login Details such as TCS Employee Id, Password (Remember Your password should be minimum of 8 alphanumeric characters with at least 1 uppercase letter, 1 lower case letter, 1 number and 1 special character ), Confirm Password, Re-enter the password
Now enter your personal details like Salutation, Date of Birth, Preferred Language, First Name, Middle Name, Last Name, Current Email Id, Current Company, Residence Country, Residence Number, Work Number, Mobile Number.
Thereafter proceed to enter the TCS Employment information like Joining, TCS Email Id, Last Working, Joining Branch, Joined As and other information.
Then, you have to select one secret question, and this step is mandatory, as it will help you to retrieve your account in case if you forgot the password.
Now, the next step is complete, your wish. TCS Alumni portal will ask if you want to share, Email or Phone Number or Current Company with other Alumni.
After filling all the required fields, click on submit button.
Then you will get a confirmation mail.
Also, you will get your Login Credentials.
You Can Also See: ★ TCS Off Campus
TCS Alumni Portal Login
Now soon after you enter and submit all your valid previous TCS information along with some necessary Personal Details. You will get a confirmation mail to your mentioned mail in the registration process. You can click that to activate your account. And then after, whenever you want to login to the TCS Alumni Portal, you have to use the Login Details, which you gave in the registration process. Like TCS Employee Id and Password. And do not worry if you forgot your password. On the Login page, you can find Forgot Password. Soon after clicking on Forgot password, you will be sent to a page like below.
You Can Also See: ★ TCS Aptitude Questions, TCS Verbal Ability Questions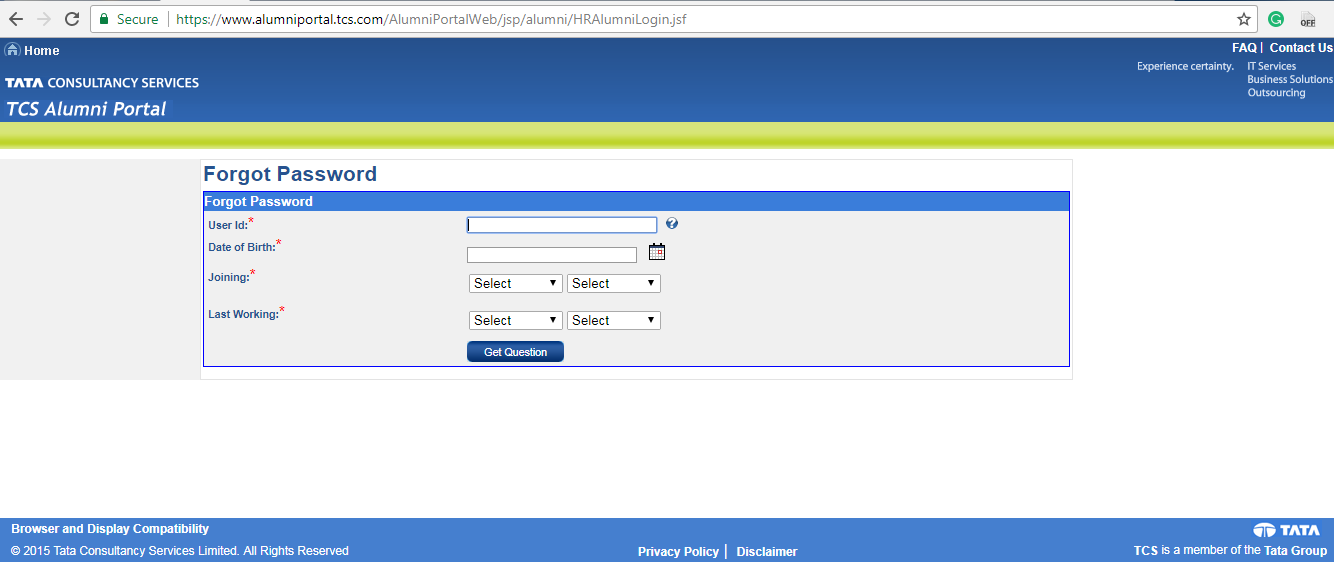 Now enter your valid and correct User Id (TCS Employee ID)
Date of Birth (Mandatory to enter)
Joining Date.
And finally, Last working information
Then click on Get a Question.
Soon after that, you will get a question, which you have selected during the Registration process.
Then answer the Question, then you can reset your password.
You Can Also See: ★ TCS Coding Programming Questions, TCS Reasoning Questions
And thereafter, you can see Opportunities at TCS, then click on Apply now, if you are interested.  Visit the TCS Career Portal to access first-hand latest vacancies and apply for rehire. By clicking on the Apply now you will go to the TCS Career Portal. There check for the Vacancies that are available and then apply if you are interested in Rejoining.
Hope all the details provided on this page about the TCS Alumni Portal are satisfactory for you all. For more such updates and notifications check our site Freshers Now day-to-day, as we update our site pretty often with Latest information. Comment and Let us know if you want to get details about any such other companies. We would like to write them for you.
| | |
| --- | --- |
| ★ Join Freshers Now Social Media Channels: | Click Here |