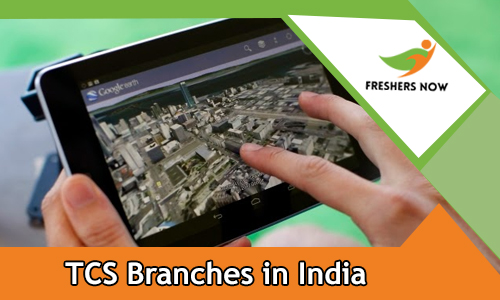 TCS Branches in India – TCS Locations Address, Contact Details: Tata Consultancy Services is the biggest Indian software services and consulting company. Moreover, it is the first solution provider for software services in India. Still, it is Asia's largest information technology firm. In addition to this, TCS is part of one of India's largest business group, the Tata Group, which has businesses in areas such as energy, telecommunications, financial services, manufacturing, chemicals, engineering, and materials. Moreover, it has its headquarter Mumbai. Furthermore, it has more than 100,000 employees. Therefore, it has offices in almost every big city in India. Today we have compiled the list of TCS office locations in different cities of India. So here comes the list.
★★ TCS NQT ★★
★★ Free TCS NQT Mock Tests ★★
★★ Free TCS Digital Mock Tests ★★
TCS Branches in India – TCS Locations Address, Contact Details
Therefore, as we have spoken above that TCS is a massive IT Consultancy its branches are spread worldwide. Furthermore, not only one branch is superior but also every branch has its own rival. Hence, we know that TCS is accomplishing its motives and targets many contenders are showing interest to join TCS. Moreover, TCS Branches in India has increased within a span of 10 to 15 years, TCS has become a topmost MNC not only India but also in foreign countries. Hence, TCS is hiring more than 10000 students worldwide. Furthermore, it is increasing TCS family in every city, state, and country. Therefore, the TCS Branches in India are increasing year to year. Hence, the TCS headquarters is located at Pune and the TCS Headquarters address is given in the bottom of the article.
You can also see: ★ TCS iON IntelliGem Contest & TCS Off Campus
TCS Branches in India
And, the TCS (Tata consultancy services) is among the top Indian IT companies and it has an office all over India, given below is the list of TCS offices in India:
Mumbai, 17 centers in Mumbai
Chennai, there are 11 offices in Chennai
Kolkata, 9 centers in Kolkata
Pune, 7 centers in Pune
Bangalore, there are 5 offices in Bangalore
Gurgaon, number of offices in Gurgaon is 5
Hyderabad, 4 branches in this city
Noida, number of offices in Noida is 3
Goa, number of branches in Goa is 3
Bhubaneswar, there are 2 branches in this city
Ahmedabad
Baroda
Coimbatore
Delhi
Gandhinagar
Jamshedpur
Kochi
Thiruvananthapuram
Lucknow
You can also see:  ★ TCS Careers
TCS Locations
Therefore, as one can see that this company is located in the number of cities of India and its presence is not limited to metros only rather it is present in tier 1 and tier 2 cities also. Moreover, TCS locations in India has been growing day by day. TCS Branches in India are increasing to a great extent. Therefore, the employment is also increasing. we all know that TCS hires freshers in a bulk. Furthermore, it is also providing employment to the people. Therefore, TCS helps customers to achieve their production goals and innovative ideas. Moreover, they build bespoke teams around your domain and technology requirements drawn from our talent pool of over 387,200 global professionals including 34.7% women from 130 nationalities. Therefore, their domain expertise has been built upon decades of experience working across industries and this knowledge underpins our suite of solutions.
You can also see:  ★ TCS Coding and Programming Test
Therefore, it is not an unknown fact that TCS is hiring the brilliant and skilled individual who are freshers and finished their Graduation or Post Graduation. Moreover, getting a job in an organization like TCS is not a normal thing. Furthermore, the Recruitment Rounds will be very tough. Therefore, only those candidates who are having enough knowledge, and practice, can clear those rounds. Hence, find out more about the TCS email Writing 2018, TCS email writing Rules, TCS Placement Papers email Writing.
You can also see:  ★ TCS NextStep
TCS Network Over The World
Moreover, they operate on a global scale, with diverse talent base of over 390,880 associates representing 131 nationalities, across 46 countries as of 31-Dec-2017. Therefore, are one of the largest employers of women with 35.2% women employees. Furthermore, now they are building a hyper-connected organization using internal social platforms to ensure extensive collaboration and engagement among our employees. Moreover, this acts as a critical driver of competitive advantage among the 82% digital natives in their employee base. So, their ability is to provide holistic long-term careers based on continuous learning driven by our anytime, anywhere, any device digital learning ecosystem helps us attract and develop the best talent. Moreover, their ability is to create an 'experience' for our employees have helped us consistently have the highest retention rates in our industry globally. Therefore, learn more about careers and opportunities at TCS.
You can also see:  ★ TCS Placement Papers & TCS Verbal Ability Questions
TCS Branches in India-TCS Locations Address, Contact Details
TCS Branches in India
TCS Locations Address, Contact Details
Ahmedabad
Address: 801/1001, Sakar II, Off Ashram Road
Ellis Bridge, Ahmedabad 380 006
Phone: +91 79 66071100
Fax: +91 79 66071111
Office Type: Delivery Center
Regional Office
Bangalore
Address: TATA Consultancy Services
Abhilash Building, Plot No. 96
EP-IP Industrial Area, Whitefield Road,
Bangalore 560 066
Phone: +91 80 6725 8400
Fax: +91 80 2841 3420
Office Type: Delivery Center
Innovation Lab
Regional Office
Baroda
Address: Tata Consultancy Services
1st & 2nd Floor of 'C' Wing,
Haribhakti Rameshwar Bhavan,
Opp Shivashray Society, Near Petrol Pump,
Vasna Bhaili Road, Baroda 390 007
Phone: +91 265 6564861 / 6564869 / 6564871 / 6564879
Office Type: Delivery Center
Regional Office
Bhubaneswar
Address: Tata Consultancy Services
IT/ITES Special Economic Zone, Plot – 35,
Chandaka Industrial Estate,
Patia, Chandrasekharpur,
Bhubaneswar – 751 024, Odisha
Phone: +91 674 664 5000
Fax: +91 674 230 4099
Office Type: Regional Office
Chennai
Address: Tata Consultancy Services
415/21-24, Kumaran Nagar,
Sholinganallur
Old Mahabalipuram, Chennai 600 119
Phone: +91 44 66162222
Fax: +91 44 66162555
Office Type: Delivery Center
Regional Office
Coimbatore
Address: Tata Consultancy Services
HDFC House, 29/4 & 29/5,
Kamaraj Road
Coimbatore 641 018
Phone: +91 422 2222227
Fax: +91 422 2220878
Office Type: Regional Office
Delhi
Address: Tata Consultancy Services
4th & 5th Floor, PTI Building
4 Parliament Street,
New Delhi 110 001
Phone: +91 11 66506555
Fax: +91 11 23311735
Office Type: Delivery Center
Regional Office
Gandhinagar
Address: Tata Consultancy Services Ltd
5th & 6th floor, Infotower-1,
Infocity, Ch-0,
Gandhinagar 382 009
Phone: +91 79 66712600
Fax: +91 79 66712601
Office Type: Delivery Center
Regional Office
Goa
Address: EMS – DC
17- B, Tivim Industrial Estate,
Karaswada, Mapusa
Goa 403 526
Phone: 91- 832 2257225 / 2257235 / 2257275 / 2257607
Fax: 91- 832 2257255
Office Type: Delivery Center
Regional Office
Gurgaon
Address: GG 5 _4A,
Tower A-4th floor Building No 6,
DLF Cyber City Developers LTD SEZ,
Sector 24 & 25 A, DLF Cyber City,
Gurgaon, Haryana -122002
Phone: 91 (0124) 6756024
Fax: 91 (0124) 6756578
Office Type: Delivery Center
Center of Excellence
Description: Center of Excellence: eSecurity
Hyderabad
Address: Tata Consultancy Services
5-9-62,
6th Floor Khan Lateef Khan Estate, Fateh Maidan Road Hyderabad 500 001
Phone: 91-40-6667 1000
Fax: 91-40-6667 1111
Office Type: Delivery Center
Regional Office
Jamshedpur
Address: Voltas House, 7th Floor, Main Road
Bistupur, Jamshedpur 831 001
Phone: 91-657-2437527 / 91-657-2436413 / 91-657-2436414
Fax: 91-657-2427804
Office Type: Regional Office
Cochin
Address: Tata Consultancy Services
TCS Centre Campus,
SEZ Unit,
Infopark PO,
Kochi – 682042,
Kerala
Phone: 91-484-6187100
Fax: 91-484-6187724
Office Type: Delivery Center
Regional Office
Kolkata
Address: Bengal Intelligent Park, 3rd & 4th Floor
Plot A2, M2 & N2, Sector V, Salt Lake
Electronics Complex, Bidhannagar
Kolkata 700 091
Phone: 91-33-6636 7500
Fax: 91-33-6636 8944
Office Type: Delivery Center
Innovation Lab
Regional Office
Description: TCS Innovation Labs – Kolkata
Focus: RFID Technologies
Lucknow
Address: Tata Consultancy Services Ltd.
TCS Awadh Park
Vibhuti Khand, Gomti Nagar
Lucknow 226 010
Phone: +91 522 6661001
Fax: +91 522 6661100
Office Type: Delivery Center
Regional Office
Mumbai
Address: Tata Consultancy Services
Air-India Building,
11th Floor Nariman Point,
Mumbai 400 021
Phone: 91-22-6778 9393
Fax: 91-22-6778 9344
Office Type: Regional Office
Nagpur
Address: Tata Consultancy Services
MIHAN SEZ
Dahegaon, Tehsil: Hingna
Post Khapri
Nagpur 441 108
Maharashtra
Phone: +91 712 6689400
Office Type: Delivery Center
Regional Office
Noida
Address: Noida V,
4th to 7th floor,
Unitech Building ( SEZ ),
Plot NO 20 & 21, Sector 135,
Noida UP
Phone: 91 (0120) 6744444
Fax: 91 (0120) 6744999
Office Type: Delivery Center
Regional Office
Pune
Address: Tata Consultancy Services
Electronic Sadan No. 3,
MIDC, Bhosari,
Pune 411 026
Phone: 91 20 66115656 / 27123501
Fax: 91 20 27129209
Office Type: Delivery Center
Regional Office
Thiruvananthapuram
Address: Tata Consultancy Services,
Technopark Campus, Kariyavattom P. O.
Thiruvananthapuram 695 581,
Kerala
Phone: 91-471-6629400
Fax: 91-471-2700682
Office Type:Regional Office
You can also see:  ★ TCS Reasoning Questions
Therefore, the information we have given about TCS Branches in India – TCS Locations Address, Contact Details is helpful to you. For more updates stay tuned to our website freshersnow.com
| | |
| --- | --- |
| ★ Join Freshers Now Social Media Channels: | Click Here |