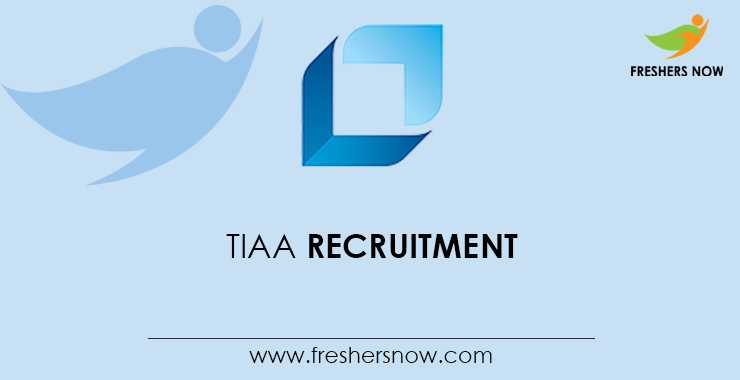 TIAA Recruitment 2021 – tiaa.org | Associate Openings in Mumbai: Willing to be a part of TIAA Family? Then, without any delay go through this complete article. TIAA Openings are been announced for Associate Role in Mumbai, India. All the passionate candidates having 0 to 2 Years of related experience can start applying for the TIAA Careers/ TIAA Jobs by hitting the below-mentioned link. By applying for this TIAA Recruitment 2021 candidates can nurture their talent, energy, and dreams. If the aspirants are feeling excited to know the extra particulars on TIAA Careers keep visiting our web portal freshersnow.com on a regular basis. Our team will be instantly updating this page with the latest TIAA Careers/ TIAA Openings.
TIAA Recruitment 2021 for Associate Role
| | |
| --- | --- |
| Name Of The Company | TIAA (Teachers Insurance and Annuity Association of America) |
| Job Role | Associate |
| Job ID | 1730283 |
| Experience | 0-2 Years |
| Salary | Best In Industry |
| Job Location | Mumbai, India |
| Category | IT Jobs |
| Official Website | tiaa.org |
TIAA Openings | Associate Key Responsibilities and Duties
Conducting research and analysis on the effectiveness and efficiency of current processes and systems; delivering report findings
Performing prototyping, unit testing, and in-depth testing of ERP solutions to ensure all problems and concerns are properly solved
Designing and deploying ERP applications and modules according to approved solution design documentation
Providing guidance and technical support during the implementation and configuration process for ERP solutions
TIAA Eligibility Criteria | Requirements, Skills
Following is the TIAA Eligibility Criteria to apply for TIAA Recruitment 2021/ TIAA Jobs/ TIAA Careers/ TIAA Openings.
Minimum Experience: 0-2 years
Physical Requirements: Sedentary Work
FINRA Registrations: No Securities Registration Required
Skills and Competencies
Service Excellence: Documents customer complaints in a timely manner. Resolves common customer problems. Provides direct service to internal or external customers. Provides a quality of service that customers describe as excellent. Responds to unexpected customer requests with a sense of urgency and positive action.
Information Capture: Coordinates and monitors the various steps involved in a records retention program. Ensures that all exceptions and unusual circumstances are properly captured and reviewed. Uses detailed knowledge of records retention program to conduct training and/or meetings. Enhances the processes and procedures used in the organization's records retention program. Helps others understand how the recording of information impacts other business units. Provides guidance in documenting pertinent information.
Business Case Justification: Uses established policies, standards, and practices in preparing a business case. Participates in process of justifying new business expenditures. Helps determine direct and indirect costs/risks vs. benefits of proposed products or services. Builds, with guidance, business cases for significant expenditures or staff requisitions. Researches organizational and industry examples of similar business cases.
Effective Communications: Maintains focus on the topic at hand. Reviews others' writing or presentations and provides feedback and coaching. Employs appropriate methods of persuasion when soliciting agreement. Demonstrates both empathy and assertiveness when communicating a need or defending a position. Adapt documents and presentations for the intended audience. Communicates well downward, upward, and outward.
Business Data Analysis: Sets standards for business data analysis tools and techniques, advises on their application and ensures compliance. Evaluate the quality of business data collected and the effectiveness of data analysis methods. Oversees the use of business data analysis software and troubleshoots for common errors. Provides solutions to data requirements in the business data analysis process. Suggests conclusions with results drawn from business data analysis. Directs the implementation of business data collection processes and educates junior employees on new data sources.
IT: a Business Within a Business: Performs security initiatives for current business applications within the IT environment. Diagnoses and reports minor or routine IT business service problems. Carries out the processes necessary for developing basic IT business applications. Assists in providing infrastructure components and service requirements for e-business applications. Explains the business value and cost structures of specific IT services or products.
Analytical Thinking: Approaches a complex problem by breaking it down into its component parts. Chooses among a diverse set of analytical tools according to the nature of the situation. Organizes and prioritizes the sequence of steps to be taken to remedy the situation. Quantifies the costs, benefits, risks, and chances for success before recommending a course of action. Identifies many possible causes for a problem based on prior experience and current research. Seeks discrepancies and inconsistencies in available information; explains variances.
Business Assessment: Defines success factors for potential applications or systems. Evaluate the processes and tools for risk assessment and benefits analysis. Plays an active or leadership role in business assessment processes and assists in the preparation of deliverables. Utilizes tools, techniques, and practices for identifying and validating business opportunities. Establishes business assessment procedures for multiple or critical applications. Conducts, documents, and communicates basic business assessment reviews and walkthroughs.
Workflow Analysis: Discusses and evaluates the new workflow and its approaches. Compares workflow analysis approaches with other industry professionals or organizations. Designs an appropriate workflow for a specific IT system. Directs the implementation of workflow mapping and automation. Analyzes each department's reports to optimize the existing workflow. Monitors the use of major functions and features in workflow analysis applications.
Requirements Analysis: Trains others on requirements walkthroughs and quality reviews. Ensures the successful completion of all major activities, tasks, and deliverables pertaining to the requirement analysis stage. Plays an active or leading role in recording and storing requirement documents in various forms. Supervises the advanced use of requirements analysis tools and services, including prototyping and use cases. Produces detailed functional and information requirements models and documentation. Utilizes automated diagramming tools to ensure traceability of requirements.
ERP (Enterprise Resource Planning): Evaluate the ERP system's best practices to learn its principles and applications. Consults on how to effectively integrate ERP systems with other platforms within the organization. Monitors all ERP users to comply with established operational guidelines and standards. Evaluate the benefits and drawbacks of an organization's own ERP system for further improvement. Advises the ERP design team on ERP systems requirements. Resolves all technical and administrative problems that occur throughout the ERP design and implementation process.
Service Request Management Process (TCS): Employs alternative methods for verifying and prioritizing service request completion. Collaborates with the design and development of service request process flow and templates. Directs the processes and activities for handling non-standard or unsupported service requests. Designs the process and shows the associated costs for different types of requests. Researches new tools and techniques for monitoring service gaps and improving effectiveness. Receives verifies and dispatches the full spectrum of service requests.
ERP Implementation: Consults on how to prioritize during the planning phase of ERP implementation projects. Guides end users on the utilization of complex or advanced functions in the ERP system. Delivers large or complex ERP implementation strategies and plans based on client requirements. Mentors junior engineers on how to implement an ERP system in a timely and efficient manner. Directs and organizes all ERP system integration and customization processes. Supervises implementation processes to ensure time and budget requirements are met.
Addressing Customer Needs: Performs sales activities for most or all products available in diverse product lines and multiple markets. Supports and maintains many major accounts over long periods of time and diverse circumstances. Finds and adapts products or product features to suit unusual customer needs. Sells to a wide variety of customers in different industries or walks of life. Advises others on how to adjust communication style to suit customer communication preferences. Alters the sales message to highlight product benefits to different customers and circumstances.
How To Apply for TIAA Recruitment 2021?
If you are looking for the process to apply for the TIAA Recruitment 2021/ TIAA Jobs/ TIAA Careers/ TIAA Openings then get the detailed process from this part.
Passinate candidates should visit the official site @ tiaa.org
Then the Home Page will appear on the screen
Aspirants can find the Careers Menu at the bottom of the page
Hit on it and the @ TIAA Careers Page gets opened
And in the provided field, we recommend the aspirants to search for the Associate Role in Mumbai, India
Then the desired link with Job ID: 1730283 will be out
Open it and go through the detailed information
Finally, complete the registration process by hitting the "Apply Now" button
TIAA Recruitment 2021 – Important Links
To grab more information on TIAA Recruitment 2021
Click Here
To Apply for TIAA Recruitment 2021
Click Here
---
TIAA Recruitment 2021 – tiaa.org | QA Trainee Jobs in Pune: TIAA Company is seeking passionate and ambitious people who are capable of making a positive impact to the organization. The HR Team of the company is planning to recruit worthy aspirants for QA Trainee CDAC 2 Role in Pune. Aspirants who want to be a part of a high-performing culture that values innovation and provides excellent learning and growth opportunities can grab this chance.
Moreover, in order to apply for TIAA Trainee Jobs, candidates should have 0-2+ years of related experience. Do find the below-provided link to apply for the TIAA Trainee Jobs/ TIAA Careers. We kindly urge all the aspirants to give a gentle click on the link and complete the registration process before the job gets expired. Wishing you Good luck!!!
TIAA Recruitment 2021 for QA Trainee CDAC 2 Role
| | |
| --- | --- |
| Name Of The Company | TIAA (Teachers Insurance and Annuity Association of America) |
| Job Role | QA Trainee CDAC 2 |
| Job ID | R211100236 |
| Experience | 0-2+ Years |
| Qualification | High School Preferred |
| Salary | Best In Industry |
| Job Location | Pune, India |
| Category | IT Jobs |
| Official Website | tiaa.org |
TIAA Jobs | QA Trainee Key Responsibilities and Duties
The Analyst, Testing job supports the evaluation of equipment and processes to ensure the safety, reliability, and maintainability of products and systems. This job tests the performance of various systems, applications, and databases, and works under close supervision.
Reviews test cases, scenarios, and scripts to ensure the quality of information systems, applications and databases delivered
Compiles testing tools and processes for use in projects, and participates in the selection of testing approaches
Plans reliability tests and conducts analyses of field failures while developing reliability information systems for failure analysis and performance improvement
Tests for the functionality and performance of software applications or systems software prior to release, documenting test results, and recommending quality improvements
Participates in the design and development of usability testing programs, cases, scenarios, and processes to ensure that all functions are thoroughly tested
Identifies quality- or service-related issues and reports them to other departments for containment, correction, and prevention
Assists in analyzing the results of testing sessions, and troubleshoots technical problems and issues
Steps To Apply for TIAA Recruitment 2021
Are you feeling vexed to know the exact process to apply for the TIAA Trainee Jobs/ TIAA Careers/ TIAA Jobs/ TIAA Recruitment 2021? Then follow the below-provided instructions to complete the registration process without any hindrance.
The first step is all the aspirants should open the companies website @ tiaa.org
Then the Home Page gets opened
By getting on to the end of the page, aspirants can find the Careers Menu
When the aspirants find the menu give a click on it
Then the candidates get redirected to the TIAA Careers Page
On that page, candidates can find the search option where aspirants can surf using Job Title/ Location
Now search using QA Trainee CDAC 2 Role in Pune India
Then the required link with Job ID: R211100236 will be out
Press on that and then go through the complete details carefully
At last complete the registration process by hitting the "Apply Now" button
TIAA Recruitment 2021 – Important Links
To apply for TIAA Recruitment 2021
Click Here
To fetch more details on TIAA Recruitment 2021
Click Here
We hope the candidates have acquired enough details here regarding the TIAA Recruitment 2021. Stay connected to our web portal @ freshersnow.com on a regular basis for fresh and time to time updates.