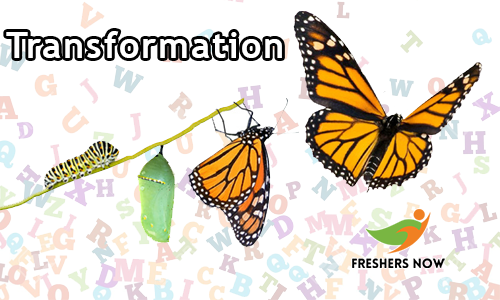 Is Transformation of sentences a problematic task for you? No problem we are here to help you to give the solving efficiently by providing the Transformation English Quiz. This Transformation Quiz is useful for you to answer any question in various entrance exams like ICET, GMAT, TOEFL, GATE. At the same time competitive exams like SSC, UPSC, TET, DSC. Candidates must be aware of this concept to crack those exams. Therefore, we are giving you a fantastic opportunity to make yourself as a ranker in the competitive exams by providing Transformation English Questions. We are also offering you a detailed description of answers as Transformation Questions and Answers at the bottom of this page. Half an hour time makes your life more valuable. You can survive in any of the countries by practicing this Quiz. So, don't delay move on to Transformation English Quiz. Let's have a look on it.
Transformation Quiz Info
| | |
| --- | --- |
| Quiz Name | Transformation |
| Category | Verbal Ability Questions |
| Number of Questions | 19 |
| Time | 30 Minutes |
| Exam Type | MCQ (Multiple Choice Questions) |
The necessary details are available here. Therefore, to know the quiz pattern and time duration for each answer. As well as how many questions are given to solve the Transformation Quiz. There are some 19 questions to answer in Quiz and time limit to you to answer them is 30 minutes. We have provided you sufficient time to answer a question. So, utilize it efficiently Here we have enclosed a tabular list of details to know about the Transformation Quiz.
Transformation Online Test
About Transformation of Sentence
Transformation means changing a sentence from one form to another form. This Transformation takes many ways to turn a Sentence. Some of them below are below this text.
Sentences containing adverb "too" are transformed to another sentence without changing its context by adding "so-that."
The Transformation must be according to the nature of the sentence and takes place in either negative form or the form of affirmative sentences.
Always omit the passive voice sentences and transform it to active voice sentences because user felt it difficult to read.
An affirmative sentence is changed into a negative statement by using a word "not." and vice-versa.
Similarly, there are many other ways to transform one form of a sentence to its another type. So, without changing the subject of the sentence but the above mentioned are the significant transformations used regularly.
Benefits of practicing Transformation English Quiz
This Quiz benefits you in the following ways:
The language of the candidates will be high by taking the Transformation Quiz.
Also, candidates need to know about the Time management. Moreover, it is useful to face all the competitive exam in a straightforward way.
You can easily improve your communication skills
User involvement is more in this interactive quiz with the detailed description.
Results of the Transformation English Quiz
Results make you easy to remember the rules of transformation as we are providing the informative guide which helps you a lot. There is no difficulty in using different forms of a sentence and its change. You can crack any exam and can attain a good rank by analyzing your answers after attempting the Quiz. For more Quizzes keep on visiting our site freshersnow.com.
Practice More English Questions and Answers
| | |
| --- | --- |
| ★ Join Freshers Now Social Media Channels: | Click Here |