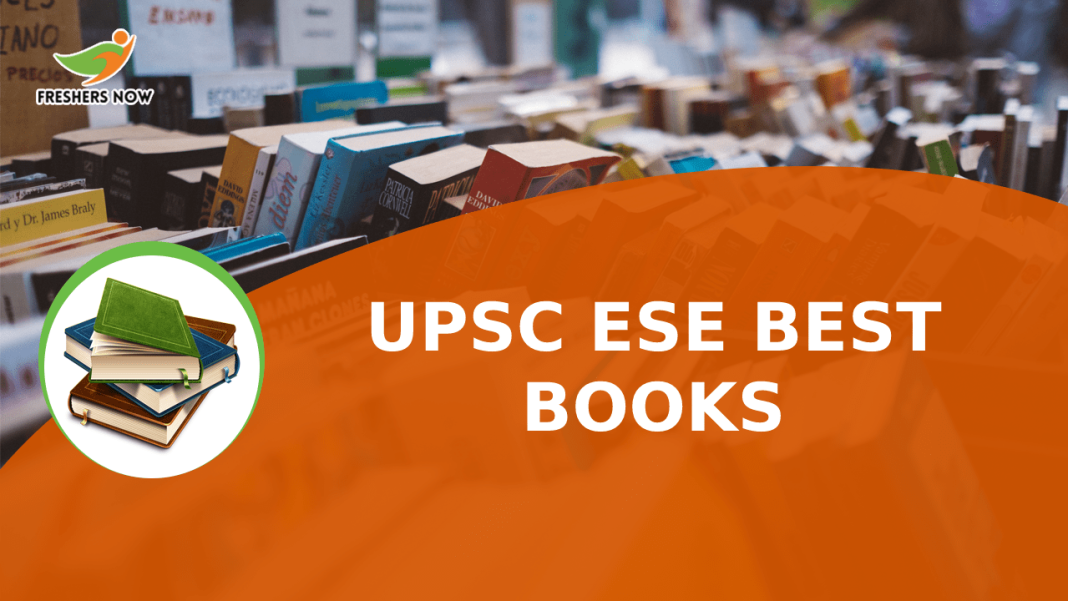 UPSC ESE Books – Best Books for UPSC Engineering Service Exam: Grab all the UPSC ESE Best Books. This article will guide you with the Best Books for UPSC Engineering Service Exam. If you have started your preparation for the exam. You need to have the right set of preparation books. As these will help you with all the essential criteria that you need to fulfill for the exam prep. Subsequently, this will help you analyze the level of preparation that you are in. So, consider reading through the article and do not miss any of this list of books for UPSC ESE. Read along and do take notes. So that you will not miss any of the books that are mentioned in this article.
UPSC ESE Best Books
Network Theory – Network Analysis – M. E. Van Valkenburg
Fundamentals of Electric Circuits – Charles K. Alexander, Matthew N. O. Sadiku
Communication Systems – Communication Systems (Fourth Edition) – Simon Haykin
Communication Systems Engineering – John G. Proakis, Masoud Salehi
Probability, Random Variables and Random Signal Principles – Peyton Z. Peebles
Computer System Architecture – M. Morris Mano
Operating System Concepts – Abraham Silberschatz, Peter Baer Galvin, Greg Gagne
Electronic Instrumentation – H. S. Kalsi
A Course in Electrical and Electronic Measurements & Instrumentation – A. K. Sawhney
Microelectronic circuits – Adel S. Sedra, Kenneth C. Smith
Integrated Electronics – Jacob Millman, Christos Halkias, Chetan D. Parikh
Switching & Finite Automata theory – Zvi Kohavi
Digital Design – M. Morris Mano
Automatic control systems – Benjamin C. Kuo
Best Books for UPSC Engineering Service Exam
Control systems engineering – J. Nagrath, M. Gopal
Principles of Electromagnetics – Matthew N., O. Sadiku S., V. Kulkarni
Electronic Devices and Circuits – Solid State Electronic Devices
Ben G. Streetman, Sanjay K. Banerjee
Signals and Systems – Alan V. Oppenheim, Alan S. Willsky
Digital Signal Processing – John G. Proakis, Dimitris G. Manolakis
Microprocessor Architecture, Programming and Applications with the 8085 – Ramesh Gaonkar
Data Communications and Networking – Behrouz A. Forouzan
Principles and Practice – Theodore S. Rappaport
Optical Fiber Communications – John M. Senior
CMOS VLSI Design – Neil H. E. Weste, David Money Harris
VLSI Fabrication Principles – Sorab K Ghandhi
Materials Science and Engineering – William D. Callister
Introduction to Nanotechnology – Charles P. Poole, Frank J. Owens
A textbook of Electrical Technology (Volume – 2) – B. L. Theraja, A. K. Theraja
Electrical Machines – Ashfaq Husain
UPSC ESE – Subject Wise books
This section of the article will guide you through UPSC ESE – Subject Wise books. Follow along and do take notes according to your subject of specialization.
ESE Books for General Studies & Engineering Aptitude
General Studies & Engineering Aptitude 2020 – IES Master Publication
ESE 2020 Prelims: General Studies & Engineering Aptitude – ACE Engineering Publications
ESE 2020 General Studies & Engineering Aptitude Practice Book – Made Easy Publications
General Studies & Engineering Aptitude – R.K. Jain
IES Mechanical Engineering Books for Prelims and Mains
Engineering Thermodynamics – a) PK Nag b) Cengel & Boles
IC Engine – a)ML Mathur and RP Sharma b) V.Ganesan
Gas Turbine and Propulsive Systems – a) PR Khajuria & SP Dubey b) V.Ganesan
Fluid Mechanics – a) Modi & Seth b) RK Bansal
Compressible Flow – SM Yahya
Heat and Mass Transfer – a) JP Hollman b) RC Sachdeva
Refrigeration and Air Conditioning – a) CP Arora b) Domkundwar
IES Electrical Engineering Prelims and Mains Books
Network Analysis – Van Valkenburg
Electromagnetic – William H. Hayt
Electrical Machinery – PS Bhimra
Electrical Machines – Nagrath & Kothari
Power System Engg – Nagrath & Kothari
IES Electronics and Telecommunication Engineering Books for Prelims and Mains
Network Analysis – a) Van Valkenburg b) Chakrabarti
Electromagnetic Waves & Radiating Systems – a) Jardon & Balmain b) JD Kraus
Integrated Circuits – K.R. Botkar
Op. Amps & Linear Integrated Circuit – Gayakwad
Digital Logic & Computer Design – Morris Mano
IES Civil Engineering Books For Prelims & Mains
Strength of Materials – a) Gere and Timoshenko b) B C Punamia
Structural Analysis – a) Negi b) S Ramamrutham c) C K Vang
Concrete Structures – a) Punamia & Jain b) H J Shah
Steel Structures – Duggal
Soil Mechanics & Foundation Engg. – a) Ranjan & Rao b) Venkata Ramaiah c) S K Garg
Fluid Mechanics and Hydraulics – a) Modi & Seth b) R K Bansal c) Subramanyam
To conclude, UPSC ESE Books are well structured in this article. All the Best Books for UPSC Engineering Service Exam subject wise have been given. Stay connected for more informative articles here – freshersnow.com