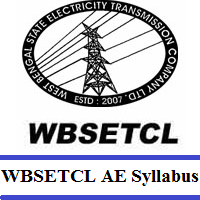 WBSETCL AE Syllabus 2019: The officials of the West Bengal State Electricity Transmission Company Limited (WBSETCL) decided to conduct the Assistant Engineer, Assistant Manager, Junior Executive Examination in the month of February 2019. So, for that purpose, all the applied candidates need to notify the exact wbsetcl.in Selection Process 2019 as well as the WBSETCL Exam Pattern 2019. We have also furnished you with the latest WBSETCL AE Exam Syllabus topics subject wise in the upcoming sections. Moreover, to score more in the पश्चिम बंगाल राज्य विद्युत प्रसारण कंपनी लिमिटेड test, you need to prepare by downloading the WBSETCL Assistant Engineer Syllabus 2019 PDF from the direct link at the end.
You Can Also Check: ★ WBSETCL Assistant Engineer Admit Card
WBSETCL AE Syllabus 2019 – Complete Information
पश्चिम बंगाल राज्य विद्युत प्रसारण कंपनी लिमिटेड Assistant Engineer Syllabus 2019 | Junior Executive Exam Pattern
Organization Name
West Bengal State Electricity Transmission Company Limited (WBSETCL)
Post Name
Assistant Engineer, Assistant Manager, Junior Executive
Total Vacancies
143 Posts
Exam Date
February 2019
Category
Syllabus
Selection Process

Computer Based Test/ Online Test
Personal Interview

Job Location
West Bengal
Official Site
wbsetcl.in
wbsetcl.in Selection Process 2019 | AE, JE, AM Vacancies
Selection of candidates for all posts will be made on the basis of the performance of the eligible candidates in the Computer Based Test/ Online Test and Personal Interview. The candidates will be shortlisted for Interview in 1:3 ratio in each category based on their performance in the Online Test. In case of a tie in the score (combined) for any post, for determining merit position under this Notification, the following methods will be adopted by WBSETCL:
In case of two or more candidates scoring equal marks (combined), the candidate senior in age will be given preference.
If the aggregate/ combined marks and also the date of birth be the same, the candidate scoring higher in online examination will be given preference.
You Can Also Check: ★ WBSETCL Recruitment
पश्चिम बंगाल राज्य विद्युत प्रसारण कंपनी लिमिटेड Exam Pattern 2019
This section illustrated all the detailed information about the WBSETCL Exam Pattern 2019. So, have a look over the tabular form as well as the minimum qualifying marks. Personal Interview will be conducted for 25 Marks.
Exam Type: Objective Type
Medium of Examination: English
Marks per question: One
No. of answer Options: 4 (A, B, C, D)
Negative marking: There will be no negative marking for wrong answers.
Subjects
Marks
Duration
Concerned Subject (PART A)
60
90 Minutes
General Aptitude (PART B)
20
English (PART C)
15
Bengali/ Nepal Test (PART D)
5
Total
100
West Bengal SETCL Minimum Qualifying Marks
Minimum Qualifying marks considering all parts in the MCQ Type Test:
40% for Unreserved, OBC-A and OBC-B
35% for Scheduled Castes
30% for Scheduled Tribes
30% for PH candidates
Minimum Qualifying marks in English & Bengali / Nepali Tests:
For all the notified posts, a candidate will have to score a minimum of 05 (five) out of allotted 20 (twenty) marks to qualify.
You Can Also Check: ★ WBSETCL AE Previous Papers
Download WBSETCL Assistant Engineer Syllabus 2019 PDF
Besides downloading the WBSETCL Assistant Engineer Syllabus 2019 PDF, you must once look at the below-listed topics that are to be covered before the examination. At the end of this page, we have inserted the appropriate link to download the WBSETCL AE Exam Syllabus PDF. So, by preparing with the WBSETCL AE Syllabus 2019, you can easily cover the important topics for the test. You can even get more information from our Freshers Now webpage.
Subsequently, writing down the topics for the stipulated subjects enhances your performance level in the WBSETCL AE, JE, AM Written Exam 2019. Candidates who get shortlisted in the written test will have the chance to enter into the wbsetcl.in Selection Process. Immediately, note down the below-listed topics for each subject required for the test. Note the following topics required to prepare for the written examination.
WBSETCL AE Exam Syllabus – Concerned Subjects
Civil
The flow of Fluids, Hydraulic Machines, and Hydro Power
Fluid Mechanics, Open Channel Flow, Pipe Flow
Hydraulic Machines and Hydropower
Hydrology and Water Resources Engineering
Environmental Engineering
Water Supply Engineering
Building Materials
Structural Analysis
Waste Water Engineering
Solid Mechanics
Solid Waste Management
Air, Noise pollution, and Ecology
Geotechnical Engineering and Foundation Engineering
Surveying and Geology
Transportation Engineering
Design of Steel Structures
Design of Concrete and Masonry structures
Construction Practice
Planning and Management
Highways
Tunneling
Railways Systems
Harbors
Airports
Electrical
Electromagnetic Theory
Power Electronics & Drives
Switch Gear and Protection
Control Systems
Power System Analysis & Control
Analog and Digital Electronics
Electrical Machines
Power Systems
Network Analysis
Electrical Instrumentation
Power System Protection
Electronics Devices
Utilization of Electrical Energy
Electronics
Analog and Digital Communication Systems
Control Systems
Computer Organization and Architecture
Electro Magnetics
Advanced Electronics Topics
Basic Electrical Engineering
Materials Science
Advanced Communication Topics
Basic Electronics Engineering
Electronic Measurements and Instrumentation
Network Theory
Analog and Digital Circuits
wbsetcl.in AE, JE, AM General Aptitude Topics
Problems on Ages.
Surds and Indices.
Volume and Surface Area.
Problems on H.C.F and L.C.M.
Simple Interest.
Logarithm.
Blood Relations.
Allegation or Mixture.
Ratio and Proportion.
Pipes and Cistern.
Simplification.
Time and Work.
Partnership.
Height and Distance.
Average.
Time and Distance.
Permutation and Combination.
Decimal Fraction.
Chain Rule.
Square Root and Cube Root.
Probability.
Compound Interest.
Boats and Streams.
Clocks & Calenders.
Area.
Data Interpretation.
पश्चिम बंगाल राज्य विद्युत प्रसारण कंपनी लिमिटेड Assistant Manager English Syllabus
Substitution
Sentence Arrangement
Transformation
Prepositions
Para Completion
Joining Sentences
Error Correction (Underlined Part)
Antonyms
Spotting Errors
Sentence Completion
Active and Passive Voice
Sentence Improvement
Spelling Test
Synonyms
Idioms and Phrases
Passage Completion
Error Correction (Phrase in Bold)
Fill in the blanks
To Download WBSETCL AE Syllabus 2019 PDF: Click Here