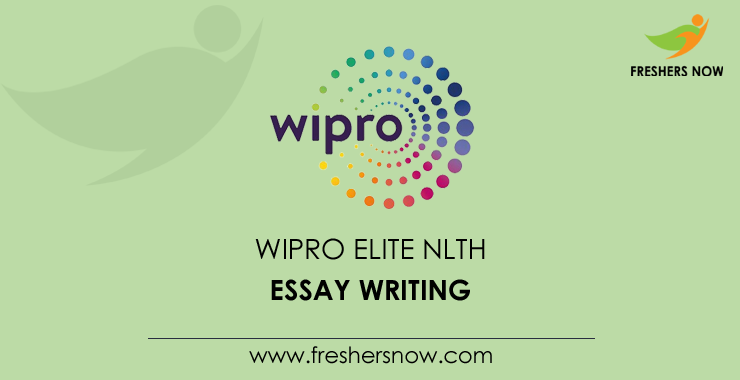 Are you afraid of clearing the Wipro Elite NLTH Essay Writing Test? Then, here we are to make your task much easier. We heard that many of the candidates are ready to take part in the Wipro Elite NLTH. So, to crack that Wipro Elite NLTH Recruitment Drive, you need to qualify in all the rounds. On our Freshers Now page provides you with all the Wipro Elite NLTH Essay Writing Topics and also the Wipro Elite NLTH Essay Writing Tips. And 2020 Batch Freshers should be very effective during Wipro Elite NLTH Essay Writing.
All the recruiters of Wipro decided to pick only suitable, and talented candidates through this Wipro Elite National Talent Hunt 2020. To be one among them you should prepare the best for the Wipro Elite NLTH 2020. You can also know the framing of an essay, and how to enhance your essay writing skills in the forthcoming sections. Prepare more with the Wipro Syllabus and the Wipro Placement Papers.
Wipro Elite NLTH Essay Writing For Freshers
Essay Writing is a fundamental part of academic learning at every level. However, many candidates lose the valuable marks by failing to structure their essays clearly and concisely in order to make the best of their ideas. So how do you structure an essay correctly? What is the best essay format? This simple article will show you how to structure an essay by clearly introducing and concluding your argument, and laying out your paragraphs coherently in between. Thereby, you can easily improve your Wipro Elite NLTH Essay Writing Skills.
Candidates have to note that they will provide the set of Wipro Elite NLTH Essay Writing Topics. And you need to frame a perfect essay so that the length of the essay should be between 100 to 300 words. For Example – Question: Social Media speech independence: should be regulated or not? Support your response with reasons and examples. And Every well-structured essay ends with a conclusion. Its purpose is to summarise the main points of your argument and, if appropriate, to draw a final decision or judgment about the issues you have been discussing.
You Can Also Check: ★ Wipro Off Campus
Wipro Elite NLTH Essay Writing Topics & Tips
| | |
| --- | --- |
| Name of the Company | Wipro |
| Name Of The Event | Elite National Level Talent Hunt 2020 (NLTH) |
| Exam Type | Written Communication Test – Essay Writing |
| Time Duration | 20 Minutes |
| Category | Essay Writing Topics & Tips |
| Official Website | www.wipro.com |
What Do Wipro Elite NLTH Essay Writings Test?
Ability to comprehend the topic
Knowledge on topic
Ability to write
Time Management
You Can Also Check: ★ Wipro Recruitment
Wipro Elite NLTH Essay Writing Tips
It is to be advised that all the 2020 Batch Freshers, attending for the Wipro Elite NLTH 2020 must participate effectively to be promoted further.
How to structure the Essay?
List all talking points
Segregate talking points into Introduction, Body, and Conclusion
Write the first draft
Edit and Improve
Quickly Improve Your Essay Writing Skills
Make an outline. Know what you are going to write about before you start writing
Acquire a solid understanding of basic grammar, style, and punctuation
Use the right vocabulary and frame paragraphs
Don't use big or heavy words
Use keywords if mentioned
Make sure to proofread
Understand the argument and critically analyze the evidence
Know how to write a proper conclusion that supports your research
Practice These For Wipro Elite NLTH Essay Writing Topics
Wipro Elite NLTH Essay Writing Topics
Do you prefer to be just a member of a group or the leader of a group of pollution in the community and what would you do to control it?
Practical knowledge is better than bookish knowledge?
The present situation of Agriculture in India compare to ancient days
Unity in Diversity – Often Discussed, Rarely Practiced
What is the way the IT people to help an uneducated Public
"How important is it to have a personal-professional balance in life to be happy? What do you do to achieve that?"
Do we need watchdogs in our society?
Is India still a secular state?
Should Euthanasia be accepted or be kept banned?
Climate Change
Do we need smart cities or smart laws?
Most memorable day of your life.
Mention 3 things you regret in your life.
Describe your personality?
Match Fixing – Cricketers to blame?
Women empowerment
Is there an increase in intolerance in India?
Roll on Gandhism
Vision – India 2020 – will India become a superpower?
Will Swacch Bharat campaign succeed?
Terrorism
Indian Education Vs Foreign Education
How can IT help the uneducated people in our society?
The current agricultural scenario in India as compared to the ancient days
Your favorite sports icon
Your role model
Partiality between rich and poor
Global warming and its threats
Technology has made humans slaves
3 things you would change about the world
If you weren't in this field which field would you have chosen and why?
How will you be an asset to Wipro
Digital India
Effects of mobile phones on teens
Jallikattu – should the ban continue?
An era of letter writing
Should mobile phones be banned during work hours?
GST Bill
Should alcohol be banned in India?
Child Labour
Dowry
You Can Also Check: ★ Wipro Internships
Freshers, Concentrate More On The Below Topics As Well