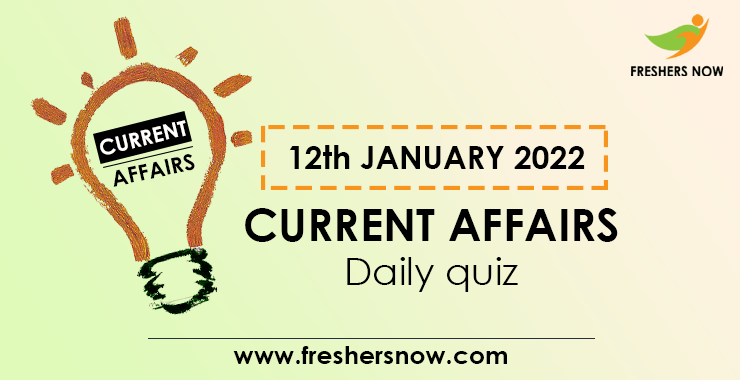 12th January 2022 Current Affairs Quiz: Hello Guys! Are you looking for the Latest Current Affairs Quiz of 12th January 2022? If so, check this article. For the sake of candidates, we had provided the 12th Jan 2022 Current Affairs Quiz in the below sections. Aspirants, who are preparing for the state/ central government exams like IBPS, SBI, RRB, SSC, UPSC or any other competitive exams, grab this chance to gain more marks in the section of Current Affairs. For more details like Daily Current Affairs, Static GK or Current Events of January, kindly keep visiting this page more often and also bookmark this page.
★★ Current Affairs Quiz ★★
12th January 2022 Current Affairs Quiz By Freshersnow.com
1) Which bank Collaborates with MinkasuPay for Biometric-Based Banking Payments?
a) HSBC Bank
b) Axis Bank
c) South Indian Bank
d) DBS Bank
Answer: B
Explanation: Axis Bank has partnered with MinkasuPay to offer a biometric authentication solution for net banking payments in merchant apps using Fingerprint or Face ID, without the need for usernames, passwords, and One-Time Passwords. This Solution will reduce the time of payment from 50-60 seconds to just 2-3 seconds and also increase the transaction success rate.
Static Points:
Axis Bank MD & CEO – Amitabh Chaudhry
Axis Bank Headquarters – Mumbai, Maharashtra
MinkasuPay India Co-Founder & CEO – Anbu Gounder
Headquarters – Coimbatore, TamilNadu
2) Who was nominated as Kazakhstan New Prime Minister?
a) Kassym-Jomart Tokayev
b) Shavkat Mirziyoyev
c) Imran Khan
d) Arif Alvi
Answer: A
Explanation: Kazakhstan President Kassym-Jomart Tokayev nominated Alikhan Smailov, 49 years as the Prime Minister (PM) of Kazakhstan and the lower house of parliament also voted in favour of him during a session that broadcasted live on state television. Alikhan Smailov has served as First Deputy Prime Minister of the Republic of Kazakhstan in 2019.
Static Points:
Kazakhstan President – Kassym-Jomart Tokayev
Capital – Nur-Sultan
Currency – Tenge
3) Which company Appoints Shersingh B Khyalia as its CEO?
a) Tata Power
b) Adani Power
c) Pwergrid
d) None of the above
Answer: B
Explanation: The Board of Directors of Adani Power Limited (APL), a subsidiary of Adani Group, approved the appointment of Shersingh B Khyalia as the Chief Executive Officer of Adani Powers with effect from 11th January 2022. Shersingh B Khyalia is a Chartered Accountant, who has served as the Managing Director in Gujarat Power Corporation.
Static Points:
Adani Power Limited CEO – Shersingh B Khyalia
Headquarters – Ahmedabad, Gujarat
★★ Free Mock Tests ★★
4) Who releases the report on Q2 FY22 of Quarterly Employment Survey?
a) Giriraj Singh
b) Amit Shah
c) Kiren Rijiju
d) Bhupender Yadav
Answer: D
Explanation: Union Minister Bhupender Yadav, Ministry of Labour & Employment virtually released the report of the second quarter (Q2FY22- July-September 2021) of Quarterly Employment Survey (QES), a part of the All-India Quarterly Establishment-based Employment Survey.
Static Points:
Bhupender Yadav – Minister of Environment, Forest & Climate Change and Ministry of Labour and Employment
Constituency – Rajasthan, Rajya Sabha
5) India Successfully Test-Fires BrahMos Supersonic Cruise Missile from ____.
a) Visakhapatnam
b) Karnataka
c) Odisha
d) Maharastra
Answer: A
Explanation: India successfully test-fired an advanced sea to sea variant of BrahMos Supersonic Cruise missile from INS (Indian Navy Ship) Visakhapatnam warship off the west coast. The missile hit the designated target ship precisely at the maximum range. BrahMos missile flies at a speed of 2.8 Mach or almost three times the speed of sound.
Static Points:
Indian Navy Chief of Naval Staff (CNS) – Admiral R Hari Kumar
Integrated Headquarters of Ministry of Defence (Navy) – New Delhi
6) ____ Power Exchange Signs Energy Trading Agreement with India's Manikaran Power.
a) Nepal
b) Bhutan
c) Bangladesh
d) South Korea
Answer: A
Explanation: Nepal Power Exchange Ltd (NPEL) signed an energy trading agreement with India's Manikaran Power Ltd to sell electricity produced by the domestic private sector to India through India's Manikaran Power. This is the first agreement between the private sectors of India and Nepal to facilitate power trading.
Static Points:
Manikaran Power Ltd MD – Navajeet Singh Kalsi
Headquarters – New Delhi
Nepal Capital – Kathmandu
Prime Minister – Sher Bahadur Deuba
Currency – Nepalese Rupee
★★ English Questions & Answers ★★
7) Cricket all-rounder Chris Morris announces Retirement, he is from which country?
a) Russia
b) South Africa
c) India
d) England
Answer: B
Explanation: South African (Proteas) all-rounder Chris Morris announced retirement from all forms of cricket at the age of 34, he is set to take up a coaching role for the domestic cricket team – Titans in the CSA T20 Challenge. He has also played in the Indian Premier League (IPL) for Chennai Super Kings, Royal Challengers Bangalore, Delhi Capitals, Rajasthan Royals.
Static Points:
South African Cricket Board of Control Director – Graeme Smith
Headquarters – Johannesburg, South Africa
8) Which bank extends its Directions for Sri Guru Raghavendra Sahakara Bank till May 10, 2022?
a) SBI
b) HDFC Bank
c) ICICI Bank
d) RBI
Answer: D
Explanation: The Reserve Bank of India has extended the validity of its directions by 4 months for Sri Guru Raghavendra Sahakara Bank Niyamitha, Bengaluru, Karnataka) i.e. till May 10, 2022, from January 11, 2022. The directions have been issued under Section 35A read with Section 56 of the Banking Regulation (BR) Act, 1949.
Static Points:
RBI Headquarters – Mumbai
RBI Governor – Shaktikanta Das
RBI Deputy Governor – Mahesh Kumar Jain, M. Rajeshwar Rao, Michael Patra and T. Rabi Shankar
9) Which state will host the 5th Khelo India Youth Games?
a) Maharashtra
b) Haryana
c) Assam
d) Madhya Pradesh
Answer: D
Explanation: Madhya Pradesh will host the fifth season of the Khelo India Youth Games, which will take place this year in 2022. In Bhopal, the games will be held. Every year, this event is held in January. Candidates who are under the age of 17 and under the age of 21 can compete in one of two categories.
Static Points:
Khelo India Youth Games Headquarters – New Delhi
First Event – 2018
★★ GK Questions & Answers ★★
10) GoI to hold ____ per cent Stakes of Vodafone Idea in the form of Equity.
a) 25.2%
b) 30.1%
c) 35.8%
d) 27.7%
Answer: C
Explanation: India's third-largest network Vi or Vodafone Idea Limited (VIL) has approved the interest on a spectrum and Adjusted Gross Revenue (AGR) dues into government equity. VIL accepted a four-year moratorium as well as accepted the equity conversion. The net present value of interest is expected to be about Rs.16,000 crore, final confirmation made by the Department of Telecommunications.
Static Points:
Vodafone Idea Limited MD & CEO – Ravinder Takkar
Headquarters – Gandhinagar, Gujarat
11) which bank Issues 1st LC on Govt-backed Platform SLDE?
a) HDFC Bank
b) ICICI Bank
c) Yes Bank
d) Axis Bank
Answer: D
Explanation: Axis Bank issued the industry's 1st letter of credit on the Secured Logistics Document Exchange (SLDE), a government-backed blockchain-enabled platform. The deal, which was executed digitally on the SLDE platform, involved ArcelorMittal Nippon and Lalit Pipes & Pipes Limited (LPPL) (Axis bank's client). The bank released an LC on behalf of LPPL.
Static Points:
Axis Bank Tagline – Badhti Ka Naam Zindagi
Founded – 3 December 1993
★★ Aptitude Questions & Answers ★★
12) LazyPay Partners with which Bank India to Launch LazyCard for Easy Credit
a) SBM Bank
b) ADB Bank
c) RBL Bank
d) HSBC Bank
Answer: A
Explanation: PayU Finance's Buy Now Pay Later (BNPL) service, LazyPay, has partnered up with SBM Bank India to deepen its arms into the card segment and launched the LazyCard, an instrument based on prepaid payment backed by a credit line.
Static Points:
PayU Finance CEO – Prashanth Ranganathan
Headquarters – Gurugram, Haryana
SBM Bank CEO & MD – Sidharth Rath
Headquarters – Mumbai, Maharashtra
Tagline – Working For A Better Tomorrow
13) Who Appointed as Brand Ambassador of RenewBuy?
a) RajKummar Rao
b) Patralekha
c) Janhvi
d) Hansal
Answer: A
Explanation: RenewBuy, an online insurance platform, has appointed RajKummar Rao as the brand ambassador for its 1st 360-degree consumer advertising campaign that highlights consumers' insurance needs. The campaign was designed and conceptualised by Havas Worldwide India. "Smart Tech, Right Advice" is the theme of the campaign.
Static Points:
RenewBuy Founder – Balachander Sekhar & Indraneel Chatterjee
Established – 2015
14) 79th Annual Golden Globe Awards 2022 held in which country?
a) Germany
b) Canada
c) California
d) France
Answer: C
Explanation: The Hollywood Foreign Press Association(HFPA) announced the winners of the 79th edition of the Annual Golden Globe Awards (2022) in Beverly Hilton, Beverly Hills, California, the United States of America which is held on 9th January 2022. The 2022 awards recognized and honoured the talents of film and television (American production or co-production between the USA and foreign partner) for 2021.
Static Points:
California is a state in the Western United States
California Capital – Sacramento
Governor – Gavin Newsom (Democratic Party)
★★ Reasoning Questions & Answers ★★
15) ____ Got Category I Licence for Inter State Power Trading.
a) PGC
b) NLC
c) SJVN
d) NTPC
Answer: C
Explanation: SJVN got the Category I licence for inter-state trading in electricity in India, which was granted by the Central Electricity Regulatory Commission (CERC). SJVN has a portfolio of more than 16,000 megawatts (MW), out of which 2,016.5 MW is under operation.
Static Points:
CERC Chairperson – G B Pradhan
Headquarters – New Delhi
For the sake of candidates, we have provided the 12th January 2022 Current Affairs Quiz in the above sections. Keep visiting this site @ freshersnow.com on a regular basis for Daily Current Affairs.