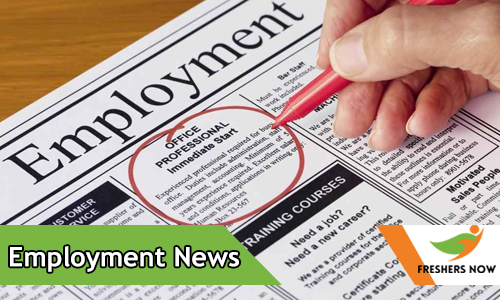 Employment News 2022 Daily, Weekly
Candidates can get the Daily and Weekly Employment News 2022 updates through this page. A huge number of job seekers are seeking for the latest Government Job Notifications. For the sake of candidates, we are providing the current details related to Employment News which is lately released by the Central Govt and State Govt Sectors. From this page, all the contenders can get the Daily and Weekly Employment News 2022 information. So, all the job seekers can verify and apply for latest Jobs. The current Employment News Page will be very useful and helpful for the competitors. We all know that many of the aspirants are showing they're passionate towards the Government Jobs.
Employment News 2022 in Hindi
For those, contenders we have collected a lot of information. So, bookmark this page and find the recent news. नवीनतम और आगामी रोजगार अधिसूचनाएं नीचे दी गई तालिका में अद्यतन की गई हैं। इसलिए, दैनिक और साप्ताहिक रोजगार समाचार 2022, सरकारी रोजगार समाचार 2022, भारत में राज्य वार रोजगार समाचार आदि को नीचे दिए गए अनुभागों से जांचें। Latest and Upcoming Employment Notifications has been updated in the below table. Therefore, check the Daily and Weekly Employment News 2022, Government Employment News 2022, State Wise Employment News in India etc from the below sections. Moreover, check the latest Govt Jobs PDF Download through this page.
You Can Also Check: ★ Railway Jobs & Bank Jobs ★ Central Govt Jobs
Weekly Employment News 2022 Paper in India
For all the job seekers who had completed their 10th/ 12th/ ITI/ Diploma, Graduation, Post Graduation, Bachelor's Degree, Masters Degree are eligible to apply for the Employment News 2022. In addition, to this once verify at the above table and get the recent Recruitment Notifications which is officially released by many Central and State Departments in India. Moreover, as soon as possible, you can get the employment news in Hindi, employment newspaper in Tamil, employment news Odisha, employment news pdf and download employment newspaper pdf, etc. Therefore, we are decided to update the current page on a daily basis with the latest Employment News 2022. We are pretty much sure that the current page is the best source for all the candidates who are in the job search.
How To Apply For Employment News 2022?
You can apply for latest government jobs by checking the vacancy posts in this page. Just click on the suitable job post and check the details, if it suits you then go and apply for it based on the recruitment process of particular government organization. We urge the competitors to refer the precise Advertisements before appling for Jobs. To avoid the additional complexity it is very important to check the entire details before applying. We all know that the competition for Government Jobs is very immense.
Also, visit our website Freshers Now on a daily basis in order to get the latest information. Moreover, we are always available here to help the contenders in their hard times. Therefore, just focus on the entire page and gain more latest stuff regarding Employment News 2022.
Frequently Asked Questions
Does Freshers Now Provide Updates about Employment News?
Yes, Freshersnow.com provide details about the Employment News, once it is released officially.
Where to Check Employment News?
Check employmentnews.gov.in or visit Freshersnow.com to check Employment News, whenever they are released.
How to Register for Employment News?
Check employmentnews.gov.in Official site. And over there select either English and Hindi. Click on E-Version. Register Yourself. Make Payment and then Subscribe. Check https://www.e-employmentnews.co.in/membership/login.
Do you provide central government jobs information also in employment news page?
Yes. We do provide central government jobs also on this page.