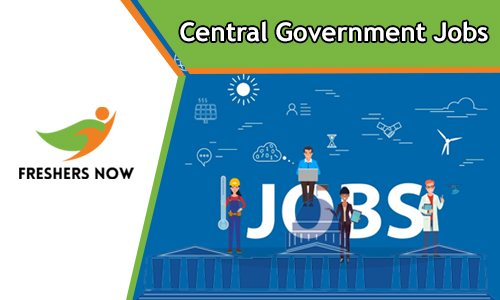 List of Central Government Jobs 2022 in India
Central Govt Jobs 2022: There are many Noted Central Government Organizations/ Institutes/ Hospitals that release Job Notifications. NFL, BECIL, NWDA, AIIMS, BCCL, ISRO, DRDO, Etc., on regular basis, release the Central Government Job Notifications. Candidates across India can check them by following Freshersnow.com regularly. Freshers Now will Update this Central Government Jobs 2022page daily. Therefore, checking this page often, will help the candidates in getting placed in a Central Government Organization.
Central Government Jobs 2022- Qualification
Latest Central Govt Jobs 2022: Now Freshers Now team is Providing Central Government Jobs 2022information for each and every Qualification. Therefore, if you are looking for Updated related to Central Government Jobs for Graduates 2022, Central Government Jobs for 10th Pass, 12th Pass Central Govt Jobs, you can find them here on this page. Candidates can bookmark this page and find the details instantly, whenever it is updated.
Central Government Jobs 2022 – Selection Process
Jobs in central government: Mostly Government Organizations/ Institutes conduct the Selection Rounds, to hire eligible candidates from all the applicants. In the majority of cases, the Officials will conduct the Rounds such as Written Test followed by Skill Test or Interview or all of them. Candidates will be hired into the Central Government Vacancy, by the Organization, only if they clear all those Selection Rounds. After checking the Central Government Jobs Notifications from this page, candidates can easily get the detailed information.
Central Government Jobs 2022 – Salary Information
Central Govt Jobs For Freshers: While applying for any Central Government Jobs 2022, candidates will mostly look at the Salary Particulars. Candidates have to notice that the Salary for each Central Government Jobs will vary based on numerous factors such as Level, Experience, Organization, Etc., Many Central Government Organizations even Offer the Grade Pay for the candidates. For Example, in a Central Government Organization like NFL, the salary for the Engineer/ Senior Chemist will be around Rs.40,000 to Rs.1,40,000/- Per Month. For the same positions, another Organization will offer a different salary. Therefore, check the Related Central Government Job Notification.
Hope the total details sourced about Central Government Jobs 2022 is informative for Job Searchers. To get updated about More such Employment News, always check Freshers Now.
Central Government Jobs 2022- Frequently Asked Questions
How to Apply Online For Central Government Jobs?
Please check the Concerned Organization Website. Find the Notification in the Recruitment/ Career Section. If you are eligible and have had all the Qualifications correctly, then proceed to apply according to the Mode of application. If it's Online Mode, apply through the Official Site. If it's Offline Mode, then download and fill the application form, send it to the address given in the Central Government Job Notification.
Does FreshersNow update Central Government Jobs List Daily?
Freshersnow.com team regularly updates the Central Government Jobs List that are released across India.
What is the Education Qualification Required To Apply For Central Govt Jobs?
Job Seekers who have completed either their 8th, 10th, 12th, ITI, Diploma, CA, ICWA, Degree, Graduation, Post Graduation, Masters, Ph.D. from any Recognized Institute or University in India, as the Educational Qualification can apply for central government jobs.
What are the best central government jobs in India?
There are many best central government jobs such Staff Selection Commission jobs, Railway Jobs, UPSC jobs, Indian Army jobs, Indian Navy jobs, Indian Air Force jobs, Naratna company jobs etc.
How can I get central government job easily?
There is no shortcut or easy method to get any job. You need to prepare well by using the provided previous papers and by knowing the latest syllabus & exam pattern. Also, you should practice more number of questions by attempting the mock tests.