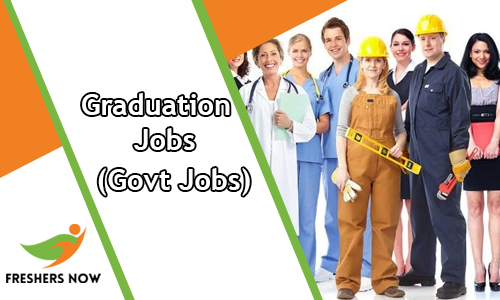 Graduate Govt Jobs 2020 | RRB, Banks, RBI, SSC
Are you looking for the Graduate Govt Jobs 2020? Well, then this article will help you in finding the Government Jobs for Graduates 2020. There are many noted Government Organizations such as Railways, Banks, RBI, SSC, UPSC, IOCL, HPCL, DRDO, ISRO, Etc., on a regular basis release the Government Govt Jobs 2020. Therefore, if you having finished your Graduation in any department from any Recognized Institute or University in India, as the Educational Qualification can find the Latest Graduate Govt Jobs 2020.
Graduate Govt Jobs 2020 – Salary Information
While applying for the Graduate Govt Jobs 2020, candidates might be interested in finding the Salary information. Remember the salary will be different for each and every position and Organization. For more such details, please check the Govt Job Notification for the Salary and Grade Pay information. For Example, candidates placed as the Assistant Manager will get the salary around Rs. 28,150 to Rs.55,600/- Per Month. And for the Junior Officer Vacancies, it will be Rs.10, 900 to Rs. 34,800/- Per Month in the HPSSSB.
Graduate Govt Jobs 2020 – Selection Process
Now, to get a government job, it is important for the candidates, to clear the Selection Rounds. Only after clearing the selection process, candidates will be placed in the position that they have applied. The Selection Process will be different for all positions and organizations. For some positions, the selection rounds will be Written Test, Skill Test, Document Verification, Interview. While for some positions, organizations might consider the Merit in Education or Work Experience.
Have you checked all the Latest Graduate Govt Jobs 2020 List provided in this article? Well, then do not forget to check our site Freshersnow.com on a regular basis.
Graduate Govt Jobs 2020 – Frequently Asked Questions
What are the Best Government Jobs after Graduation?
There are Numerous Graduate Govt Jobs across India such as Pharmacist, Statistical Assistant, Junior Officer, Trained Graduate Teachers, Research Associate, Etc.
How to get Graduate Govt Jobs with no Experience?
There are many Government Graduate Jobs 2020 available in Banks, Postal, Teaching, Railways, Etc., which requires no experience. Candidates can find the List from Freshersnow.com and apply for it. After clearing the Selection rounds, candidates will get placed.
Does Freshers Now Provide Latest Graduate Govt Jobs 2020 Regularly?
Yes, Freshersnow.com does provide the Latest Graduate Govt Jobs 2020 on a daily basis.
What Kind of Information will I get from this article (Graduate Govt Jobs)?
Through this article, Candidates will be able to get notified about the Latest Graduate Govt Jobs 2020 along with the Important Details such as Important Dates, Eligibility, Application Form availability, Etc.