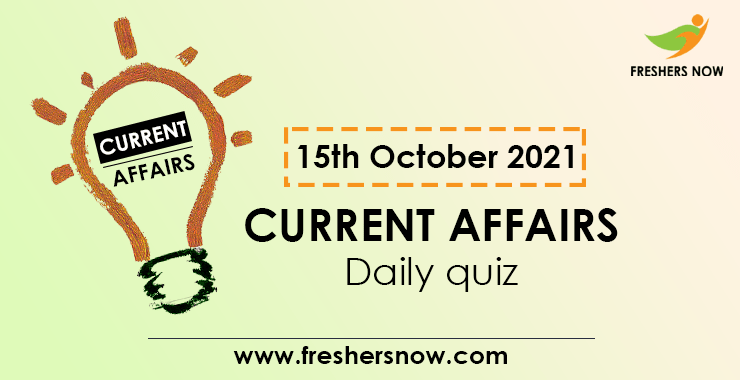 15th October 2021 Current Affairs Quiz: We heard that most of the candidates are looking for the 15th October 2021 Current Affairs Quiz. So for the sake of the candidates, we had given the 15th October 2021 Current Affairs Quiz with Answers along with an Explanation. Candidates can know what type of questions will be asked in the Various State Government Exams, Bank Exams, Entrance Exams by checking the Daily Current Affiars. Go through this article to know more details about the Latest Current Affairs.
★★ Monthly Current Affairs Quiz ★★
15th October 2021 Current Affairs Quiz
1) Who has been appointed as state secretary at PM's office?
a) Dr Sheikh
b) Amit Khare
c) Antony Blinken
d) Thomas Jefferson
Answer: B
Explanation: The Appointments Committee of the Cabinet has approved the appointment of Khare as an advisor to the prime minister in the Prime Minister's Office, in the rank and scale of secretary to the government of India. Amit Khare is an Indian Administrative Service officer from Bihar/ Jharkhand cadre and is currently serving as the Secretary  Ministry of Education in the Government of India.
★★ Practice Free Mock Tests ★★
2) PM Narendra Modi has addressed the NHRC foundation day what is the edition of the programme?
a) 21st
b) 22nd
c) 28th
d) 17th
Answer: C
Explanation: Prime Minister Narendra Modi has addressed the 28th National Human Rights Commission (NHRC) foundation day program. As per a Prime Minister's office release, NHRC was set up under the Protection of Human Rights Act 1993, for the promotion and protection of human rights.
3) Which state tops in Funding Units Under PMEGP?
a) Uttar Pradesh
b) Karnataka
c) Maharashtra
d) Punjab
Answer: A
Explanation: Uttar Pradesh now boasts of having financed the highest number of units in the country under Prime Minister Employment Generation Programme (PMEGP). The UP government has facilitated to provide a total of over Rs. 123 crore as margin money through various banks to about 3,588 units under PMEGP with a total cost of the projects worth over Rs 450 crore during the current financial year.
★★ Practice GK Questions & Answers ★★
4) What is India's rank in the 58th edition of EY's RECAI?
a) 10th Rank
b) 4th Rank
c) 7th Rank
d) 3rd Rank
Answer: D
Explanation: India ranked 3rd in the 58th edition of EY's 'Renewable Energy Country Attractiveness Index' (RECAI), which ranks the world's top 40 markets (nations) on the attractiveness of their renewable energy investment and deployment opportunities.
5) Who addressed the SCO seminar on the role of women in the armed forces?
a) Arvind Kejriwal
b) Nirmala Sitharaman
c) Rajnath Singh
d) Ram Nath Kovind
Answer: C
Explanation: The Shanghai Cooperation Organisation (SCO) seminar was addressed by Defence Minister Rajnath Singh. This seminar was hosted by India, highlighting the role of India's women military officers in UN peacekeeping missions at the global level. Women are also being accepted for permanent commission and will be commanding army units & battalions in near future.
★★ Practice Aptitude Questions & Answers ★★
6) Who has been appointed as UCO Bank MD & CEO for the year 2021-22?
a) Mr. Shyam Srinivasan
b) BP Sharma
c) SS Mallikarjuna Rao
d) AK Goel
Answer: D
Explanation: The Managing Committee of the Indian Banks' Association (IBA) has elected A K Goel, Managing Director & CEO, UCO Bank, as the Chairman of the Association for the term 2021-22. Shri Goel holds a Bachelor Degree with Honours in Commerce and member of the Institute of Chartered Accountants of India (ICAI).
7) On which day World White Cane Day is observed?
a) 15th October
b) 16th October
c) 17th October
d) 14th October
Answer: A
Explanation: The National Federation of the Blind celebrates White Cane Awareness Day every year on October 15. For blind people, the white cane is an essential tool that gives us the ability to achieve a full and independent life. With the help of a white cane, they can move freely and safely from one place to another.
★★ Practice Reasoning Questions & Answers ★★
8) What is the projected rate of GDP growth in the FY 2021-22 as per the IMF?
a) 7.4%
b) 7.7%
c) 9.5%
d) 12.3%
Answer: C
Explanation: The International Monetary Fund (IMF) pegged India's economic growth at 9.5 per cent for 2021, similar to the projection for fiscal 2021-22 made by the Reserve Bank of India (RBI) in its latest monetary policy committee (MPC) meeting.
9) Who is the current CEO of World Bank?
a) Anshula Kant
b) Mr Eugene Meyer
c) Thomas Jefferson
d) Antony Blinken
Answer: A
Explanation: Anshula Kant was appointed Managing Director and World Bank Group Chief Financial Officer. In this role, she is responsible for the financial and risk management of the World Bank Group, reporting to the President.
★★ Practice English Questions & Answers ★★
10) What is the Mobile App name that AIIMS has launched for oral hygiene awareness among children?
a) Danth
b) Healthy Smile
c) Smiley
d) Strong Tooth
Answer: B
Explanation: AIIMS has launched the bi-lingual mobile application "Healthy Smile" has been launched to spread awareness about maintaining oral hygiene among children. Professor Randeep Guleria, the director of AIIMS, New Delhi launched this mobile app.
Further, keep checking our site @ Freshers Now to get all the latest news about the Current Affairs Quiz.