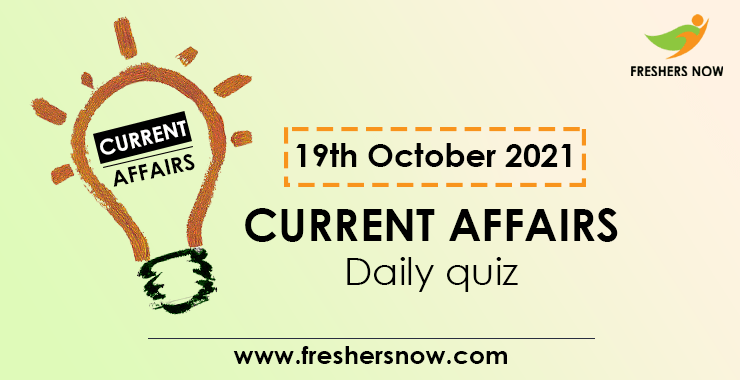 19th October 2021 Current Affairs Quiz: From this article, all the candidates can gather the 19th October 2021 Current Affairs Quiz. Candidates can easily get the Latest Current Affairs Quiz with Answers along with Explanations. Applicants can have a chance to score more marks in the exam by checking the Daily Current Affairs Quiz. However, scroll down to get more details about the 19th October 2021 Current Affairs Quiz.
★★ Monthly Current Affairs Quiz ★★
19th October 2021 Current Affairs Quiz
1. In order to enhance regional connectivity a New Quad group was formed by ______ four countries.
A. Pakistan, US, Uzbekistan, and Afghanistan
B. India, China, Pakistan, and Afghanistan
C. America, India, Germany, Rome
D. London, Ireland, India, America
Answer: A
Explanation: To improve regional connectivity, the four countries have decided to establish a new quadrilateral diplomatic platform. The US State Department made the announcement of the platform's creation. In the next months, representatives from the four countries will also meet.
★★ Practice Free Mock Tests ★★
2. Which two countries are participating in Joint Sea 2021, a joint naval exercise?
A. India and Japan
B. China and Russia
C. Russia and Japan
D. United States and Russia
Answer: B
Explanation: On October 14, 2021, the China-Russia joint naval drills "Joint Sea 2021" began at Russia's Peter the Great Gulf, in the Sea of Japan.
3. Who has been named the new head coach of Team India until the 2023 World Cup?
A. Sachin Tendulkar
B. Dhoni
C. Rahul Dravid
D. Rohit Sharma
Answer: C
Explanation: Former Indian batsman Rahul Dravid has been named as Team India's head coach, succeeding Ravi Shastri, whose employment ends after the T20 World Cup in the United Arab Emirates in 2021.
★★ Practice GK Questions & Answers ★★
4. Delhi government launches _____to train students.
A. Mobile Bus
B. Mobile Classroom
C. Graphic Classroom
D. Music Bus
Answer: D
Explanation: The Delhi govt has launched a 'Music Bus' which will provide training to students in audio production, film production, and graphic designing.
5. Hyderabad-based ICRISAT wins ______ Prize 2021 for improving food security in sub-Saharan Africa.
A. Asian Food Prize 2021
B. World Food Prize 2021
C. American Food Prize 2021
D. Africa Food Prize 2021
Answer: D
Explanation: The Africa Food Prize 2021 has been given to the International Crops Research Institute for the Semi-Arid Tropics (ICRISAT) in Hyderabad for enhancing food security in Sub-Saharan Africa.
★★ Practice Aptitude Questions & Answers ★★
6. Which international airport of the country will be inaugurated by Prime Minister Narendra Modi at Kushinagar in Uttar Pradesh on October 20?
A. 29th
B. 28th
C. 27th
D. 25th
Answer: A
Explanation: On October 20, Prime Minister Narendra Modi will open the country's 29th international airport at Kushinagar, Uttar Pradesh. Colombo, Sri Lanka, will be the first international flight from this airport. A 115-member delegation will attend the inauguration, together with the President of Sri Lanka.
7. Kinnaur district of which of the following state has become the first district in the country to do 100% vaccination?
A. Arunachal Pradesh
B. Andhra Pradesh
C. Madhya Pradesh
D. Himachal Pradesh
Answer: D
Explanation: The Himachal Pradesh district of Kinnaur has become the first in the country to achieve 100% immunisation coverage. The state's whole population (18 and up) has been vaccinated, and all eligible people have received the first dose of the corona. It is the country's first state to do this.
★★ Practice Reasoning Questions & Answers ★★
8. NASA has launched the first spacecraft "Lucy" to study Trojan asteroids of which planet?
A. Jupiter
B. Web
C. Saturn
D. Venus
Answer: A
Explanation: The United States' space agency just launched the first spacecraft "Lucy" to examine Jupiter's Trojan asteroids from "Cape Canaveral Space Force Station, Florida." The goal of this mission is to investigate a group of rocky bodies.
9. Which medal has been won by the team of 5th Battalion Gorkha Rifles representing the Indian Army in the Cambrian Patrol Exercise?
A. Gold medal
B. Oscar
C. Bronze medal
D. Silver medal
Answer: A
Explanation: The Indian Army's 5th Battalion Gorkha Rifles team has achieved the Gold Medal at the prestigious Cambrian Patrol Exercise in the United Kingdom. The UK Army held the exercise in Brecon from the 13th to the 15th of October.
★★ Practice English Questions & Answers ★★
10. Which of the following state governments has given financial assistance of Rs 5,000 for tribal pilgrims to Ayodhya?
A. Government Of Madhya Pradesh
B. Government of Gujarat
C. Government Of Andhra Pradesh
D. Government Of Karnataka
Answer: B
Explanation: The Gujarat government recently granted financial aid of Rs 5,000 per individual from the tribal tribe for pilgrimage to Shri Ram Janmabhoomi. Every year, a state-wide "Dussehra Festival" will be held at various Ram-related pilgrimage locations.
Keep checking our site @ Freshers Now to get all the latest news and notifications about Current Affairs.