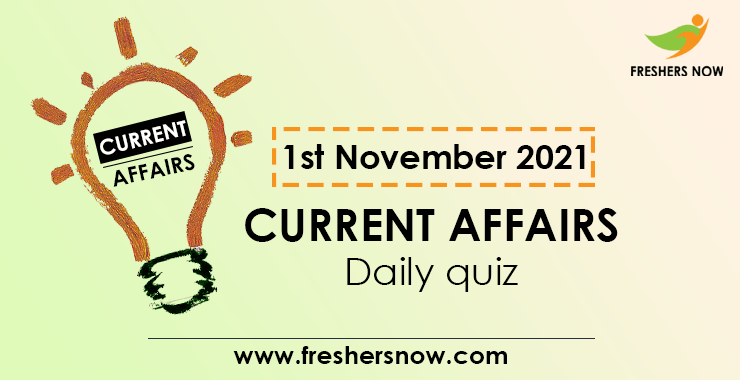 1st November 2021 Current Affairs Quiz: Are you in search of the 1st November 2021 Current Affairs Quiz? if yes then check this article. From this article, candidates can gain complete details of the Latest Current Affairs Quiz of 1st November 2021. Moreover, the Daily Current Affairs Quiz will be asked in the State Government Exams, Bank Exams. Applicants can also get the Current Affairs Quiz with Answers along with an Explanation from the below sections.
★★ Monthly Current Affairs Quiz ★★
1st November 2021 Current Affairs Quiz
1) Who hosted the 19th meeting of the Prosecutors General of SCO?
a) AK Goel
b) PM Modi
c) Tushar Mehta
d) Dharmendra Pradhan
Answer: C
Explanation: The 19th Meeting of Prosecutors General of the Shanghai Cooperation Organisation (SCO) the Member States shall be hosted by Shri Tushar Mehta, Solicitor General of India. In the 19th Meeting of Prosecutors General of the SCO, Member States shall further deliberate on strengthening cooperation in preventing and combating the growing threat of trafficking in persons especially women and children; exchange of information and best practices in the field of laws; cooperation amongst the educational training institutions and anti-trafficking bodies of the SCO Member States.
★★ Practice Free Mock Tests ★★
2) ____ & IAF flight tested India's 1st Long-range 1 ton Guided Bomb.
a) IMAF
b) DRDO
c) ISRO
d) ONGC
Answer: B
Explanation: An Indian Air Force (IAF) team and Defence Research and Development Organisation (DRDO) successfully flight-tested the country's first indigenously developed Long-Range Bomb (LRB) from a Sukhoi-30 fighter jet over Balasore, Odisha. The LR Bomb, with a range of 100 kilometres, was fired from the IAF fighter aircraft flying at an altitude of 10 kilometres. Designed and developed by DRDO's Research Centre Imarat (RCI), the LR Bomb can carry a warhead of 1000 kilograms.
3) MoES launched India's 1st Manned Ocean Mission 'Samudrayaan' at ____.
a) Chennai
b) Banglore
c) Kerala
d) Odisha
Answer: A
Explanation: Union Minister of State Dr Jitendra Singh launched India's first manned ocean mission Samudrayaan at the National Institute of Ocean Technology in Chennai. With this launch of the Unique Ocean Mission, India joined the elite club of nations such as the US, Russia, France, Japan, and China to have niche technology and vehicles to carry out subsea activities. This will open up more growth avenues to explore ocean resources for clean energy, drinking water, and blue economy.
★★ Practice GK Questions & Answers ★★
4) Where was the 2021 Indo-Pacific Regional Dialogue held?
a) Assam
b) Delhi
c) Karnataka
d) Gujarat
Answer: B
Explanation: Indo-Pacific Regional Dialogue (IPRD), the apex international annual conference of the Indian Navy, is scheduled to be held as a three-day online event that commences at Delhi, India. Defence minister Rajnath Singh, minister of external affairs S Jaishankar, and petroleum minister Hardeep S Puri will address the sessions. Panel discussions on these sub-themes would be spread over eight sessions on three successive days thereby providing ample scope for varied perspectives to be considered.
5) REEL Launches India's Largest Landfill Biogas plant in which state?
a) Maharashtra
b) Odisha
c) Andhra Pradesh
d) Telangana
Answer: D
Explanation: Ramky Enviro has inaugurated one of the world's first and India's largest landfill gas-to-compressed biogas plant at the Hyderabad Integrated Municipal Solid Waste (HiMSW) site. The project is focused on the conversion of landfill gas into compressed biogas as an automotive fuel. The project offers significant benefits such as carbon sequestration and reduced emissions of GHGs into the environment and contributes to the greening of the automotive industry.
★★ Practice Aptitude Questions & Answers ★★
6) ADB Approved loan to Support India's NICDP of USD ___ million.
a) 250
b) 125
c) 500
d) 375
Answer: A
Explanation: The Asian Development Bank (ADB) on Friday said it has approved a USD 250 million (about Rs 1,875 crore) loan to support India's National Industrial Corridor Development Program (NICDP). NICDP aims to develop world-class industrial nodes that are supported by efficient urban agglomerations and multimodal connectivity, including international gateways like ports and airports and inclusive, climate-resilient, and sustainable infrastructure.
7) The US state of Georgia has announced to celebrate which Indian language as 'Rajyotsava Day'?
a) Malayalam
b) Gujarati
c) Kannada
d) Telugu
Answer: C
Explanation: The US state of Georgia has declared Kannada Language and Rajyotsava Day after multiple representations by resident Kannadigas. The proclamation, signed by Georgia Governor Brian P Kemp, came after a push from the Kannadiga community under the banner of Nrupatunga Kannada Koota.
★★ Practice Reasoning Questions & Answers ★★
8) Who has been appointed as the new director of Power Finance Corporation Limited?
a) Rajiv Ranjan Jha
b) AK Goel
c) R Kumar
d) Aravind
Answer: A
Explanation: Power Finance Corporation Ltd on October 28 announced the appointment of Shri Rajiv Ranjan Jha as Director (Projects) of the company. Shri Jha was earlier working as Executive Director (Projects) in PFC before his elevation to the coveted role. In his new role, he will be responsible for developing and enforcing sound strategies to venture into new business avenues and also oversee the ongoing projects funded by the company.
9) What is the name of the express in India that was the first to be certified in IMS?
a) Rajdhani Express
b) Gatimaan Express
c) Vande Bharat Express
d) Shatabdi Express
Answer: D
Explanation: Chennai-Mysore-Chennai Shatabdi Express becomes the first Integrated Management Systems (IMS) certified train of Southern Railway, first Shatabdi of Indian Railways and second mail/express train on Indian Railways. A feather in the cap of Southern Railway, Chennai-Mysore-Chennai Shatabdi Express has received Integrated Management Systems Certification.
★★ Practice English Questions & Answers ★★
10) Who has inaugurated a housing scheme for the economically weaker sections in which state?
a) Ram Nath Kovind
b) Narendra Modi
c) Nirmala Sitharaman
d) None of the above
Answer: A
Explanation: President Ram Nath Kovind will inaugurate a housing scheme for economically weaker sections (EWS) at Bhavnagar today. The President will also visit Shree Chitrakutdham Ashram. The President will inaugurate a Housing Scheme Project for the Economically Weaker Section at Bhavnagar. He will also visit Shree Chitrakutdham, Ashram of Morari Babu at Talgajarda in Bhavnagar district."
@ Freshers Now.