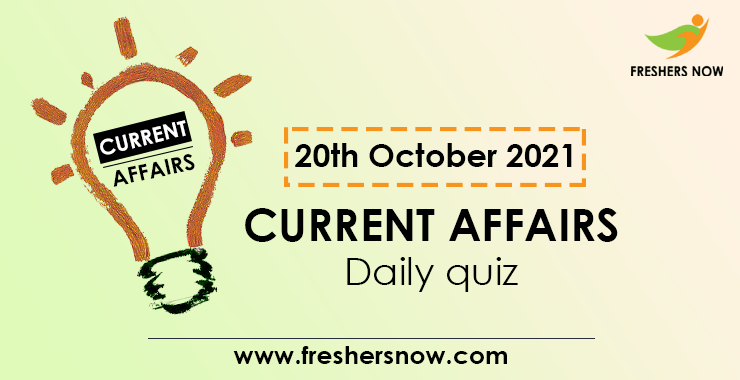 20th October 2021 Current Affairs Quiz: All the candidates who are looking for the 20th October 2021 Current Affairs Quiz can get them from this article Free of cost. Our team has provided you with the Latest 20th October 2021 Current Affairs Quiz with Answers along with Explanations. Candidates can prepare for various State Government Exams, Bank Exams, Entrance Exams by checking the Daily Current Affairs Quiz. To get Day to Day Current Affairs, candidates can bookmark our site using Ctrl + D.
★★ Monthly Current Affairs Quiz ★★
20th October 2021 Current Affairs Quiz
1) Which commission launches the Geospatial energy map of India?
a) Sarkaria Commission
b) NITI Aayog
c) NCDC Corporation
d) NIC
Answer: B
Explanation: NITI Aayog in collaboration with the Indian Space Research Organisation (ISRO) has developed a comprehensive Geographic Information System (GIS) Energy Map of India with the support of Energy Ministries of Government of India. The GIS map provides a holistic picture of all energy resources of the country which enables visualisation of energy installations such as conventional power plants, oil and gas wells, petroleum refineries, coal fields and coal blocks, district-wise data on renewable energy power plants and renewable energy resource potential through 27 thematic layers.
★★ Practice Free Mock Tests ★★
2) When was World Osteoporosis Day observed globally?
a) 21st October
b) 18th October
c) 19th October
d) 20th October
Answer: D
Explanation: World Osteoporosis Day is observed annually on 20th October, and launches a year-long campaign dedicated to raising global awareness of the prevention, diagnosis and treatment of osteoporosis and metabolic bone disease. Osteoporosis causes bones to become weak and brittle.
3) Which state government floats tender for the new version of its jobs portal "Rojgar Bazaar 2.0"?
a) Gujarat
b) Karnataka
c) Delhi
d) Kerala
Answer: C
Explanation: The Delhi government has issued tenders for developing a portal, Rojgar Bazaar 2.0, to act as a facilitator for providing employment-related services to the youth of the national capital. The Rojgar Bazaar 2.0 website will use artificial intelligence to draw up the best job matches and will offer end-to-end employment-related information to those on the lookout for jobs in the city.
★★ Practice GK Questions & Answers ★★
4) Who is the CMD of the National Research Development Corporation?
a) Amit Rastogi
b) H. Purushotham
c) Sanjay Bhutani
d) Malik Singh
Answer: A
Explanation: Retired commodore Amit Rastogi, after spending 34 years in the Indian Navy, took over as the chairman and managing director of the National Research Development Corporation. The National Research Development Corporation (NRDC) was a non-departmental government body established by the British Government to transfer technology from the public sector to the private sector. He was an earlier director at Electrical Engineering at Integrated Headquarters, Ministry of Defence, for five years and additional general manager, tech services, at naval dockyard for two years.
5) Jammu and Kashmir have signed an MoU with which government for the development of the real estate, industrial parks, and more?
a) Australia
b) Dubai
c) America
d) Europe
Answer: B
Explanation: In a significant step towards developing the industrial sector and other business enterprises in the Union Territory, the Jammu and Kashmir administration has signed a Memorandum of Understanding (MoU) with the Dubai government for the development of the real estate, industrial parks, and more.
★★ Practice Aptitude Questions & Answers ★★
6) Who participated in the virtual LMDC Ministerial meeting?
a) Bhupender Yadav
b) Ram Nath Kovid
c) Amith Goel
d) Ayush Dev
Answer: A
Explanation: Union Environment Minister Bhupender Yadav Participated virtually in the Like-Minded Developing Countries (LMDC) Ministerial meeting titled "Preparations for COP 26 on Climate Changes – Expectations and Challenges", the minister called for rapid reduction of emissions by developed countries in the decade.
7) What is India's Pension system rank in the Overall index ranking 2021 MCGPI?
a) 40
b) 37
c) 7
d) 17
Answer: A
Explanation: Mercer Consulting, a leading global management consulting firm, has released the 13th edition of the Mercer Global Pension Index (2021 MCGPI). India has been ranked at 40th position out of 43 countries in the 2021 Mercer CFS Global Pension Index survey. In 2020, India was ranked at 34th position out of 39 pension systems. Iceland was in first place with an 84.2 overall index value.
★★ Practice Reasoning Questions & Answers ★★
8) Which company tops from Indian firms in Forbes World's best employers ranking 2021?
a) Indian Oil Corporation
b) FMCG Corporation
c) Reliance Industries
d) Aban Offshore
Answer: C
Explanation: Reliance Industries has topped Indian corporates in the World's Best Employers rankings 2021 published by Forbes. Reliance was placed at 52 in the overall ranking of 750 global corporates such as Phillips, Sanofi, Pfizer and Intel. Samsung Electronics is in the 1st rank from South Korea.
9) Who inaugurates the 250mm Seer Water supply scheme in Pahalgam, Kashmir?
a) Ram Nath Kovind
b) Aravind Kejriwal
c) PM Modi
d) Piyush Goyal
Answer: D
Explanation: The Union Minister inaugurated the tourist hut of Pahalgam Development Authority at Golf Course Pahalgam. Shri Piyush Goyal also inaugurated the Forest Departments Deodar sapling plantation drive being conducted under the banner of Green JK Drive. A total of 1 lakh saplings will be planted as part of the drive. Enquiring post plantation care for the saplings, the minister was apprised that fencing and other appropriate watch and ward measures are taken.
★★ Practice English Questions & Answers ★★
10) India, Israel, US and UAE agree to establish which forum?
a) Squad Forum
b) Joint Economic Forum
c) IIUU Joint Forum
d) Developers Forum
Answer: B
Explanation: India, the United States, Israel and the UAE have decided to form a forum for future economic cooperation and to explore possibilities of joint infrastructure projects in the fields of transportation, technology, maritime security, and economics and trade. External Affairs Minister S Jaishankar, who is on a five-day visit to Israel, accompanied his Israeli counterpart Yair Lapid in a virtual meeting with US Secretary of State Antony Blinken and the United Arab Emirates Foreign Minister Sheikh Abdullah bin Zayed Al Nahyan.
At last, we hope all the candidates have gathered the Latest 20th October 2021 Current Affairs Quiz. And students are advised to keep checking our site @ Freshers Now to get all the latest news.