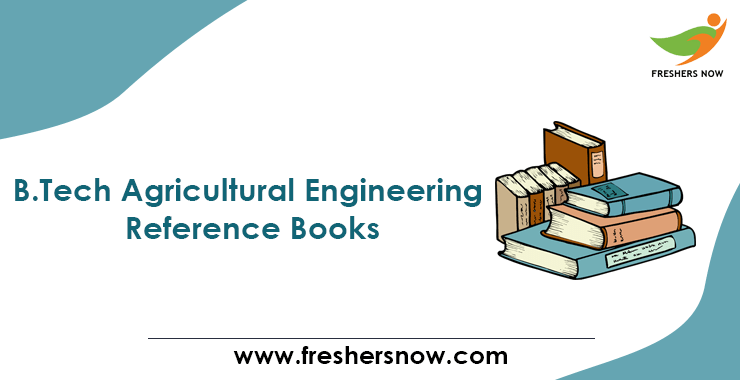 B.Tech Agricultural Engineering Reference Books – Subject, Authors Names: In this article, we have provided information regarding B.Tech Agricultural Engineering Reference Books Along with Subject, Authors Names. B.Tech in Agricultural Engineering is the Professional Engineering Undergraduate degree is awarded after completion of 4 academic years in the field of Agricultural Engineering from the Various universities affiliated institutions or colleges which are recognized by the respective Government.
You Can Also Check: Best Reference Books For All Competitive Exams
About B.Tech Agricultural Engineering
Agriculture Engineering is learning the Concepts and techniques of Agriculture, modern technology in Agriculture, and combining with Engineering practices. Agricultural engineering is all about combining various fields such as plant and animal sciences, environmental science, modern agricultural technology, geology, core Engineering branches, etc
Agriculture Machinery, Fluid Mechanics, Biological Materials, Computer Graphics, Drainage Engineering, Food Processing, and Quality, Dairy Engineering, Irrigation Engineering, Water Resources, and working of pumps are some of the concepts which are learned by the Agriculture Engineering Students.
Subjects For B.Tech Agricultural Engineering Course
Agriculture Engineering
Agriculture Business and Marketing
Agriculture Machinery
Biological Materials
Computer Graphics
Chemistry
Communication Skills
Computer Programming and Utilization
Dairy Engineering
Drainage Engineering
Entrepreneurship skills
Electrical Machines
Engineering Graphics
Environment Science
Energy and Sources
Engineering Physics
Engineering Mathematics
Elements of Electrical Engineering
Electrical Machines
Fluid Mechanics
Food storage
Food Processing and Quality
Irrigation Engineering
Information Technology Basics
Land Surveying and Leveling
Mechanics of Solids
Product Preservation
Renewable Energy sources
Soil Mechanics
Strength of Materials
Strength of Materials
Theory of Machines
Thermodynamics
Water Resource Management
Water resources and working of pumps
B.Tech Agricultural Engineering Reference Books & Recommended Authors
| | |
| --- | --- |
| Book Title | Author Name |
| Biofertilizers and Organic Farming | Himadri Panda |
| Biotech's Dictionary of Agriculture | Engineering Dinesh Arora |
| Agricultural Water Management | Premjit Sharma |
| Dangerous Properties of Industrial and Consumer Chemicals | Nicholas P. Cheremisinoff |
| Soil Enzymology (Soil Biology) | Ajit Varma and Girish Shukla |
| Pulses and Vegetables (Underutilized Crop) | Jack Dongarra |
| Landscape Erosion and Evolution Modeling | Russell S. Harmon and William W. Doe III |
| Coastally Restricted Forests (Biological Resource Management Series) | Aimlee D. Laderman |
| High-Tech and Micropropagation V: 5 (Biotechnology in Agriculture and Forestry) | Y.P.S. Bajaj |
| Biotechnology and Its Applications in Agricultural Science | P.B. Bansal |
To sum up, We hope that the above-provided information regarding B.Tech Agricultural Engineering Reference Books will be helpful to you. For any other queries feel free to contact us through the comment section by doing the comment and we will approach you with quick replies for your queries. And keep checking our site Freshers Now for all the informative details.