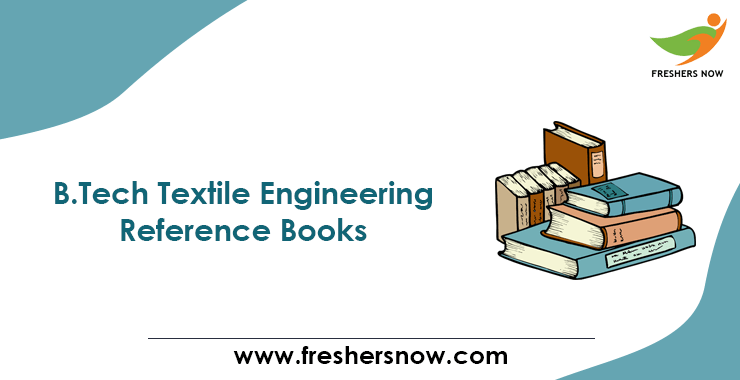 B.Tech Textile Engineering Reference Books | Best B.Tech Textile Engineering Books: In this article, we have provided information regarding Best B.Tech Textile Engineering Books, B.Tech Textile Engineering Course Eligibility Criteria, B.Tech TE  Syllabus/ B.Tech Textile Engineering Subjects, etc. So, those who are about to prepare for the Best B.Tech Textile Engineering Course should go through this page to get clarity. Moreover, B.Tech Textile Engineering Books will be very helpful for TE students of top universities in the world like IITs, NITs, BITs, and various other famous universities, colleges.
★★ Best Reference Books ★★
About B.Tech Textile Engineering Course
Bachelor of Technology in Textile Engineering is a professional undergraduate degree for 4 Years awarded to the students only after completion of 4 academic years in the field of Textile Engineering by the universities or affiliated colleges or institutions recognized by the respective state government. Textile Engineering is one of the expert Engineering concerns with the application of engineering principles in order to design and develop equipment and machinery relating to the textile industry. Textile engineers deal with every aspect of wearing apparel processes or methods, textile, fiber, products, and machinery used in the Textile Industry.
Textile engineering deals with the concepts of Technology of Pre-Spinning Process, Technology of Pre-Weaving Process, Technology of Woven Fabric Manufacturer, Technology of Yarn Spinning, Knitting Technology, Structural Mechanics of Yarns and Fabrics, Financial Management for Textile Industry, Long Staple Spinning Technology, Sewing Threads, and Fancy Yarns, etc.,
B.Tech Textile Engineering Eligibility Criteria
Students must have to complete their plus two in the streams of Maths, Chemistry, and Physics.
The minimum aggregate percentage should be 50%-70% which varies from one college to another.
The candidate's age should be less than 24 years.
Candidates have to clear their entrance exam if desired institution access admission through entrance exam. Ranking Procedures will be followed for admission.
B.Tech Textile Engineering Subjects
Semester 1
Technical English
Mathematics I
Engineering Graphics
Chemistry
Physics Laboratory
Semester 2
Mathematic II
Engineering Mechanics
Physics
Civil Engineering
Computer Programming Lab
Semester 3
Engineering Mechanics and Strength of Materials
The technology of Yarn & Fabric Mfg
The technology of Textile Polymers
Electrical and Electronics Engineering Laboratory
Semester 4
Tech. of Textile Pre-treatment
Technology of Fibres II
Fibre Testing & Analysis Lab
Colour Physics & Colour Harmony
Semester 5
Chemical Engineering Operations
Chemistry & Application of Specialty Chemicals
The technology of Finishing I
Testing of Textile Materials
Semester 6
The technology of Textile Dyeing & Printing
Textile Process House Management
The technology of Garment Manufacturing
High-tech and Industrial Fibers
Semester 7
Industrial Psychology and Human Resource Management
Introduction to Technical Textiles
Environmental Aspects of Textile processes
Emerging Textile Processing Technologies
Semester 8
Design and Analysis of Experiments
Testing of Dyes, Chemicals & Auxiliaries
Introduction to Technical Textiles
Merchandising & Designing of Textiles
Best B.Tech Textile Engineering Books & Recommended Authors
| | |
| --- | --- |
| Book Title | Author Name |
| Textbook of Fabric Science: Fundamentals to Finishing | Seema Sekhri |
| Watson's Textile Design and Colour: Elementary Weaves and Figured Fabrics (Woodhead Publishing Series in Textiles) | Grosicki, Z |
| Principles of Textile Testing | Booth J.E. |
| Textile Yarns: Technology, Structure, and Applications | B.C. Goswami and J.G. Martindale |
| Handbook of Textile Design (Woodhead Publishing Series in Textiles) | Wilson, J |
| Watson's Advanced Textile Design: Compound Woven Structures (Woodhead Publishing Series in Textiles) | Grosicki, Z |
| Textiles: Fiber to Fabric (The Gregg/McGraw-Hill marketing series) | Bernard P. Corbman |
| Coated Textiles: Principles and Applications, Second Edition | Ashish Kumar Sen |
| Textiles – A Handbook for Designers Rev | Marypaul Yates |
| Textile Processing and Properties: Preparation, Dyeing, Finishing, and Performance (Textile Science and Technology) | T.L. Vigo |
Top Colleges in India for B.Tech Textile Engineering Course
Manipal Institute of Technology
Birla Institute of Technology, Mesra
SRM University, Chennai
Indian School of Mines, Dhanbad
Indian Institutes of Technology (All IITs)
National Institute of Technology (NITs)
At last, We hope that the above-provided information regarding Eligibility Criteria for B.Tech Textile Engineering, B.Tech Textile Engineering Syllabus, Reference Books, and Top colleges in India for B.tech Textile Engineering will be useful for you. Stay tuned to our website freshers now for more regular updates.