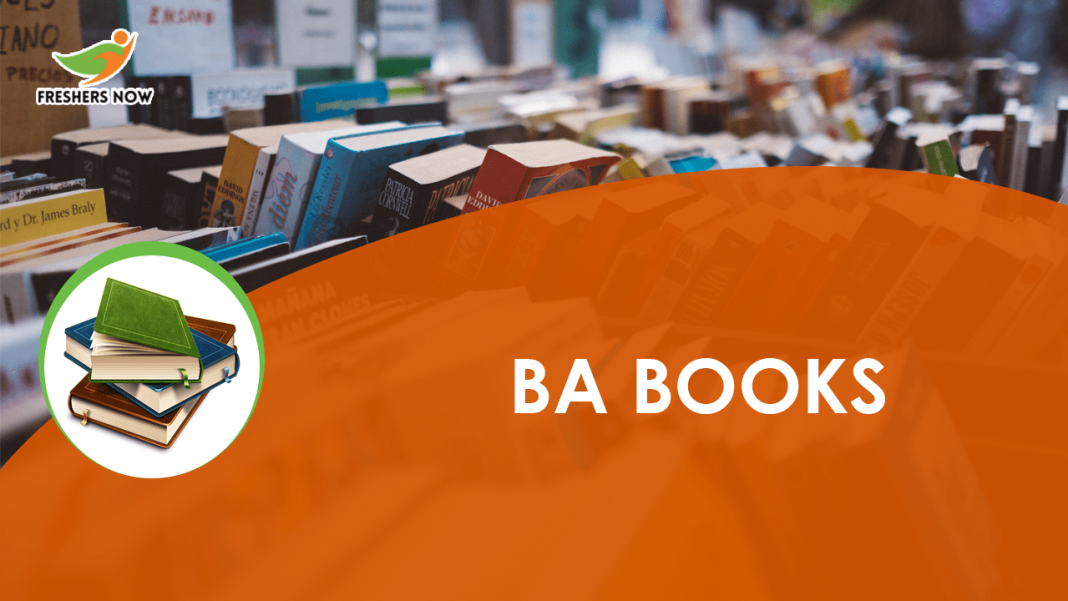 BA Books For All Semesters (1st, 2nd, 3rd Year): BA Books PDF will help us to be a professional which develops our skills and many more which are required for future jobs. This BA course can be done according to the subject interested in students to make the career path and their future. There are many jobs to do with the BA specialization which can make a student's future a bright career and perfect path. Concepts and explanations of topics in BA Study Material are clearly described and easy to grasp by students. Some of the books were listed below will help you to complete the course easily without any need for professors.
Specialization Courses in BA
BA contains a lot of specialization courses to choose from on their interest and according to their career path. some of the courses are listed as follows.
Specialization Courses in BA
| | |
| --- | --- |
| Bachelor of Arts with Honors in Social Work | Psychology |
| Hospitality and Tourism | Vedic Astrology |
| Malayalam | Journalism |
| Military Studies | Musicology |
| Ancient History | Agro Services |
| Arabic | Anthropology |
| Child Welfare and Social Studies | Biostatistics |
| Cinematography | Cinema and Photography |
| Instrumental Music | Mathematics |
| Philosophy | Oriental Culture |
| Political Science | Physical Education |
| Public Relations | Public Administration |
| Rural Industry | Rural Development |
| Sociology | Social Science |
| Vocational Studies | Tourism Studies |
| Education | Yoga |
| Tourism Management | Divinity |
| Communicative English | Theology |
| Economics | Computer Science |
| Education | History |
| Geography | Advertising & Brand Management |
| Honors in Applied Psychology | |
Syllabus for Bachelors of Arts Course
Hindi
English
Political Science
History
Economics
Reference Books for BA
Below are some of the reference Books for BA which are helpful for students to overcome doubts and helpful to score high and easily grasp the knowledge.
Sharma, M.P.: Public Administration Theory and Practice
Sanders, D. H.: Computers Today, Me Gra w Hill, 1988.
Willoughby: Principles of Public Administration.
Sastri. K.A.N: The age of the Nandas and Mauryans (In English and Hindi)
S.K. Shukla: Compendrum on Environmental Pollutions Laws, 1985.
Basham, A: The Wonder That Was India, London 1954.
Ray Chaudhary, H.C.: Political History of Ancient India, Calcutta, 1963.
Trainer, T.et.al: Computer (4th ed.) Me Graw Hill, 1994.
Dr. I.A. Khan: Environmental Law.
Majumdar, Ray: An Advanced History of India.
Rajaraman, V.: Fundamentals of Computers (3rd ed.), Prentice-Hall of India, New Delhi.
Upendra Baxi: Environmental Protection Act: An Agenda for Implementation.
Chhangani, M.S.: Computer: Insight and Applications, Alka Publications, Ajmer.
White: Introduction to the study of Public Administration.
Tripathi, R.S.: Ancient India.
Colleges offering BA Course
Silver Oak University ( SOU), Ahmedabad
Lady Shri Ram College For Women ( LSR), Delhi
Maulana Azad College, Kolkata
Nizam College, Hyderabad
A J Kalasala, Machilipatnam
Sacred Heart College, Kochi
Elphinstone College, Mumbai
St. Xaviers College ( SXC), Mumbai
Hindu College, New Delhi
Fergusson College, Pune
We hope that you received all the information looking about the BA course. The data about the specialization and reference books, college information will help you with the BA course. For more detailed information about other courses, ebooks and specializations reach to Freshersnow.com website and make a bookmark to the website for all educational information. Make a comment below about your doubts and any other information looking according to your need.