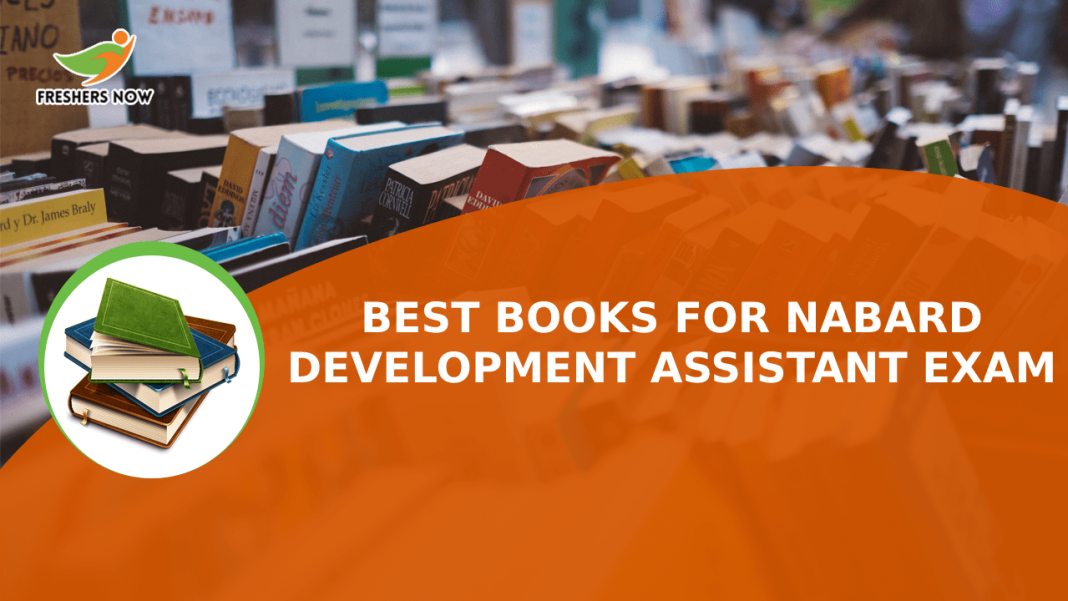 Best Books for NABARD Development Assistant Exam – NABARD Development Assistant Books: Get all the Best Books for NABARD Development Assistant Exam in one go. These NABARD Development Assistant Books will help you ace your preparation. It is very important for the candidates to consider the right set of NABARD Development Assistant Exam books for preparation. Having books that suit the criteria of your preparation will lead you to conveniently prepare for the examination. Additionally, it is very important to take note of the list of books for NABARD so that you will not miss out on any of the books that are mentioned in this article.
★ ★  Best Reference Books ★ ★
NABARD English Books
Objective General English by S.P. Bakshi
English Grammar and Composition by SC Gupta
Word Power Made Easy by Norman Lewis
Objective English for Competitive Examination by Hari Mohan Prasad and Uma Sinha
General English for All Competitive Course by SC Gupta
Tips and Techniques in English for Competitive Exams by Disha Experts
Essays for Civil Services and Other Competitive Exams by Pulkit Khare
NABARD Hindi Books
Lucent's Sampurna Hindi Vyakaran Aur Rachna – Lucent Publications
Bharat Ki Rajvayvastha by M. Laxmikanth
Bharat Ka Bhugol: Civil Seva/Rajya Seva Ki Prarambhik Evam Mukhya Pariksha (Hindi) by Majid Hussain.
Best NABARD Books for Numerical / Quantitative
Sarvesh K. Verma- Quantitative Aptitude Quantum CAT Common Admission Tests
Quantitative Aptitude for Competitive Examinations – R. S. Aggarwal
Fast Track Objective Arithmetic – Rajesh Verma
Teach Yourself Quantitative Aptitude – Arun Sharma
The Pearson Guide To Quantitative Aptitude For Competitive Examination
Wiley's Quantitative Aptitude Book
Quantitative Aptitude for all Competitive Exams – Abhijit Gupta
NABARD Computer Books
Computer Aptitude and Awareness By Manju Arora (Taxmann Publication).
Computer Awareness by Arihant Publication.
Objective question bank of computer awareness by Arihant Experts.
Computer awareness for general competitive exams by Soumya Ranjan Behera.
Computer general awareness by Alok Kumar.
GK Books for NABARD
Lucent's General Knowledge
General Knowledge by Arihant
Rapid General Knowledge 2020 for Competitive Exams by Disha Experts
R.K. Saxena General Knowledge 2020
S Chand's Advanced Objective General Knowledge by RS Agarwal
General Knowledge Manual 2020 by Pearson
Manohar Pandey's GK
List of NABARD Books for Reasoning
Verbal and Non-Verbal Reasoning by Dr RS Aggarwal
Analytical Reasoning Books by M.K Pandey
Reasoning Books for Competitive Examinations by Pearson
Lucents Verbal Reasoning
A new approach to Reasoning Books By B.S. Sijwali & S. Sijwali Arihant
Multi-Dimensional Reasoning Books by Mishra & Kumar Dr Lal
To conclude, Best Books for NABARD Development Assistant Exam have rightly been aligned. Grab your list of NABARD Development Assistant Books and ace your preparation. Follow freshersnow.com for more informative articles.