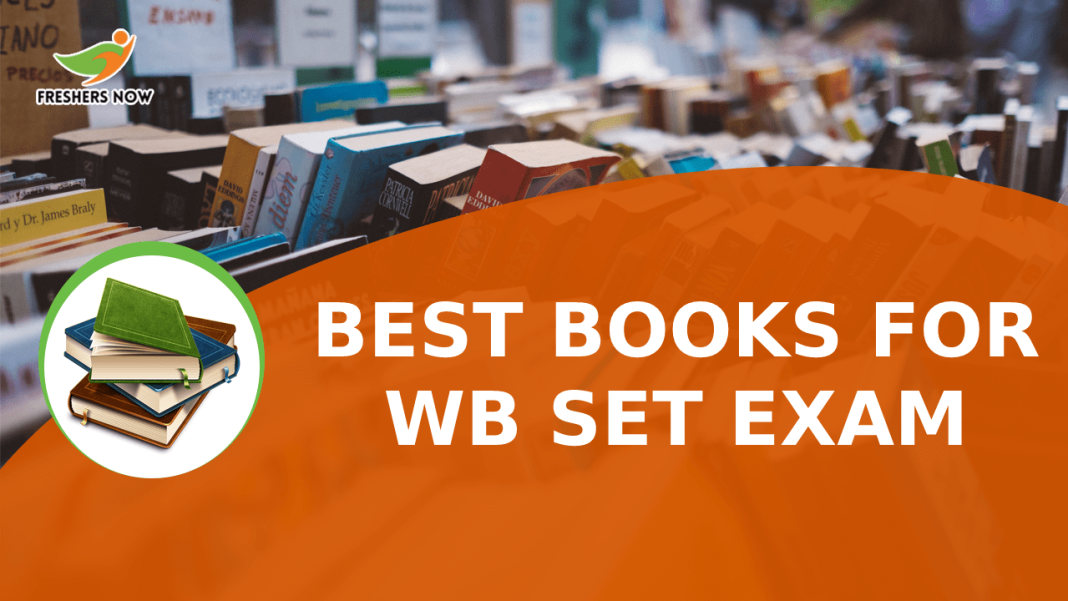 Best Books for WB SET Exam | West Bengal SET Preparation Books: Looking for Best Books for WB SET Exam. Well then, here you go. You have come to the right article. This article is going to guide you with the exact West Bengal SET Preparation Books. Ensure that you are following through with the article and taking notes at your WB SET preparation level. We have got this list of books for WB SET Exam so that you would be able to ace your preparation.
★★ Best Reference Books for All Competitive Exams ★★
Best Books for WB SET Exam
NTA UGC NET / SET / JRF – Paper 1 Teaching and Research Aptitude (Latest Syllabus) – Harpreet Kaur
Oxford NTA UGC Paper I for NET/SET/JRF Revised First Edition – Harpreet Kaur
Trueman's UGC Net/Set General Paper I – Teaching & Research Aptitude 2020 Edition – Sajit Kumar, M.Gagan
NTA UGC – NET/SET/JRF Paper I – KVS Madan
UGC NET/JRF/SLET General Paper-1 Teaching & Research Aptitude 2019 – Arihant Experts
WB SET General Paper Books
WB SET General Studies
General Knowledge (Lucent)
General Knowledge (Arihant)
WB SET Language and Reasoning
High School English Grammar and Composition Key (Wren & Martin)
Objective General English (SP Bakshi)
Quantitative Aptitude (RS Aggarwal)
A Modern Approach for Logical Reasoning (RS Aggarwal)
Aptitude (Talent Publication)
Logical Reasoning and Data Interpretation for the CAT (N. K. Sinha.)
WB SET Current Affairs
Daily Newspapers (The Hindu, The Indian Express)
Current Affairs Monthly Compilation (Vision IAS)
Manorama Year Book
WB SET Foundation of Education and Communication
Foundations of Education (A. Chaube and S. P. Chaube)
Foundations of Education (Jason C. Robinson)
Subject wise WB SET Paper 2 Books:-
WB SET English
UGC NET/ SET (JRF & LS) English Literature by Arihant Experts
Introduction to English Literature by W. H Hudson
The Routledge History of Literature in English
WB SET Bengali
Bengali NET/SET by Balaram Bapari
WB SET Sanskrit
Sanskrit Sahitya ka Itihaas (Umashankar Sharma "Rishi")
Sanskrit Kavi Darshan (Bhola Shankar Vyas)
UGC NET/ JRF /SLET Sanskrit Prashan Patra-II Avum III (Hindi) by Priyanka Tiwari
(Author), Arihant Experts (Publisher)
WB SET Hindi
Hindi Bhasha Ki Parampara Aur Vikas (Dr. Ramprakash)
Hindi Sahitya Ka Sankshipt Itihas (Dr. Vishwanath Tripathi)
Kavita Ke Naye Pratiman (Dr. Namvar Singh)
Hindi bhasha evam sahitya ka vastunishth itihas by Saraswati pandey, Govind pandey
WB SET Urdu
Urdu ki Lisani Tashkil-Mirza Khalil Ahmad Beg
Mokqadwa; Tarikh-e-Zuban-e-Urdu-Prof. Maswood Husain Khan
UGC-NET JRF & Assistant Professor Khazeen-E-Adab Urdu (Paper II & III) by M.Arshad
Ansari and M. S. Ansari
WB SET Commerce
Corporate Accounting (Naseem Ahmed)
Accounting Standards (D. S. Rawat)
Indian Financial System (M. Y. Khan)
Trueman's UGC NET Commerce by Parveen Kataria, Anshu Kataria, and M. Shivani
WB SET Economics
Indian Economy (Ramesh Singh)
Economic Growth and Development (Mayer and Baldwin)
Trueman's UGC NET Economics by Sriniwas Shirur
UGC NET/JRF/SET Economics (Paper-II) -Upkar Prakashan (Author-Gopal Garg)
WB SET History
India since Independence by Bipan Chandra
Trueman's UGC NET History by Promod Singh
WB SET Philosophy
History of Philosophy (Frank Thilly)
Survey of Indian Philosophy (C. D. Sharma)
Existentialism: A Reconstruction (David Cooper)
WB SET Political Science
An Introduction To Constitution (D. D. Basu)
An Introduction To Political Theory (O.P. Gauba)
Trueman's UGC NET Political Science by K.A. Babu, Sajit Kumar (Author)
UGC Net Political Science by Rukmini Bhattacharjee (Arihant)
WB SET Education
Measurement & Evaluation in Education by Rinky Agarwal
Statistics in Psychology and Education by Mangal S. K.
Statistics In Psychology & Education by Henry E. Garrett
Modern Indian Education: History, Development And Problems by J. C. Aggarwal
UGC NET/ SET (JRF & LS) EDUCATION Paper II & III by Charu Sethi
CBSE UGC-NET: Education Previous Papers (Solved) by RPH Editorial Board
WB SET Chemical Science
Trueman's UGC-CSIR JRF / NET Chemical Sciences (Chemistry) by M Gagan
CSIR-UGC NET/ JRF/ SET Chemical Sciences by Dr Hemant Kulshrestha, Dr Ajay Taneja
WB SET Geography
Human Geography (Majid Hussain)
Geographical Thoughts (Dixit)
Class 10th, 11th & 12th Geography NCERT
WB SET Life Science
Upkar CSIR-UGC NET/JRF/SET Life Sciences (Paperback, Pushkar Kumar, A.P. Singh)
WB SET Mathematical Science
CSIR-U.G.C. NET/ JRF/ SET Mathematical Sciences 2018, Upkar's.
WB SET Physical Science
Csir-Ugc Net /Jrf/ Set Physical Sciences. by Anshul Gupta Paperback
Csir-Ugc Net/ Jrf Exam Solved Papers Physical Sciences. by Editorial Board: Pratiyogita Darpan
WB SET Sociology
Sociology Themes and Perspectives (Michael Haralambos & Martin Holborn)
Social Problems In India (Ram Ahuja)
Trueman's UGC NET Sociology by S.Hussain
WB SET Psychology
Psychology Class XI & XII (NCERT)
Introduction to Psychology (Morgan & King)
Trueman's UGC NET Psychology by Dr. Swati Maharshi
UGC Net Psychology 2018 by Siddharth Mittal and Naroj Kumar Sahu (Arihant Experts)
WB SET Library and Information Science
Trueman's UGC NET Library and Information Science by S. Thakur (Author)
WB SET Physical Education
Trueman's UGC NET Physical Education by Akhilesh Tripathi (Author), A.K. Srivastava (Author)
WB SET Electronic Science
CBSE UGC NET /SET ELECTRONIC SCIENCE by Sunil Kushwaha (Author)
WB SET Computer Science
Trueman's UGC NET/SET Computer Science and Applications by Sanjay Singhal, Sameer Mishra
WB SET Home Science
Trueman's UGC-NET Home Science by Anju Khosla & Ruchi
UGC NET / SET (JRF &LS) Home Science by Suchi Rastogi
WB SET Mass Communication and Journalism
Trueman's UGC NET Mass Communication & Journalism by Sameer K. Mishra (Author)
UGC NET Mass Communication and Journalism by Atul Udaipuria and Nitesh Kumar Singh (Arihant Experts
WB SET Anthropology
An Introduction to Social Anthropology by D.N.Majumdar & T. N. Madan
Indian Anthropology by Nadeem Hasnain
Trueman's UGC NET Anthropology by A.M. Tripathi
WB SET Earth Science
Joint CSIR-UGC (NET) Earth, Atmospheric, Ocean and Planetary Sciences Exam Guide by Surender Kumar
WB SET Music
UGC NET Music Exam Guide (Hindi) by Gunjan Saxena and Nisha Rawa
WB SET Law
Trueman's UGC NET Law by Suman Chauhan
UGC-NET: Law (Paper-II) Exam Guide by Aproov Bhardwaj (R Gupta's Publication)
WB SET Nepali
NTA UGC NET Nepali study guide by Arihant Publications
WB SET Management
Trueman's UGC-NET Management by M. Shivani (Author)
UGC NET/SET (JRF & LS) Management by Mohit Aggarwal (Arihant experts)
WB SET Arabic
The Kalimni Arabi Series – Arabi Liblib
WB SET Environmental Science
Trueman's UGC NET Environmental Science by Anil Tyagi and Virendra Singh
Here you go, all the Best Books for WB SET Exam are well presented. Hope you have taken note of all the West Bengal SET Preparation Books. Stay connected for more informative articles at – freshersnow.com