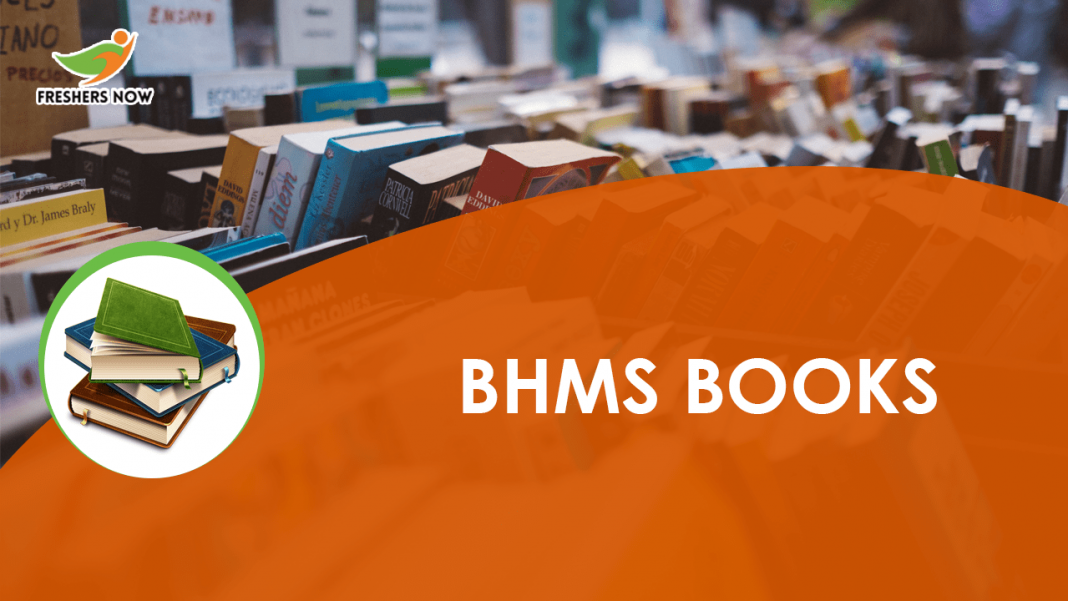 BHMS Books For All Semesters | Best Homeopathy Reference Books: The information in this article is about BHMS Reference books which will be useful for the BHMS candidates and who are inspired to opt for BHMS as a career. Bachelor of Homeopathic Medicine & Surgery abbreviates BHMS, it is an undergraduate course for the Homoeopathic branch in medicine. BHMS is a 5 and 1/2 year course and 1 year of internship which is included in the curriculum. Best Homeopathy Reference Books are listed below are the reference books for all semesters subjects to clarify the queries that come across with difficult concepts and will help to score high in Semester examinations.
Further below in the article contain details of BHMS like semester wise subjects and some reference books, top listed colleges offering.  BHMS course contains some specializations to opt for their career as a particular specialist in Pediatrics, Homoeopathic Pharmacy, Psychiatry, Skin specialist.
★★ Best Reference Books ★★
Yearwise Subjects For BHMS course
Semester wise Subjects for all 4 semesters (1st & 2nd-year subjects)
1st Year
2nd Year
Physiology & Biochemistry
Pathology & Microbiology
Materia Medica
Organon of Medicine and Homeopathic Philosophy
Pharmacy
Materia Medica
Anatomy
Forensic Medicine & Toxicology
Organon of Medicine and Homeopathic Philosophy
3rd & 4th Year Subjects
| 3rd Year | 4th Year |
| --- | --- |
| Surgery | Materia Medica |
| Materia Medica | Practice of Medicine |
| Organon of Medicine and Homeopathic Philosophy | Repertory |
| Obstetrics & Gynaecology | Organon of Medicine and Homeopathic Philosophy |
List of Reference Books For 5 years BHMS
Homeopathic Mat.Medica: By William Boericke
Hobhouse
Gray's Anatomy, Churchill Livingstone
Principles & Practice of Hom. By M.L. Dhawle
The Genius of Homoeopathic Lecture and Essay on Homoeopathy
Philosophy by Stuart Close
Life of Christian Samuel Hahnemann's founder of Homoeopathy by R.W.
Homoeopathic Drug Picture by DR. M.L. Tyler
The Glimpses of the history of Medicine by DR. D.D. Banerjee
Introduction to Psychology 7th Edition by Clifford T.Morgan Richard A.
King, published by Tata Mcgran Hill E.D.
Organon of Medicine 5th the 6th Edition by Hahnemann
Key Notes & Characteristics of the Materia Medica: By H.C.Allen
Lectures on Homoeopathic Materia Medica: By Dr. J.T.Kent.
Clinical Anatomy for Medical Students, Richard S. Snell, Lippincott
Williams & Wilkins
Homoeopathic Drug Picture by DR. M.L. Tyler
List of Top Colleges offering BHMS course
Lokmanya Homeopathic Medical College, Pune
National Institute of Homoeopathy, Kolkata
Government Homeopathic Medical College and Hospital, Bangalore
Bharati Vidyapeeth Homoeopathic Medical College, Pune
Smt Chandaben Mohanbhai Patel Homoeopathic Medical College, Mumbai
Sanskriti University, Mathura
Baroda Homoeopathic Medical College, Vadodara
Kerala University of Health Sciences, Thrissur
Naiminath Homoeopathic Medical College Hospital and Research Centre,
Agra
Dr. GD Pol Foundations YMT Homoeopathic Medical College Hospital,
Navi Mumbai
We believe that the above-provided information and details of the BHMS course will help you and reference books that will help you to score high and useful. For more reference books and details of other courses reach the Freshernow.com website and make a bookmark for other educational information.