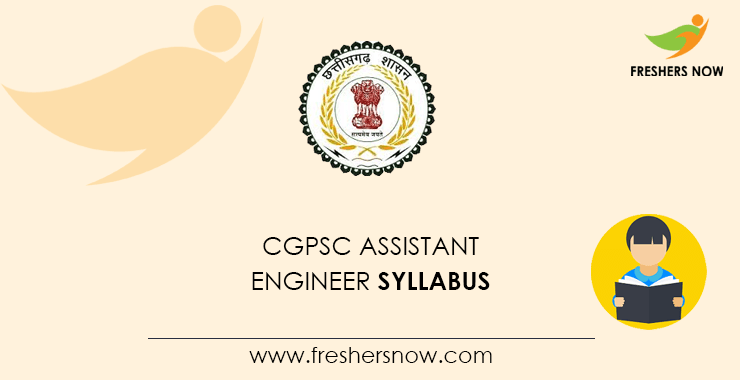 CGPSC AE Syllabus 2020 PDF Download | Latest Assistant Engineer Exam Pattern: Applicants, those who want to know about the CGPSC AE Exam must read this article completely to get all the updated information for CGPSC Assistant Engineer Exam 2020. To save the time of candidates, we had given the complete CGPSC AE Exam Syllabus & Test Pattern 2020 PDF at the end of this page. By preparing with the given CGPSC Assistant Engineer Syllabus 2020 you can go through the complete page. As we have provided the direct link to download the CGPSC Assistant Engineer Exam Syllabus 2020 & Test Pattern PDF, you can easily get the details from the current article.
CGPSC AE Syllabus 2020 – Overview
| | |
| --- | --- |
| Organization Name | Chhattisgarh Public Service Commission (CGPSC) |
| Post Name | Assistant Engineer (AE) |
| Category | Syllabus |
| Job Location | Chhattisgarh |
| Official Site | psc.cg.gov.in |
CGPSC Assistant Engineer Syllabus 2020
Candidates can check the CGPSC Assistant Engineer Syllabus PDF at the bottom of the page. Those who want correct information about CGPSC AE Syllabus 2020, you can find those details on our webpage. In the CGPSC Assistant Engineer, the subjects are General Knowledge, General Studies and the Technical side (Civil/Mech/ Electrical). For all these categories, we had given a complete topics list for all the subjects given in this section. If you prepare those topics, then you will be in a safe zone compare to other competitors. In the upcoming sections, we will you more relevant information CGPSC State Engineering Services Syllabus 2020.
CGPSC Assistant Engineer Exam Pattern 2020
The CGPSC AE Exam Pattern 2020 will be general subjects and concerned topics. Also, at the bottom of this section, you will find a tabular format which has a clear projection of marks distribution of CGPSC Assistant Engineer Exam 2020. The Written Exam is divided into two parts for each paper, you have answer 150 questions with a time duration of 2 hours 30 minutes. So, by keeping this mind, you must schedule the topics on an order before the examination.
Subject Name
No. of Questions
No. of Marks
Time Duration
General Knowledge
150
300
2 Hours 30 Minutes
General Studies
Technical Knowledge (Civil/ Mech/ Electrical)
150
300
CGPSC AE Syllabus 2020 PDF
Those who are applying for the CGPSC Assistant EngineerJobs 2020, please look at this section to know about the CGPSC AE Syllabus 2020 PDF link which is given below. In the link, you will see the exam pattern, subject wise topics to cover for the CGPSC Assistant Engineer. Check the below topics to score more marks in the test.
General Awareness
Tourism
Famous Books & Authors
Culture
Famous Days & Dates
General Science
Sports
Indian Parliament
Famous Places in India
Indian Politics
Current Affairs
Indian Economy
Rivers, Lakes, and Seas
Inventions and Discoveries
Artists
Indian History
Countries and Capitals
General Knowledge
Current national & International events with Chhattisgarh
Education in Chhattisgarh
Geography of Chhattisgarh
Chhattisgarh History
Sports Events in Chhattisgarh
Economy of Chhattisgarh
Current Events in Chhattisgarh State
Health-Related News of Chhattisgarh
Chhattisgarh Polity
Festivals, Language, etc. of Chhattisgarh State
Aptitude/ Mental Ability
Problem-solving
Analogies
Similarities and differences
Decision making
Analysis
Relationship concepts
Areas
Compound Interest
Problems on L.C.M and H.C.F
Time and Work Partnership
Problems on Numbers
Volumes
Profit and Loss
Boats and Streams
Problems on Trains
Time and Distance
Odd Man Out
Pipes and Cisterns
Ratio and Proportion
Averages
Simple Interest
Simple Equations
Simplification and Approximation
Numbers and Ages
Percentages
Indices and Surds
Mensuration
Permutations and Combinations
Mixtures and Allegations
Quadratic Equations
Probability
Races and Games
Space visualization
Non-verbal series
Arithmetical number series
Discriminating observation
Verbal and figure classification
Visual memory
Judgment
Civil Engineering
Steel Structures.
PSC Structures.
Civil Engineering Materials and Construction.
Solid Mechanics, Structural Analysis.
Concrete Technology.
Hydraulic Structures.
Soil Mechanics and Foundation Engineering.
Transportation Engineering.
Environmental Engineering.
Surveying.
Bridge Engineering.
Reinforced Concrete Structures.
Fluid Mechanics.
Hydrology & Water Resources Engineering.
Estimation, Costing, and Specifications.
Construction and Project Management.
Environmental Studies etc.,
Mechanical Engineering
Engineering Mechanics.
The Strength of Materials.
Calculus.
Vector Calculus.
Engineering Materials.
Numerical Methods.
Probability & Statistics.
Differential Equations.
Theory of Machines.
Fluid Mechanics.
The design of Machine Elements.
Refrigeration and air-conditioning.
Thermodynamics.
Electrical Engineering
Electrical Machines.
Basic Electronics etc.
Network Theory.
Measurement and measuring instruments.
Estimation and costing.
Magnetic Circuit.
Analog and Digital Electronics.
Power Systems.
Basic Electrical Engineering Concepts.
Utilization of Electrical Energy.
Power Electronics & Drives.
AC Fundamentals.
To Download CGPSC AE Syllabus 2020 & Exam Pattern PDF: Click Here
For further updates about CGPSC AE Syllabus 2020, please visit our website FreshersNow.Com regularly.
CGPSC AE Syllabus 2020 – Frequently Asked Questions
How much time will be given for CGPSC Assistant Engineer Exam 2020?
2:30 minutes is the time duration for CGPSC AE Exam 2020.
Does Freshers Now website provide the CGPSC AE Exam Pattern 2020?
Yes. FreshersNow provides the CGPSC AE Exam Pattern 2020 in detail.
Is there any negative marking in the CGPSC AE Exam 2020?
There is no negative marking in the CGPSC AE Exam 2020.