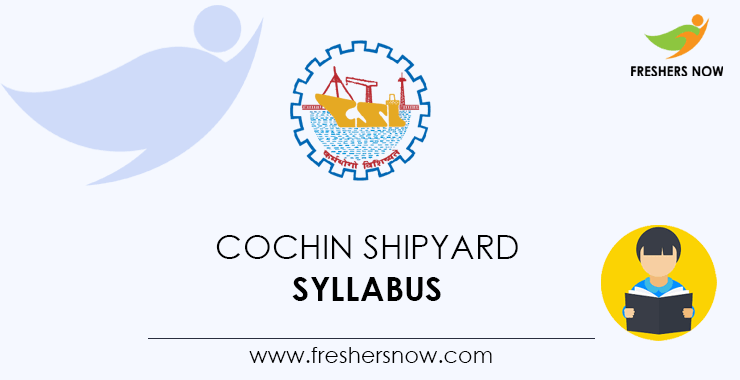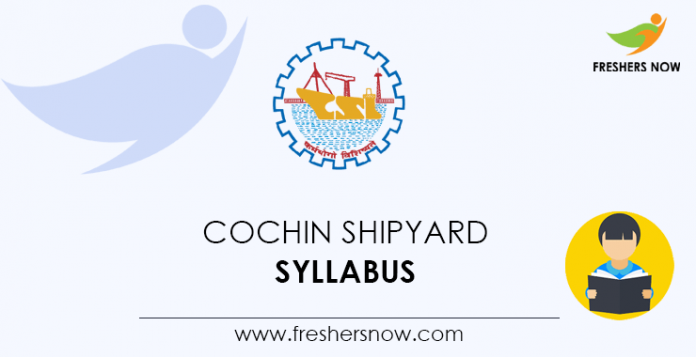 Cochin Shipyard Syllabus 2020 & Exam Pattern PDF Download (Manager, AGM, AM, DM): Applicants who are searching for Cochin Shipyard Manager Syllabus 2020, CSL, Assistant General Manager Syllabus PDF, Cochin Shipyard Assistant Manager Syllabus, Cochin Shipyard Deputy Manager Syllabus can go through this page. In this article, we have provided the complete Cochin Shipyard Syllabus 2020 PDF for Manager, AGM, AM, DM Examination. So, all the candidates who are preparing for the test should make a note of the question paper structure.
Candidates can also download the CSL Exam Syllabus & Exam Pattern PDF by clicking on the direct link given at the end of this page. Moreover, the Cochin Shipyard Syllabus and Exam Pattern is a very important source that candidates need to know before the Cochin Shipyard Exam. For the convenience of the applicants, we have provided the complete Cochin Shipyard Syllabus 2020 PDF for free of cost.
Cochin Shipyard Syllabus 2020 | Manager, AGM, AM, DM
Organization Name
Cochin Shipyard Limited
Post Name
Manager, Deputy Manager, Assistant General Manager, Assistant Manager (Experienced Professional)
Category
Syllabus
Selection Process

Objective Type Test
Work Experience in Relevant Area
Descriptive Type Test
Group Discussion
Personal Interview

Location
Kochi
Official Site
cochinshipyard.com
Cochin Shipyard Exam Pattern 2020 – Manager/ AGM/ AM/ DM
In this section, we have provided a Cochin Shipyard Exam Pattern 2020 for the Manager, Assistant General Manager, Assistant Manager, Deputy Manager Posts. Based on the PowerPoint Presentation, the candidates shall be further shortlisted for Group discussion and Personal Interview. Only candidates who are meeting the notified work experience and job requirements shall be permitted to attend Group discussion & Personal Interview. The CSL Examination will be objective type questions and descriptive type questions. And candidates will be shortlisted on the basis of the merit list. The objective question paper contains 40 questions and the time duration is 45 minutes. Whereas the Descriptive type question is for 30 marks and the time duration is 35 minutes.
Exam Type
Subjects
Marks
Time Duration
Objective Type Questions
General Knowledge
40 Marks
45 minutes
General English
Reasoning
Quantitative Aptitude
Subject-based questions
Descriptive Type Questions
Subject-based questions
30 marks
35 minutes
CSL Syllabus 2020 (Manager, Deputy Manager, Assistant General Manager, Assistant Manager)
In this section, we have provided the complete CSL Syllabus for Manager, Deputy Manager, Assistant General Manager, Assistant Manager posts. The syllabus is the most important part of the Cochin Shipyard Exam. So, we have given the Cochin Shipyard Exam Syllabus for each section in detail. After checking and downloading the Cochin Shipyard Syllabus 2020 PDF, make a proper schedule to score more marks in the test.
Cochin Shipyard Manager/ AGM/ AM/ DM Reasoning Syllabus
Observation
Problem Solving
Coding and Decoding
Statement Conclusion
Syllogistic Reasoning
Relationship Concepts
Arithmetic Number Series
Similarities and Differences
Word Building
Arithmetical Reasoning and Figural Classification
Semantic Series
Number Series
Analysis
Judgment
Space Visualization
Non-Verbal Series
Decision Making
Symbolic/Number Classification
Figural Classification
Figural Series
Decoding and Classification
Semantic Analogy
Symbolic/Number Analogy
Classification of Centre Codes/Roll Numbers
Small & Capital Letters/Numbers Coding
Emotional Intelligence
Analogies
Coding & Decoding
Symbolic Operations
Trends, Space Orientation
Space Visualization
Venn Diagrams
Drawing Inferences
Numerical Operations
Punched Hole/Pattern-Folding & Unfolding
Figural Pattern – Folding and Completion
Social Intelligence
Problem Solving
Figural Analogy
Semantic Classification
Embedded Figures etc.
CSL Manager/ AGM/ AM/ DM General Awareness Syllabus
Science – Inventions & Discoveries
Science & Technology
General Polity
International & National Organizations
Sports
Important Days
Indian National Movement
Countries & Capitals
Abbreviations
General Science
Indian History
Budget and Five Year Plans
Current Affairs, National & International
Indian Economy
Books and Authors
Awards and Honors
Cochin Shipyard Quantitative Aptitude Syllabus
fractions and relationships between numbers
Percentage
Odd Man Out
Compound Interest
Ratio and Proportion
Permutations and Combinations
Indices and Surds
Numbers and Ages
Triangle, Quadrilaterals
Regular Polygons
Averages
Problems on L.C.M and H.C.F
Probability
Percentages
Areas
Volumes
Profit and Loss
Ration & Proportion
Square roots
Averages
Decimals
Mixtures and Allegations
Circle
Interest
Profit and Loss
Discount
Graphs of Linear Equations
Mixture and Allegation
Time and distance
Time & Work
Heights and Distances
Polygon
Bar diagram
Pie char
Histogram
Simple Interest
Pipes and Cisterns
Simplification and Approximation
Problems on Trains
Simple Equations
Time and Distance
Boats and Streams
Quadratic Equations
whole numbers
Mensuration
Problems on Numbers
Time and Work Partnership etc.
Cochin Shipyard Legal Syllabus
Constitutional Law
Indian constitution
Judicial bodies – Supreme court, High Court, District courts
Quasi-Judicial bodies – Tribunals
Rights, Writs, and Duties
Elections to President, Vice-President, legislative assembly
Official language
Important acts like Panchayati Raj, Emergency powers, etc
Law of Contracts
Nature of contracts and formation
Void and illegal, unenforceable contracts
Quasi-contracts
Discharge of contracts
Guarantee and insurance
Consequences of breach of contracts
Agency contract etc.
Law of Torts
Liability, strict and absolute liability, different types of liability
Joint tortfeasors
Remedies, Negligence, Defamation
Conspiracy
False imprisonment and malicious prosecution
International law
Dispute settlements
International treaties
Humanitarian laws, UN charter
Law of the sea,
State recognition
Territorial disputes
Terrorism in different forms
Environmental laws
Intellectual Property Rights
Patents
WTO IPR rules
The patents Act, 1970 and other important rules
Cochin Shipyard Management Syllabus
Energy Topics
Risk Management
Self-Employment Assessment
Social Media
Taxes
Time Management
Financial Management
Integrating Business and Family
Inventory Control
Insurance
Legal Issues
Marketing
Business Planning Guides
Business Structure
Customer Service
E-Commerce
Employment Issues
Market Research
Merchandising
Packaging
Pricing
Record Keeping
Cochin Shipyard Civil Syllabus
Railways
AirPort Engineering
PERT and CPM
S.I. Units
Theory Of Structures
Structural Design Specifications
Estimating And Costing
Tunneling
Hydrology
Soil Mechanics And Foundation Engineering
Concrete Technology
R.C.C. Structure Design
Steel Structure Design
Irrigation
Highway Engineering
Engineering Economics
Elements Of Remote Sensing
Docks And Harbours
Building Materials
Building Construction
Surveying
Advanced Surveying
Applied Mechanics
Strength Of Materials
Hydraulics
Water Resources Engineering
Cochin Shipyard Electrical Engineering Syllabus
Synchronous Motor
Electric Transmission and Distribution
High Voltage Engineering
Electric Illumination
Electric Machine Design
Computation
Electric Circuit and Ohm's Law
Synchronous Generator
Single Phase Motor
Electric Power Generation
Cochin Shipyard Mechanical Engineering Syllabus
Refrigeration and Air Conditioning
Heat Transfer
Material science
Engineering Mechanics
Strength of Materials
Hydraulic Machines
Internal Combustion Engines
Engineering Metrology
Production Technology
Instrumentation and Control
Industrial Engineering
Power Plant Engineering
Nuclear Power Plants New
Theory of Machines
Machine Design
Thermodynamics
Fluid Mechanics
Cochin Shipyard Computer Knowledge Syllabus
History of Computers
Introduction of Computer
Basics of Hardware and Software
Input /Output Devices
Number System
Operating System Basics
Basic Internet Knowledge and Protocol
Basic Functionalities of MS-Office
Networking and Communication
Database Basics
Memory and Storage Device
Computer Shortcuts Key
Computer Abbreviation
CSL Manager/ AGM/ AM/ DM Syllabus and Exam Pattern PDF Download Link
To Download the Cochin Shipyard Syllabus 2020 & Exam Pattern PDF (Manager, Deputy Manager, Assistant General Manager, Assistant Manager)
Click Here
NOTE: The above-provided information on the CSL Manager/ AGM/ AM/ DM Syllabus and Exam Pattern is only for reference purposes. Aspirants can visit the official site for more information.
Finally, we hope that the provided information about downloading CSL Syllabus and Exam Pattern 2020 is useful to your search. For more educational updates, keep visiting our website freshersnow.com. Thank You.