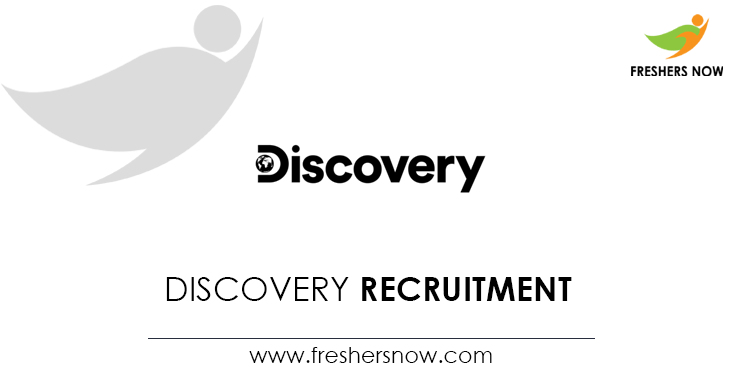 Discovery Recruitment 2021 for New Graduate Software Engineers in Bangalore/ Pune @ discovery.com: Want to excel as individuals and thrive as a team? Then this article could help you out in finding the right opportunities. Discovery Company had started accepting applications from the candidates who are actively searching for Discovery Jobs. The hiring team had made an announcement regarding procuring New Graduate Software Engineers in Bangalore/ Pune. Hence, the aspirants who are graduating in 2022 can make use of this chance. For the sake of candidates, we arranged a direct link to apply for Discovery Careers/ Discovery Jobs at the end of this article. Moreover, candidates can also collect extra details like Discovery Eligibility Criteria, Salary, and the process to apply for Discovery Recruitment 2021/ Discovery Freshers Jobs from the next segments of this post. All the Best!!!
Discovery Recruitment 2021 – Information
Name Of The Company
Discovery
Job Role
New Graduate Software Engineer
Req ID

30114

Application Deadline
19th November 2021
Position Type
Company Employee Full-Time
Qualification

Must be graduating in 2022
Degree in Computer Science or related field.

Salary
Not Disclosed
Category
IT Jobs
Job Location
Bangalore/ Pune
Website
discovery.com
About Discovery Company
Discovery Direct-to-Consumer is the technology arm of Discovery Inc. We work at the intersection of technology, entertainment, and everyday utility, continuously leveraging technology to create immersive viewing and interactive experiences. We are building a global streaming video platform (OTT) and a suite of applications to support all our global brands. These include Discovery+, Food Network Kitchen, GolfTV, MotorTrend on Demand, Eurosport Player, and many more. We are building modern container-based microservices operated on AWS.
Our platform covers everything from search, catalog, video transcoding, personalization, global subscriptions, and much more. We build user experiences ranging from traditional video streaming to highly interactive and immersive applications. We build across connected TV, web, mobile, and consoles and are fast, nimble, and have fun building world-class products for our iconic brands. This is a growing, global engineering group crucial to Discovery's future.
Discovery Freshers Jobs – Key Features
Project Assignments: Individuals joining the program will gain experience building world-class, innovative consumer-facing products and features, for globally recognized entertainment brands, consumed by millions of superfans across the globe, using the new technologies and methodologies.
Onboarding and Bootcamp: Our Bootcamp is designed to accelerate impact, by immersing our graduates in all things Discovery Direct-to-Consumer. It's an opportunity to establish your network and lay a foundation that allows you to confidently dive into the complex challenges you'll be solving every day.
Mentorship Program: You'll be aligned with a mentor who will act as a guide and informally help you navigate your first year as a Software Engineer, grow your network, and gain exposure to areas of interest outside of your day-to-day.
Career Coaching: During your first months here, you'll receive tailored career advice and guidance from experienced engineers and leaders who have been where you are and will share useful tips and insights into how they have successfully navigated their careers.
Global Network and Opportunities: Our engineers work across different regions, countries, and cultures to create a seamless experience for our customers regardless of geography. This program will provide organic and structured opportunities to build effective and meaningful relationships with fellow engineers from across the globe.
Accelerated Growth: We've brought together a team of the industry's best to re-imagine the viewing experience and build phenomenal products and experiences from the ground up. As the newest members of the team, you'll experience continuous growth and development and ultimately have the opportunity to determine and pursue the type of work that excites and challenges you.
Compensation: Competitive base salary, incentive bonus, and comprehensive benefits package.
Discovery Jobs Responsibilities | New Graduate Software Engineer Role
Create world-class global streaming products and the platform that powers them.
Take end-to-end ownership of product features and own the technical and operational excellence of these products.
Develop your area of expertise on the features and services you help build along with a group of talented engineers.
Contribute to the product and services development process; Design and test your own hypophysis by collecting and measuring data.
Discovery Eligibility Criteria
In addition to academic qualifications, we look for proactive problem solvers, motivated to learn and able to collaborate and exchange ideas and most importantly be team players.
Prior Intern experience as a developer in a consumer-focused company.
Degree in Computer Science or related field.
Software development experience coding in a general-purpose programming language.
Must be graduating in 2022.
Must have at least a 7.5 CGPA.
Computer Science fundamentals in object-oriented design, data structures, algorithm design, problem-solving, and complexity analysis.
Effective communication skills in both verbal and written communication.
Experience developing in at least one of the following languages (Java, C/C++, Python, GoLang, Swift, or Javascript).
Desire to work on a diverse team.
Knowledge of distributed systems, mobile and OTT client apps, video streaming, codecs,
video delivery and broadcast workflows are a big plus.
Process To Apply for Discovery Recruitment 2021
Get the stepwise instructions to apply for the Discovery Recruitment 2021 from this part. We kindly suggest all the candidates to make use of the below instructions to apply for the Discovery Careers.
Initially, all the candidates should open the official site @ discovery.com
Then the Home Page gets displayed on the screen
Candidates can find the @ Careers at Discovery Menu by scrolling down the page
Press on that and the Discovery Careers Page gets opened
On that page, we suggest the candidates to search for Discovery Jobs – New Graduate Software Engineers in Bangalore/ Pune
Open that and the Req ID:

30114 link appears

Verify the complete information carefully and complete the registration process by hitting the apply now button
Discovery Recruitment 2021 – Important Links
To Apply for Discovery Recruitment 2021
Click Here
For more information on Discovery Recruitment 2021
Click Here
We believe the furnished information on Discovery Recruitment 2021 is useful. Keep following our web portal @ Freshers Now on a regular basis. Stay connected to this page to know the Discovery Jobs/ Discovery Freshers Jobs.