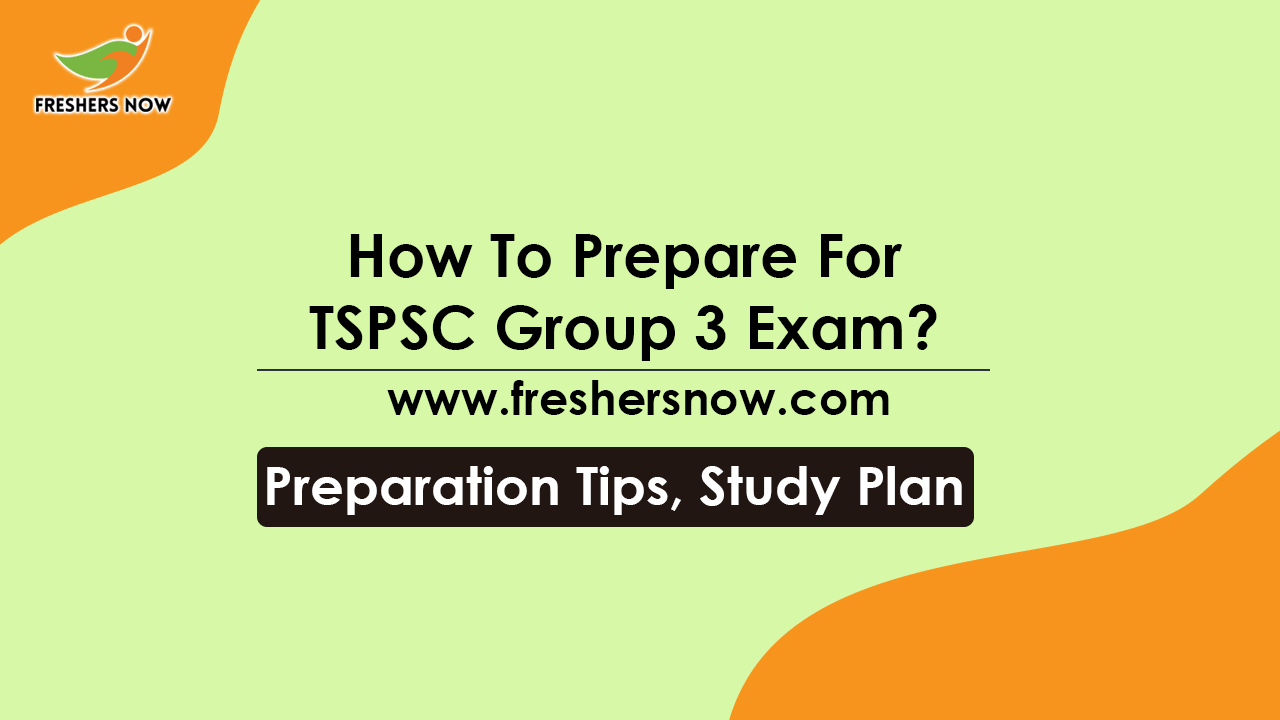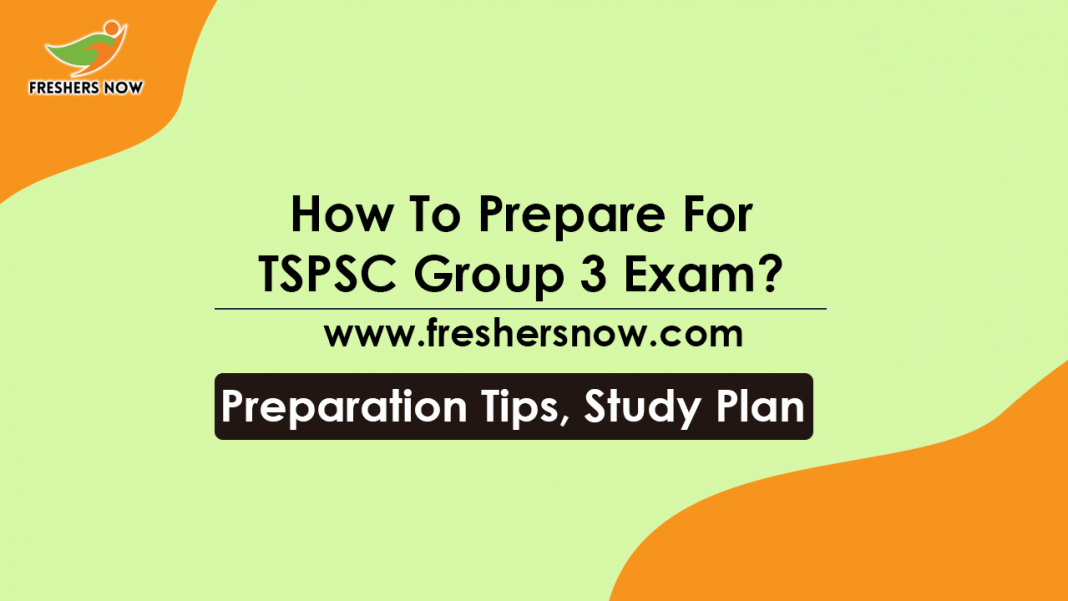 How To Crack TSPSC Group 3 Exam? Preparation Tips, Study Plan, Study Materail: Right preparation steps have to be adopted by the candidates to beat out the Telangana Public Service Commission Group III Exam competitors. So, this page is merely for those aspirants who are aiming to crack the TSPSC Group 3 Exam on the first attempt. Checking this entire page is advisable because it carries all the information that one should be aware of before you take up a TSPSC Group 3 Study Plan. All the TSPSC Group 3 Preparation tips and strategies have been articulated in the below sections.
The Group 3 Written Test is the most important exam to settle in the Telangana state government jobs. For eligible candidates, the Telangana State Public Service Commission conducts a Telangana Group 3 Examination to filter out the best-fit candidates for suitable positions available. Moreover, the TSPSC Group 3 Study Plan alone doesn't help you, one must apply a few tips and tricks while Preparation Tips For TSPSC Group III Exam. Scroll down to read this page for a better understanding.
How To Crack TSPSC Group 3 Exam Preparation Tips, Study Plan
Telangana Public Service Commission Group III Exam – Preparation Tips, Study Plan
Organization Name
Telangana Public Service Commission (TSPSC)
Post Name
Typist Assistant (Secretariat Subdivisions, Law department – Secretariat, legislature subdivisions, Finance department, HOD Office), Junior Assistant (HOD office), ASO (Law department Secretariat Subdivisions), Junior Accountant (Government life Insurance Subdivisions), Auditor (Pay and Accountant), Junior Accountant (Directorate, Treasury, Accounts), Senior Accountant (Treasury), Assistant Section Officer (legislature Sub service), Senior Auditor (local Funds and Audit service), Assistant Auditor (Pay and Account Subdivisions), Senior Accountant, Assistant Section Officer (Secretariat)
Category
Preparation Tips
Selection Process
Written Test/ Interview
Location
Telangana
Official Site
tspsc.gov.in
TSPSC Group 3 Topics
To begin with, knowing the complete TSPSC Group 3 Exam Syllabus and Exam Pattern is necessary before starting a study plan. Check the topic-wise Telangana Group 3 syllabus follows Telangana Group 3 Exam pattern.
Telangana Group 3 Exam Syllabus
TSPSC Group 3 Paper I

Current Affairs
Environmental Issues
World Geography, Indian Geography and Geography of Telangana State
Logical Reasoning
Social Exclusion, Rights Issues and Inclusive Policies
General Science
International Relations and Events
Society, Culture, Heritage, Arts and Literature of Telangana

TSPSC Group 3 Paper II
Socio-Cultural History of India and Telangana

Satavahanas, Ikshvakus, Vishnukundins, Mudigond and Vemulawada Chalukyas and their contribution to culture; Social System; Religious conditions; Buddhism and Jainism in Ancient
Telangana; Growth of Language and Literature, Art and Architecture.
The establishment of the Kakatiya kingdom and their contribution to socio-cultural development.

Growth of Telugu Language and Literature under the Kakatiyas.

Asaf Jahi Dynasty; Nizam-British Relations: Salarjung Reforms and its impact; Socio-Cultural
Socio-cultural and Political Awakening in Telangana.
Integration of Hyderabad State into Indian Union and formation of Andhra Pradesh

Overview of the Indian Constitution and Politics

Evolution of Indian Constitution
Fundamental Rights
Distinctive Features of Indian Federalism
Rural and Urban Governance with special reference to the 73rd and 74th Amendments.
Electoral System: Free and Fair Elections, Malpractices; Election Commission; Electoral Reforms
and Political Parties.
Judicial System in India

Social Structure, Issues and Public Policies

Indian Social Structure
Social Issues
Social Movements: Peasant's Movements, Tribal movements, Backward Class Movements, DalitMovements, Environmental Movements, Women's Movements, Regional Autonomy Movements, Human Rights Movements.
Telangana Specific Social Issues
Social Policies and Welfare Programmes
Special Provisions for Scheduled Castes, Scheduled Tribes, Backward Classes, Women.
Welfare Mechanism for Enforcement – National Commission for Scheduled Castes, National
Commission for Scheduled Tribes and

TSPSC Group 3 Paper III
Indian Economy: Issues and Challenges

Growth and Development
Measures of Economic Growth
Poverty and Unemployment
Planning in Indian Economy

Economy and Development of Telangana

Telangana Economy in undivided Andhra Pradesh (1956-2014)
Land Reforms in Telangana
Agriculture and Allied Sectors
Industry and Service Sectors

Issues of Development and Change

Development Dynamics
Development and Displacement
Economic Reforms: Growth, Poverty and Inequalities
Sustainable Development
Subject Name
Questions
Marks
Paper I: General Studies & General Abilities
150
150
Paper-II: History, Polity & Society
150
150
Paper III: Economy and Development
150
150
Total
450 Questions
450 Marks
Duration: 2 Hours 30 Minutes (each paper)
TSPSC Group 3 Study Plan
Planning and Execution: To finish your reading, take some time for each subject. That isn't to say you should study 24 hours a day, seven days a week. When properly planned, a consistent study time of 2 to 4 hours per day is sufficient. Daily, weekly, monthly, quarterly, and annual targets are examples of targets.
Time Management: You will need to learn to manage your time. One must make the best use of your time by devising a strategy to achieve your objective. Some people believe that they will have to quit their current job to devote their full attention to the TSPSC Group 3 exams, but not exactly. Divide the time you have and read with full concentration.
Make A Notes: It is recommended that you take notes throughout your preparation. Because it makes it easier to go over all of the important points you made during the TSPSC Group 3 Revision. Use all the resources you have such as the internet, books, newspapers, article, and more.
Taking Mock Tests: Taking mock tests should be the viral thing you do throughout your preparation. This will decide how much more work you have to do to be thorough with the topics. In addition, the mock tests will follow the same pattern as the actual exam. As a result, you will be able to handle the sections during the exam.
Revision: Your study plan should not be till the exam date. There must be at least a week or 2  before the TSPSC Group 3 Exam date. These two weeks must be dedicated entirely to revision and all of the weighted topics that need to be addressed.
TSPSC Group 3 Preparation Tips
Make a detailed TSPSC Group 3 schedule that includes all of the topics and follow it.
Every day, devote one hour to current affairs. Then divide the remaining time into two parts. One subject at a time should be read. It must not be mixed with the other subject.
Work on areas where you are weak first, then on areas where you are strong.
There isn't a single subject that should be left.
To help in revision, take brief notes during your preparation.
Mock tests determine your strengths and weaknesses.
Practice previous TSPSC Group 3 Previous papers to see how long each question takes to complete and how accurate it is.
TSPSC Group 3 Study Materail
| | |
| --- | --- |
| TSPSC Group 3 Previous Papers | PDF Download Link |
| Download the Telangana PSC Group 3 Question Papers PDF for General Studies & General Abilities | Click Here |
| To download the TSPSC Group 3 Question Papers PDF for History, Polity & Society | Click Here |
| Download the TSPSC Group 3 Previous Papers PDF for Economy and Development | Click Here |
We hope all the above-given information is worth reading. For more updates on the TSPSC Group 3 Exam follow us at  Freshers Now.