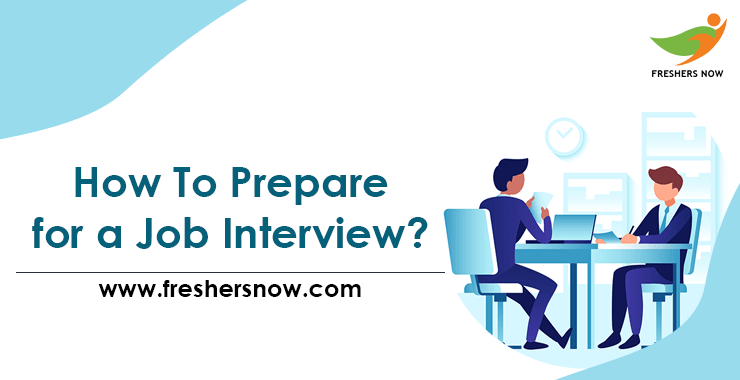 How To Prepare for a Job Interview? Best Tips to Prepare For Interview: Do you have a job interview on your schedule? Check this page, and get detailed information on it. Take your time to prepare for an interview in advance which helps you to secure a job offer. Here, go through every single aspect of this article, and have complete knowledge on How To Ace Your Job Interview. Moreover, we have given the details on Preparation Tips For Job Interviews, types of interviews, etc. Refer to this entire page, and get the detailed data on How to Prepare for a Successful Job Interview?.
How to prepare for an Interview: Research
Job Description: Candidates have to read the complete job description thoroughly to understand how the employer has expressed the position and the type of applicants they are searching for.
Qualification & Eligibility: Applicants have to check their qualifications and experience. If candidates have the required qualifications, eligibility and experience then can attend the interview.
Learn About Company: This is an important thing that every candidate has to know. By this aspirant can get some insight on its latest revenue, growth prospects, and business plans.
Questions: Consider the list of common questions, and also frame the questions for the given position.
"Tell me a little about yourself."
"What are your biggest weaknesses?"
"What are your biggest strengths?"
"Where do you see yourself in five years?"
"Out of all the candidates, why should we hire you?"
"How did you learn about the opening?"
"Why do you want this job?" etc.
Practice Mock Interview: Attend several mock interviews by surfing various sites. By this, you will get more confidence while attending the interview.
Documents: It always helps candidates to carry the hard copies of all the documents with them.
How To Be Successful In A Interview?
Reach the interview location early.
Be polite and punctual.
Maintain your body language.
Ask useful questions to the interviewer.
How To Ace Your Job Interview? | After Interview
Performance Analysis: After returning from the interview, take five minutes and analysis your performance. This will help in improving your interview skills.
Inform To References: After completion of the interview, we need to inform our references or consultant people. So, that they are not caught off guard when HR calls them.
Follow Up With HR: If candidates have not got any information in the given span of time, then you need to follow the HR Department to know the outcomes.
Types Of Interview
Here, in this section, candidates will get to know about the several types of interviews.
Face-to-Face Interview: Face-to-face interview is a data collection method when the interviewer directly communicates with the respondent in accordance with the prepared questionnaire.
Telephonic Interview: A telephone interview is a process for employment conducted on the phone. Telephonic interviews are often used to screen candidates in order to narrow the pool of applicants who will be invited for in-person interviews.
Video Interview: A video interview is a job interview that takes place remotely and uses video technology as the communication medium.
Assessment centers Interview: An assessment center is an extended period of interviews, tasks, and assessment exercises, organized by recruiters for small groups of candidates. … This type of assessment is frequently used by large graduate employers who wish to recruit a cohort of candidates for a given year of entry.
Best Preparation Tips For Interviews
Keep your answers short and focused.

Dress neatly for the job or company.
Don't talk too much.
Sit patiently in the waiting area.
Use appropriate language.

Always talk positively about your current or previous employer.

Don't appear desperate.
Develop a Connection With the Interviewer.
Be careful while asking the questions to the interviewer or Take care to answer the questions.
We believe that you guys have got complete and genuine information regarding the How To Prepare for a Job Interview. To know more updates, applicants need to visit our site @ Freshers Now. Thank You!!!