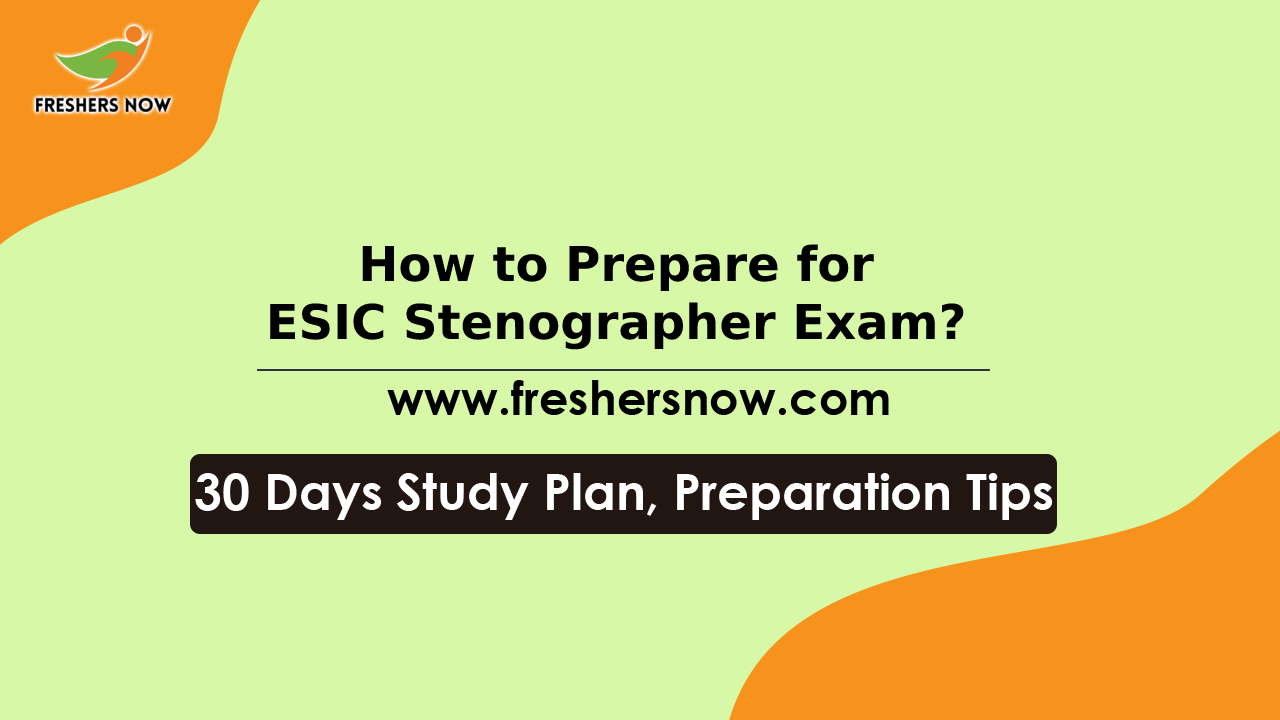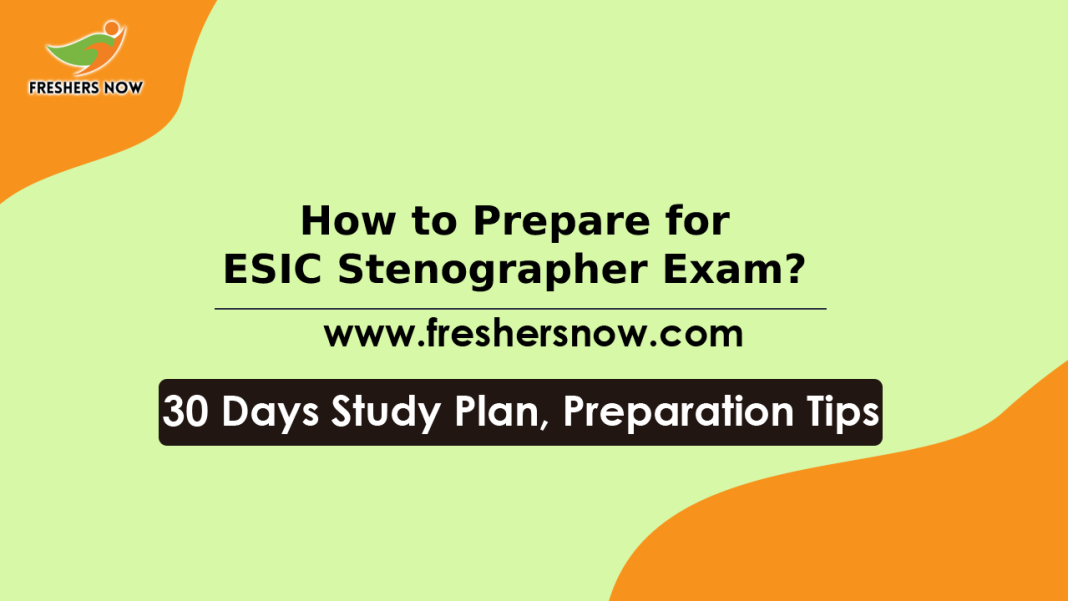 How to Prepare for ESIC Stenographer Exam? 30 Days ESIC Steno Study Plan, Preparation Tips: ESIC Stenographer Exam Preparation tips are here. 30 Days ESIC Steno Study Plan is that what you are planning to step into? Are you looking for ESIC Stenographer preparation tips! Well then, you have come to the right place. Because through this article you can leave your worry about how to prepare for ESIC Stenographer exam? Follow along and do not miss any section of the article. Additionally, do not forget to take notes at your convince and check ESIC Steno Topics, Study Material of the exam.
How to Prepare for ESIC Stenographer Exam? Study Plan, Preparation Tips
How To Prepare For ESIC Steno Exam?
Organization Name
Employees' State Insurance Corporation (ESIC), Telangana
Post Name
Stenographer Posts
Stages Of Recruitment

Mains Examination
Skill Test

Category
Preparation Tips
Official Website
esic.nic.in
ESIC Stenographer Preparation Tips and Strategy
Score best with ESIC Stenographer Preparation and strategy. Ensure that you are placing them on a regular practice.
Cultivate a study routine.
Prepare timetable on daily basis.
Examine all the complex concepts.
Set aside the mastered topics.
Use the flashcard technique for formulae.
Implement quick tips for solving.
Make reading a regular hobby.
Reframe articles/editorials.
Understand the solved methodologies.
Have timely revision.
ESIC Steno Test Pattern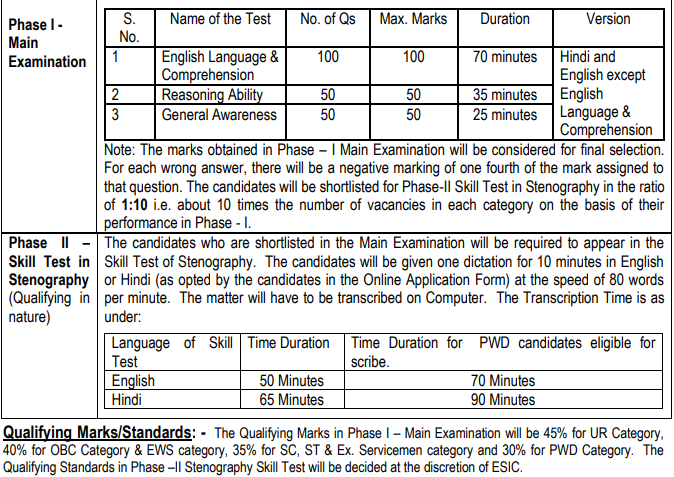 30 Days ESIC Steno Study Plan
To mark a standpoint you need to ensure that you are having the right study plan. 30 Days ESIC Steno Study Plan will rightly help you with all the necessary criteria that you can implement in your preparation.
Firstly, Be aware of the exam patterns and the marking scheme. This will help you analyze the set of topics that are important and the ones which are repeated. This will make your study plan run smoothly.
Secondly, Devise a Proper Mock-test Attempt Strategy. Additionally, be accountable to the mock tests. This will help you analyze all the parameters of preparation and further you can eventually focus on your weak topics.
Thirdly, Cultivating the Habit of Creating Notes. Making short notes and then using it for memorizing will always be helpful in the long run. As 30 Days ESIC Steno Study Plan requires quick preparation. You need to make sure that all the topics are handy.
Fourth, synchronize all the collected materials. Good books/ resources will always be helpful uneasy guidance. Subsequently, you will have eyes on the quick reading and learning process.
Finally, in your 30 Days ESIC Steno Study Plan, avoid creating a large gap throughout the preparation process. Always remember that tiny steps lead to big accomplishments. Make sure that you are consistent in your 30 Days ESIC Steno prep.
Day
Topics for Revision
1 – 10
English language and comprehension

Basic English grammar and sentence structure
Direct and indirect speech Articles, spellings
Phrases and idioms
Phrase replacement
Active and passive voice
Parts of speech
Cloze test
Sentence correction
Spotting errors
Comprehension reading
Antonyms and synonyms

Day10-20
Reasoning

Analogies
Arithmetical Reasoning
Analysis
Non-verbal Series
Decision Making
Discriminating observation
Verbal and figure classification
Similarities and differences
Space visualization
Judgment
Alphanumeric series
Visual memory
Blood relations
Problem-solving

Day 20-25
General Awareness

Indian history
Indian polity
countries, currencies, and capitals
Government schemes and policies
National and internationally important events
Science and technology
Indian geography
Indian constitution
Scientific research
Art and culture
Awards
Books
Indian economy
Days and events

Day 25-30
Quantitative Aptitude

Time and Work Partnership
Ratio and Proportion
Boats and Streams
Simple Interest
Time and Distance
Problems on Trains
Areas
Races and Games
Numbers and Ages
Mixtures and Allegations
Mensuration
Permutations and Combinations
Problems on L.C.M and H.C.F
Pipes and Cisterns
Percentages
Simple Equations
Problems on Numbers
Averages
Indices and Surds
Compound Interest
Volumes
Odd Man Out
Quadratic Equations
Probability
Profit and Loss
Simplification and Approximation
How to prepare for ESIC Stenography? Quick tips for ESIC Stenography
Still, worrying about How to prepare for ESIC Stenography? Then grab these Quick tips for ESIC Stenography. Ace your preparation and do not miss any of the key points. Take notes accordingly.
Cover the basic concepts.
Strategize the topic design.
Allot time slots for revision.
Access the mock tests scores via explanation.
Use needs guiding tools/resources.
Make handy notes.
Be accountable for revision targets.
Always set weekly goals.
Take timely breaks.
Do a refreshing activity.
ESIC Steno Study Material
Hope you have all the preparation tips for ESIC Stenography. Hope you have taken notes. Do not worry about How to prepare for the ESIC Stenography exam. Ace your preparation with all the ESIC Stenography tips and strategies. Good luck with your exam. Stay connected for more informative articles at freshersnow.com