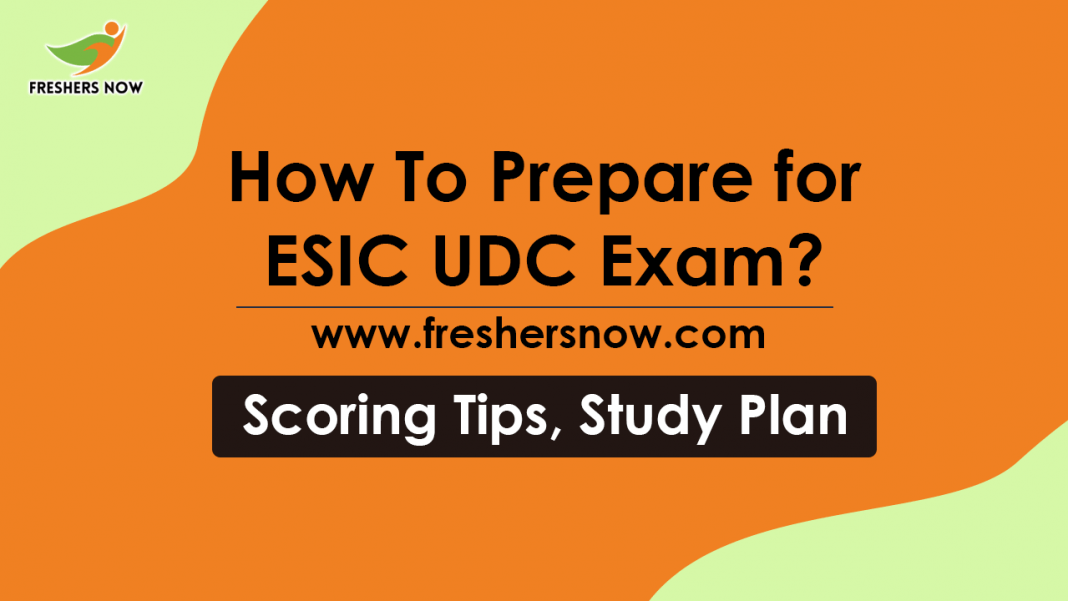 How To Prepare For ESIC UDC Exam? Scoring Tips, Study Plan @ esic.nic.in: Aspirants who are preparing for the Employee's State Insurance Corporation (ESIC) Upper Division Clerk (UDC) exam can check this page. This page is completely furnished with the detailed ESIC UDC Exam Study Plans, ESIC UDC Exam Scoring Tips. By knowing the ESIC UDC Exam Preparation Tips, one can easily crack the exam. As there are enormous opening releases, aspirants have to mind the competition. Read through this article and bookmark it to follow up on the ESIC UDC Exam Strategies.
How To Prepare For ESIC UDC Exam?
How To Prepare For ESIC UDC Exam?
Organization Name
Employees' State Insurance Corporation (ESIC), Telangana
Post Name
UDC (Upper Division Clerk), Stenographer Posts
Stages Of Recruitment

Preliminary Examination
Mains Examination
Computer Skill Test

Category
Preparation Tips
Official Website
esic.nic.in
ESIC UDC Exam Details
Employee's State Insurance Corporation will conduct a test to recruit the candidates for the Upper Division Clerk available vacancies. Applicants of ESIC Upper Division Clerk (UDC) will have to through the Prelims, Mains, and Computer Skills Exam. The tough competitions will be at the ESIC UDC Mains Level because all those candidates already crossed the ESIC UDC Prelims level. But all three ESIC UDC Prelims, Mains, and Computer Skills Exam required the same level of preparation.
ESIC UDC Exam Pattern
ESIC UDC Prelims Exam: Consist of 100 questions and each question carries 2 marks. There will be a negative marking of 1/4 for each wrongly answered. Also, these ESIC UDC Phase I marks will be considered to prepare the final merit list.
Section
Number of Questions
Marks
General Intelligence and Reasoning
25
50
1 hour
General Awareness
25
50
Quantitative Aptitude
25
50
English Comprehension
25
50
Total
100
200
ESIC UDC Mains: Consist of 200 questions, there will be no sectional timing.1/4 mark will be deducted from each wrong answer.
Section
Number of Questions
Marks
General Intelligence and Reasoning
50
50
1 hour
General Awareness
50
50
Quantitative Aptitude
50
50
English Comprehension
50
50
Total
200
200
ESIC UDC Computer Skill Test Pattern: Marks obtained here will not be counted to prepare the merit list. This test is to conclude the candidate's computer skills.
Section
Marks 
Marks 
Preparation of 02 PowerPoints Slides
10
30 Marks
Typing matter on MS Word with formatting
20
Preparation of Table on MS Excel with use
of Formulae
20
Total 
50 
How To Crack ESIC UDC Exam?
We here have formulated ESIC UDC Exam for the candidate's sake. For any competitive exam, candidates have to be thorough with the ESIC UDC Exam Syllabus. Then only one can prepare a Study Plan. So, we have gathered and arranged the ESIC UDC Prelims and Mains Exam Syllabus separately. Let's have a look at it.
ESIC UDC Topic Wise Syllabus
We here have arranged the ESIC UDC Topic-Wise Syllabus to help the aspirants to get to know and start preparing accordingly and candidates can have look at the precise topics included in a particular subject.
Quantitative Aptitude
Arithmetic
Probability
Permutation and Combination
Linear Equation
Number Systems
Decimal and Fractions
Mensuration
Data Interpretation
Number Series
Simplification
Reasoning Ability
Seating Arrangement
Machine Input and Output
Blood Relations
Coding and Decoding
Inequality
Syllogism
Verbal Reasoning
Puzzles
Order and Ranking
Direction, Alphanumeric Series
Data Sufficiency
General Awareness
Important Days
Inventions & Discoveries
Knowledge of Current Events
Abbreviations
Sports
General Science
Geography
History
English Language
Cloze Test
Spotting Error
Fill in the Blanks
Synonyms
Antonyms
Spellings, Idioms & Phrases
One Word Substitution
Sentence Improvement
Reading Comprehension
Para Jumbles, Double Fillers.
Strategies To Prepare For ESIC UDC Exam
Start dividing the given syllabus into two parts. Nothing to be perplexed about, just make a list of topics you are good and poor at. By doing so one can easily manage time.
The ability of the person will differ like one can able to cover at least one topic for an hour from each subject and other may sit on to complete the one whole subject in 3 days. Know your ability to plan wisely.
Practice and accuracy are the ways to crack any competitive exam.
Through test series or mock tests, candidates can able to know how far he/ she is from the expected score. Also, this reminds you of how even hard one has to work to beat the expected score.
Focus plays a key role, this makes a difference from an average person to the topper.
Stay confident and believe in oneself guides you the way.
Read through all the resources, which will available on the internet. Make use of the resources on the internet.
Your goal must be a guiding star and prioritize nothing until you crack the ESIC UDC Exam on a first attempt.
ESIC UDC Exam Study Plan
One should dedicate to study as per the timetable prepared for himself. There will be general topics and subjects in most of the competitive exams. Check and list them out. Maintain clarity and focus on whether to prepare a Day Plan or an Hour plan. There is a difference. A Day Plan means one subject per day accordingly to the syllabus. An Hour Plan is one topic a day from all subjections. This depends upon the person and his ability.
Start with basic topics which don't eat off your time. So that you will have much time later to prepare for the advanced level or topics you are not much aware of. Also, collect all the ESIC UDC Exam relevant start materials and try to concentrate on them.
ESIC UDC Exam Scoring Tips
Quantitative Aptitude
Daily at least 20 mins spend on squares, and cubes, calculation and revising tables. Spend more time on weak areas and gain complete knowledge of the concepts. Have a grip on the subject so you can solve any type of question. Try to attempt mock tests every day or twice a week.
Reasoning Ability
Concentration is a must to solve this area. Try to solve as many puzzles as you can for a day. Check the time while solving the puzzle and try to improve accuracy.
General Awareness
Reading newspapers, magazines article is necessary. Divide the topis and focus. This area includes past, present, and future base questions. Manage time and try to cover all the related topics.
English Language
English is not a big deal, but practices proper reading skills. The resources for this area are more on the internet. Just make a habit of going through all those available comprehensions.
ESIC UDC Study Material
How To Prepare For ESIC UDC Exam? – FAQs
Where can I get the ESIC UDC Exam preparation tips?
Candidates can get the ESIC UDC Exam preparation tips from Freshersnow.Com.
What is the selection process of the ESIC UDC posts?
The selection process of ESIC UDC Exam Preliminary Examination, Mains Examination, and Computer Skill Test.
Which books to refer to prepare for the ESIC UDC Prelims Exam?
Candidates can check Freshersnow.Com for the reference books to prepare for the ESIC UDC Prelims Exam.