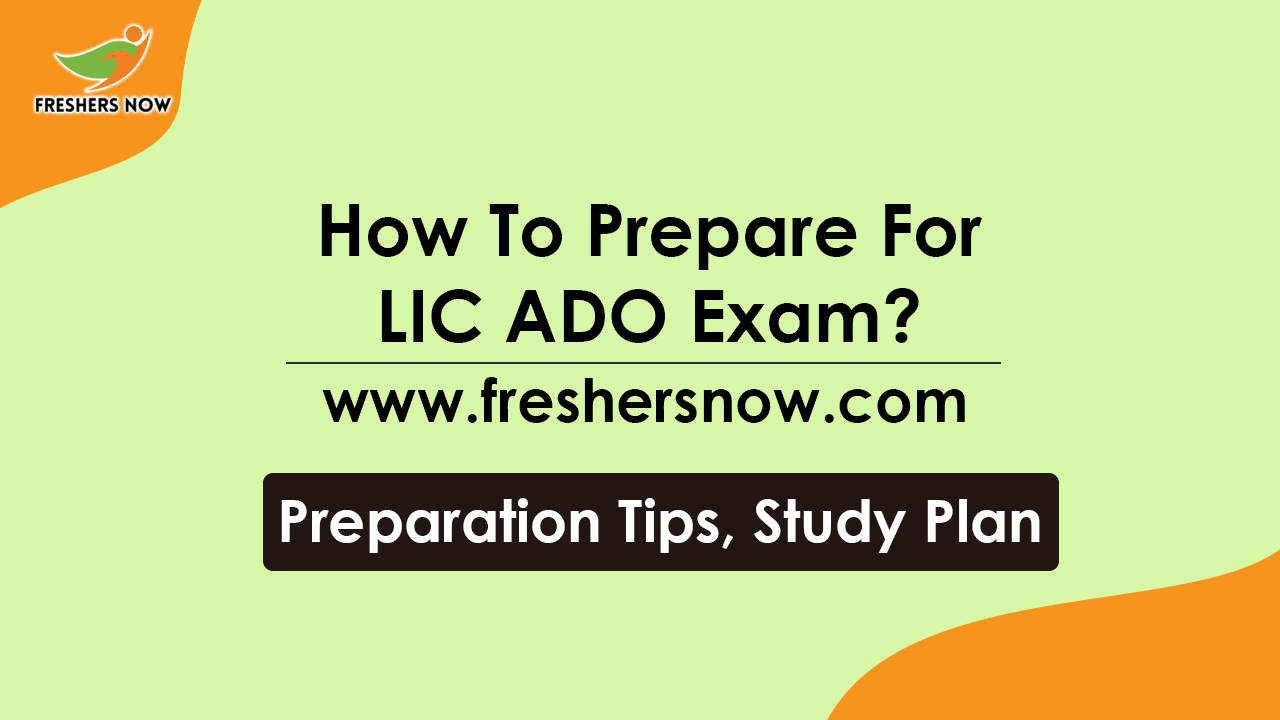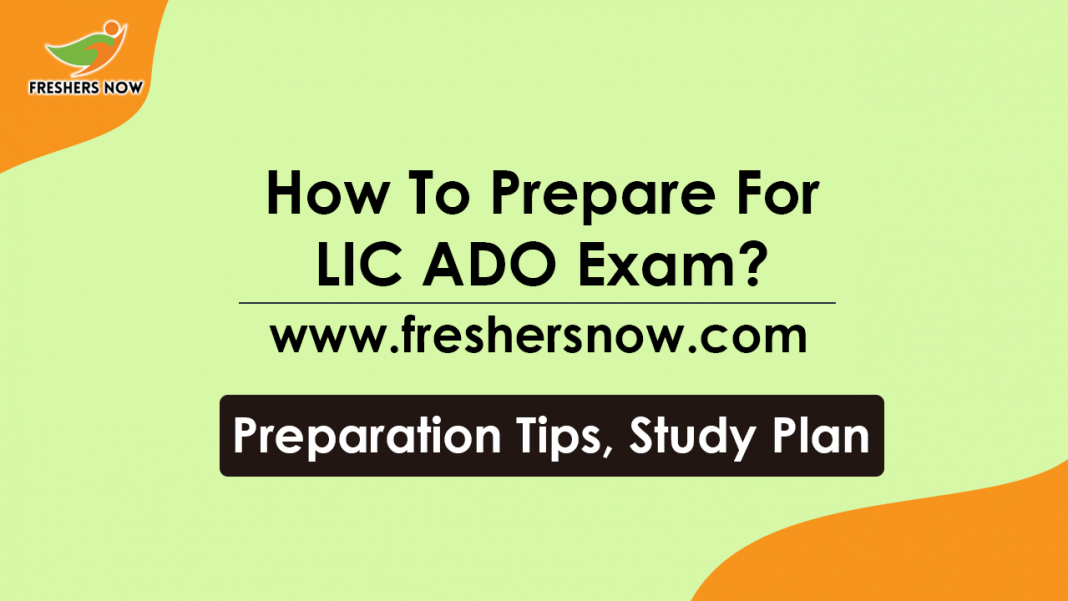 How To Prepare For LIC ADO Exam? Preparation Tips, Study Plan: This article is only for those who are appearing for the LIC ADO Exam. It is not so easy to crack LIC ADO Examination. So, all the candidates are suggested to be prepared for the LIC ADO Written Test with a preplanned timetable. In the below sections of our page, we have provided the information about the LIC ADO Preparation Tips, LIC ADO Exam Syllabus, and 30 Days LIC ADO Study Plan, Best LIC ADO Reference Books, etc. Read this page thoroughly to gain a thorough understanding of the LIC ADO Examination.
How To Prepare For LIC ADO Exam? Preparation Tips, Study Plan
LIC ADO Exam
Organization Name
Life Insurance Corporation Limited (LIC)
Post Name
Apprentice Development Officer (ADO)
Category
Preparation Tips
Selection Process
Written Test (Preliminary Exam & Mains Exam), Personal Interview
Job Location
Across India
Official Site
licindia.in
How To Crack LIC ADO Exam?
One should aim to crack the LIC ADO Exam on the first attempt. Then he or she starts to think about it. It is difficult to pass a competitive exam. Dedication. Practice, Hard Work, and, most importantly, Patients are required. Everyone has high goals, but it takes experience and strategy to reach them. The only way to pass this exam is to master the concept. There is nothing more important for a man than time management if it helps him live a better life.
As a result, applicants for the LIC ADO Exam should follow all of the basic rules in order to pass this exam and remain confident throughout their preparation. Learn to rate yourself on a scale of 1 to 10. This encourages you to work harder.
LIC ADO Exam Pattern
Prelims, Mains, and Interview/ Medical Test are the three steps that candidates must go through. Let's take a look at the LIC ADO Exam Pattern.
Phase – I: LIC ADO Prelims Exam Pattern
Note: English Language Test will be of qualifying nature and the marks in the English Language will not be counted for ranking.
 Subject Names
Number of Questions
Number of Marks
Reasoning Ability
35
35
Numerical Ability
35
35
English
30
30
Total
100
70
Time Duration: 1 Hour (20 Minutes for each Subject)
Medium: English & Hindi 
Phase – II: LIC ADO Mains Exam Pattern
Subject Names
No of Questions
Maximum Marks
Reasoning Ability & Numerical Ability
50
50

General Knowledge
Current Affairs
English Language with Special Emphasis on Grammar and vocabulary

50
50
Insurance and Financial Marketing Awareness (with special emphasis on knowledge of Life Insurance and Financial Sector)
50
50
Total
150
150
Time Duration: Composite 120 Minutes
Medium: English & Hindi
Topics To Be Prepared For LIC ADO Prelims Exam
Reasoning

Numerical Ability

General English

Number Series
Clocks and Calendars
Data Interpretation
Mirror Images
Decision Making
Mathematical Reasoning
Syllogism
Linear and Circular Sitting Arrangements
Puzzles
Alphabet Series
Coding-Decoding
Distance and Direction
Blood Relations
Statements and Conclusions
Statements and Arguments

Time & Work
Profit & Loss
Simple &
Compound
Simplification
Number Series
Quadratic
Equations
Average
Percentage
Interest
Time & Speed
HCF & LCM
Problem On
Ages
Bar Graph
Pictorial Graph
Pie Chart

Articles
Pronouns
Adjectives
Prepositions
Vocabulary
Antonyms
Model auxiliaries
Usage of the can may should etc
Use of some many any few a little since and for
Active and passive voice
A degree of adjectives
Common errors of usage
English Language
Conjunctions and Question Tags
Verb and Tense Agreement between subject and verb Gerund Participles
Topics To Be Covered For LIC ADO Mains Exam
Financial Marketing Awareness

Indian Financial Market
Capital markets and the government
Stock markets and Bond markets
Money markets and their role in the financial system
Mutual Funds
Insurance Industry
Regulatory Agencies
Insurance Industry
Derivatives markets
Private investing
Primary markets
Secondary markets
Study of the foreign exchange interbank market
Special Statutes for Certain Financial Intermediaries
Establishment of FSDC
Financial Stability and Development Council
International Financial Organization

Insurance Awareness

Introduction and History of Life Insurance
History of General Insurance
Types of Insurance
Indian Insurance Market
Insurance Current Affairs
Insurance Ombudsman
Bancassurance and Current insurance schemes
ULIP (Unit Linked Insurance Plan Public)
Sector Insurance Companies
Glossary of Insurance Terms
Private Sector Insurance Companies.
Employment State Insurance Scheme (ESIS)
Abbreviations related to Insurance Industry
Other important topics related to Insurance Awareness
Schemes related to Insurance

Current Affairs

Books & Authors
Finance
Science & Technology
Environment
Awards
Sports & General
Festivity
International Affairs
Indian Financial System
Politics
Capitals & Currencies
Education
Government Schemes
Abbreviations and Economic Terminologies
Summits & Conferences
Obituary
Talkies
Economy
Banking
Current Events
Current Ministers & Governors
Business

General Knowledge

Important Days
Indian History
Books and Authors
International and National Organizations
Indian National Movement
Sports
Current Affairs – National and International
Abbreviations
General Policy
Science and Technology
Science – Inventions & Discoveries
Awards and Honors
Capitals of India
Indian Economy
Budget and Five Year Plans
Countries and Capitals
LIC ADO Preparation Tips
Create a good and productive study plan. Having a well-defined study strategy can assist the candidate in finishing all of the topics on time and without losing valuable time.
One should examine the topics in which you are strong or weak after learning the syllabus. Begin working on the subject that requires more attention.
Before you begin studying for the LIC AAO, you should determine how long it takes you to complete the entire syllabus. Everyone learns at their own rate and dedicates varied amounts of time to studying.
Calculate how many days it will take you to finish the entire syllabus. Then choose whether you go for a day plan, an hour plan, a week plan, or a monthly plan.
Make an effort to understand in-depth, but don't go beyond. Understanding the fundamental concepts is a good idea. But make sure you don't spend the entire day obsessing about one issue.
Understand the key points and that is sufficient.
Just creating a study plan is not the big deal, but following it is.
It's all about learning the concepts and turning yourself into a professional.
Following the previous question papers and taking the mock tests are necessary. So, to understand the type of questions you will be asked.
30 Days LIC ADO Study Plan
Day
English
Numerical Ability
Reasoning
1
Basic Grammar Rules
Profit and loss
Number Series
2
Basic Grammar (Noun, Verbs, Adverbs)
Time and distance
Seating arrangements
3
Subject-Verb Arrangement
Time and work
Nonverbal reasoning
4
Verb and Tense Agreement between subject and verb Gerund Participles
Geometry
Blood relations
5
Vocabulary
Calendar and clock
Statement and conclusions
6
Unseen passages
Ratio and proportion
Analogy and classification
Directions
7
Synonym and antonyms
Age calculations
Coding and decoding
8
Sentence/ Para Completion
Number system
Syllogism and Venn Diagram
Alphabetical series
9
Active and passive voice
Simple and compound interest
Similarities and differences
Analytical reasoning
10
A degree of adjectives
Statistics
Arguments and assumptions
11
Conjunctions and Question Tags
Percentage
Data Interpretation
12
Para jumbles
Age calculation
Decision making
13
Fill in the blanks
Ratio and proportion
Data Interpretation
14
Sentence Improvement/Phrase Replacement
Ratio and proportion
Data Interpretation
15
Error Correction
Trigonometry
Non-verbal reasoning
16
Common errors of usage
Trigonometry
Non-verbal reasoning
17
Model auxiliaries
Trigonometry
Alphabetical series
18
cloze test
Geometry
Syllogism and Venn Diagram
19
Revision
Geometry
Syllogism and Venn Diagram
20
Taking Mock Tests
Revision
Coding and decoding
The remaining ten days should be used to put your practice to the test or to assess your level of preparedness by taking a mock exam and reviewing past question papers.
Best LIC ADO Reference Books
| | |
| --- | --- |
| A New Approach to Reasoning Verbal & Non-Verbal | B S. Sijwali, Indu Sijwali |
| Modern Approach To Verbal & Non-Verbal Reasoning | RS Aggarwal |
| Analytical Reasoning | M K Pandey |
| Logical and Analytical Reasoning | AK Gupta |
| Numerical Ability 18 Days Wonder | S Chand |
| Quantitative Aptitude | RS Aggarwal |
| Quicker Mathematics | M Tyra |
| Fast Track Objective Arithmetic | Arihant |
| Objective General English | SP Bakshi |
| Essential English Grammar | Raymond Murphy |
| Perfect Competitive English | VK Sinha |
| Manorama Year Book | – |
| Current Affairs Yearly | Arihant |
| General Knowledge | Lucent |
| History, Polity, and Science | NCERT Books of Class 8 to 10 |
| Insurance Awareness: Basic concepts and tips for an interview | Gauri Sankar |
We hope that the information presented above is worth reading. Follow our website @ freshersnow.com.