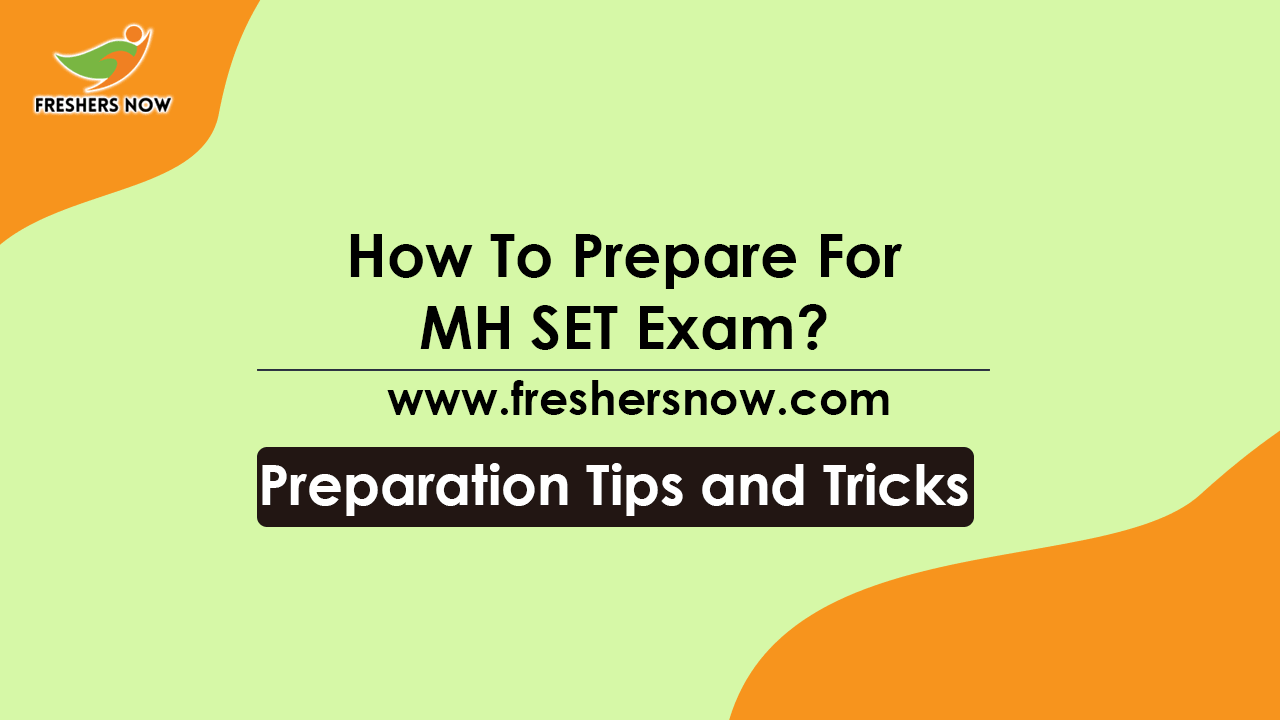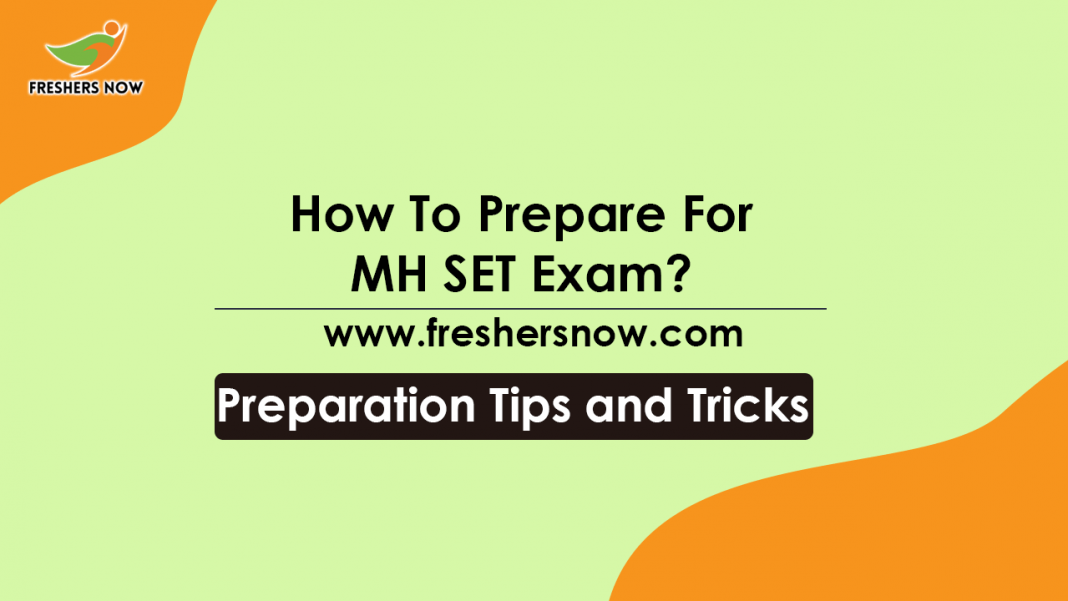 How To Prepare For MH SET Exam? Maharastra SET Preparation Tips and Tricks: Hey there! Are you interested in taking the Savitribai Phule Pune University (SPPU) conducting Maharashtra State Eligibility Test? Then this article is for you. We created this page to answer general questions like "How To Prepare For MH SET Exam?" to assist aspirants. We've also included some preparation tips and tricks to help you easily pass the Maharastra SET Exam. Check through this page and stay aware of the new methods of learning.
How To Prepare For MH SET Exam?
Maharashtra State Eligibility Test
Conducting Body
Savitribai Phule Pune University (SPPU)
Exam Name
Maharashtra State Eligibility Test
Commonly Known As
MH SET
Post Name
Assistant Professor
Category 
Preparation Tips
Location
Maharashtra
MH SET Exam Official Site
setexam.unipune.ac.in
What Is SET Exam?
It is a state-level exam for aspirants of assistant professors and junior research fellows who wish to work as faculty in a government-run college. It's also a test for a specific job. SET enables you to work as an assistant professor in a specific state. With SET exams, the questions can be a little bit different at times. Furthermore, the SET exam is only given once a year.
Maharashtra SET Syllabus
General Paper On Teaching & Research Aptitude
Teaching Aptitude

Teaching: Concept, Objectives, Levels of teaching (Memory,
Understanding and Reflective), Characteristics and basic requirements.
 Learner's characteristics: Characteristics of adolescent and adult learners
(Academic, Social, Emotional and Cognitive), Individual differences.
Factors affecting teaching related to Teacher, Learner, Support material,
Instructional facilities, Learning environment, and Institution.
Methods of teaching in Institutions of higher learning: Teacher centered vs.
Learner-centered methods; Off-line vs. On-line methods (Swayam, Swayamprabha, MOOCs, etc.).
Teaching Support System: Traditional, Modern, and ICT-based.
 Evaluation Systems: Elements and Types of evaluation, Evaluation in
Choice Based Credit System in Higher education, Computer-based
testing, Innovations in evaluation systems

Research Aptitude

Research: Meaning, Types, and Characteristics, Positivism and Postpositivistic approach to research.
Methods of Research: Experimental, Descriptive, Historical, Qualitative, and Quantitative methods.
Steps of Research.
Thesis and Article writing: Format and styles of referencing.
Application of ICT in research.
Research ethics

Comprehension

A passage of text is given. Questions are asked from the passage to be answered.

Communication

Communication: Meaning, types, and characteristics of communication.
Effective communication: Verbal and Non-verbal, Inter-Cultural and group communications, Classroom communication.
Barriers to effective communication.
Mass-Media and Society

Mathematical Reasoning and Aptitude

Types of reasoning.
Number series, Letter series, Codes, and Relationships.
Mathematical Aptitude (Fraction, Time & Distance, Ratio, Proportion and Percentage, Profit and Loss, Interest and Discounting, Averages, etc.)

Logical Reasoning

Understanding the structure of arguments: argument forms, the structure of
categorical propositions, Mood and Figure, Formal and Informal fallacies,
Uses of language, Connotations, and denotations of terms, Classica square of opposition.
Evaluating and distinguishing deductive and inductive reasoning.
Analogies.
Venn diagram: Simple and multiple uses for establishing the validity of arguments.
Indian Logic: Means of knowledge.
Pramanas: Pratyaksha (Perception), Anumana (Inference), Upasana
(Comparison), Shabda (Verbal testimony), Arthapatti (Implication) and
Anupalabddhi (Non-apprehension).
Structure and kinds of Anumana (inference), Vyapti (invariable relation),
Hetvabhasas (fallacies of inference)

Data Interpretation

Sources, acquisition, and classification of Data.
Quantitative and Qualitative Data.
Graphical representation (Bar-chart, Histograms, Pie-chart, Table-chart, and Line-chart) and mapping of Data.
Data Interpretation.
Data and Governance

Information and Communication Technology (ICT)

ICT: General abbreviations and terminology.
Basics of the Internet, Intranet, E-mail, Audio, and Video-conferencing.
Digital initiatives in higher education.
ICT and Governance

People, Development and Environment

Development and environment: Millennium development and Sustainable development goals.
Human and environment interaction: Anthropogenic activities and their impacts on the environment.
Environmental issues: Local, Regional and Global; Air pollution, Water pollution, Soil pollution, Noise pollution, Waste (solid, liquid, biomedical, hazardous, electronic), Climate change and its Socio-Economic and political dimensions.
Impacts of pollutants on human health.
Natural and energy resources: Solar, Wind, Soil,
Hydro, Geothermal, Biomass, Nuclear, and Forests.
Natural hazards and disasters: Mitigation strategies.
Environmental Protection Act (1986), National Action Plan on Climate
Change, International agreements/efforts -Montreal
Protocol, Rio Summit, Convention on Biodiversity, Kyoto Protocol, Paris Agreement, International
Solar Alliance

Higher Education System

Institutions of higher learning and education in ancient India.
Evolution of higher learning and research in Post Independence India.
Oriental, Conventional, and Non-conventional learning programs in India.
Professional, Technical, and Skill-Based education.
Value education and environmental education.
Policies, Governance, and Administration.
Subject Wise MH SET Exam Syllabus PDF
MH State Eligibility Test Exam Pattern
The exam will be in Offline mode (Pen and Paper Based).
The medium of the Maharashtra SET Exam will be in English and Hindi.
Questions will be in Objective Type.
Maharastra SET Paper 1 will be in Morning Session and Maharastra SET Paper 2 will be in the Afternoon Session.
Session – First, Paper – I

Number of Multiple Choice Questions 
Marks 
Duration
50 questions all of which are compulsory
50 x 2 = 100
1 hour
Session – Second, Paper-II

Number of Multiple Choice Questions
Marks
Duration
100 questions all of which are compulsory
100 x 2 = 200
2 hours
Maharashtra State Eligibility Test Study Plan
In this section, we'll talk about your study plan. Candidates must have a thorough understanding of the SET syllabus before beginning the preparations. For preparation, it's important to have a broad understanding of the subject. Make sure to find study materials that cover the entire SET syllabus. It is not easy to pass an exam, and it is even more difficult to gain admission to one of the most prestigious universities. To pass this exam, you'll need a well-thought-out strategy. Let's take a look at few tips on how a study plan should be.
Enhance Language Skills: MH SET Paper 1 (Teaching Ability & Research Aptitude) basically assesses a candidate's abilities in these areas, as well as their general awareness, ability to think creatively, and ability to express themselves on a variety of topics. As a result, it is vital to stay informed by reading newspapers, journals, and reputable news websites. Also, take time for current events and other news to increase your overall awareness.
Concentrate On Mastering Weaker Areas: Understandably, not everyone will excel in all topics and subjects. As a result, an aspirant needs to consider and resolve which sections are weak and which you would like to repeat to improve your understanding. Once you've figured it out, you'll need to put in extra effort to improve your performance in those areas.
Sharpen Reasoning Skills: Questions of logic While the reasoning questions in Paper 1 (Teaching Ability & Research Aptitude) may appear to be perplexing and time-consuming during the exam, developing a proper approach can help you master this skill. It's crucial to have a firm grasp on the various types of questions that may arise and to thoroughly practice them. If you approach them as if you were solving a puzzle or a mind game, you will quickly grasp the underlying concept and be able to solve them.
Practice Is Key To Success:  Regular practice of the concepts is necessary. Keeping up with all concepts, whether through concept tests or mock papers, will ensure that you remember the subjects until the exam day.
Mock Test: As a best practice, once you've finished the syllabus, take an MH SET mock test every day until you're ready to take the real exam. You can refresh your concepts and assess your preparedness by taking mock tests.
Attempt To Complete MH SET Syllabus On-Time: Plan your exam strategy so that you have at least 3-4 weeks before the exam to revise and take practice tests. You'll feel safe and have enough time to brush up on some questionable concepts if you have this boundary. It will also boost your confidence as you approach the final stretch before the exam. A positive attitude will boost your test-taking abilities significantly.
Maharastra SET Preparation Tips And Tricks
Recognize your strong and weak points.
Begin with the topics on which you have spent the most time.
Stick to your study schedule.
Maintain notes and note down the important points. This will help you at the time of revision.
Keep up with new learning concepts and methods.
Use out all the sources available.
Reading newspapers, articles, books, and magazines helps in improving your skills.
Taking a mock test is essential for determining your level of preparation.
Going over previous question papers is essential because it allows you to estimate the difficulty of the paper and the number of times you will be asked the same question.
Maharashtra SET Exam Books
MH SET Exam Reference Books
Books
Author/ Publisher
NTA UGC NET/ SET/ JRF: Paper 1 Teaching and Research Aptitude | Fifth Edition
 Pearson
Oxford NTA UGC Paper I for NET/ SET/ JRF
Oxford University Press
Guide to MH-SET Paper 1 for Assistant Professor with Past Questions
Disha Experts
A Modern Approach to Logical Reasoning
R.S. Aggarwal
NCERT Mathematics Book for 9th and 12th class
NCERT
Word Power Made Easy
Norman Lewis
High School English Grammar & Composition Key
Wren, Martin
For more updates on the MH SET Exam follow our website @ freshersnow.com. Candidates can bookmark our site using Ctrl + D to get all the latest news and notifications.
How To Prepare For MH SET Exam? | FAQs
How many times will the MH SET Exam be conducted in a year?
The MH SET Exam will be conducted once a year.
Will the Maharastra SET Exam be tough to crack?
Yes, the Maharastra SET Exam is tough to crack.
Who will conduct the MH SET Exam?
The MH SET Exam will be conducted by Savitribai Phule Pune University (SPPU).
Where can I get the MH State Eligibility Test preparation tips?
Candidates can get the MH State Eligibility Test preparation tips from the Freshers Now site.