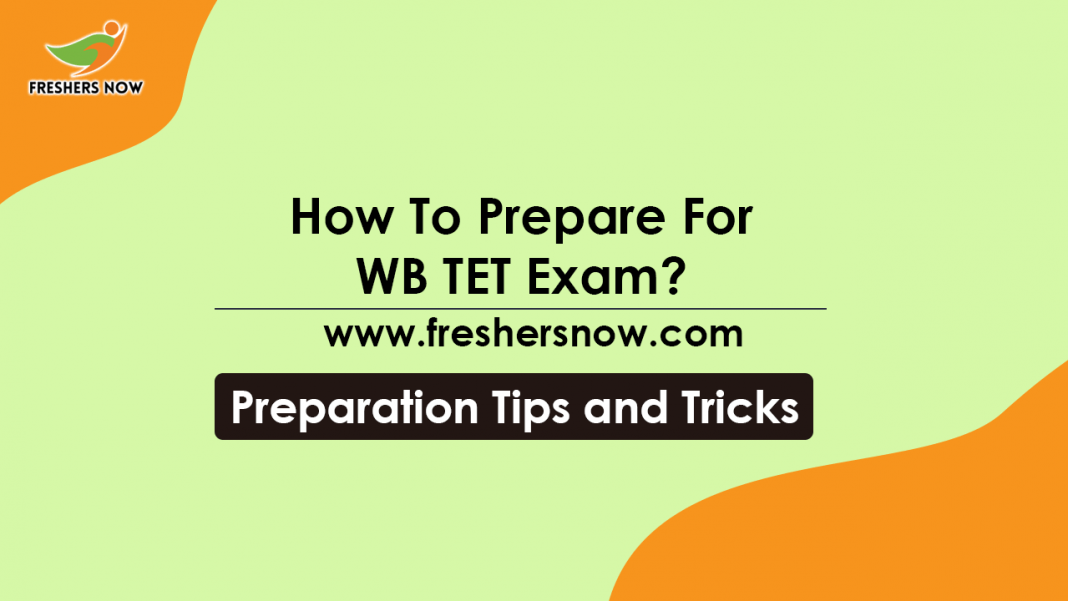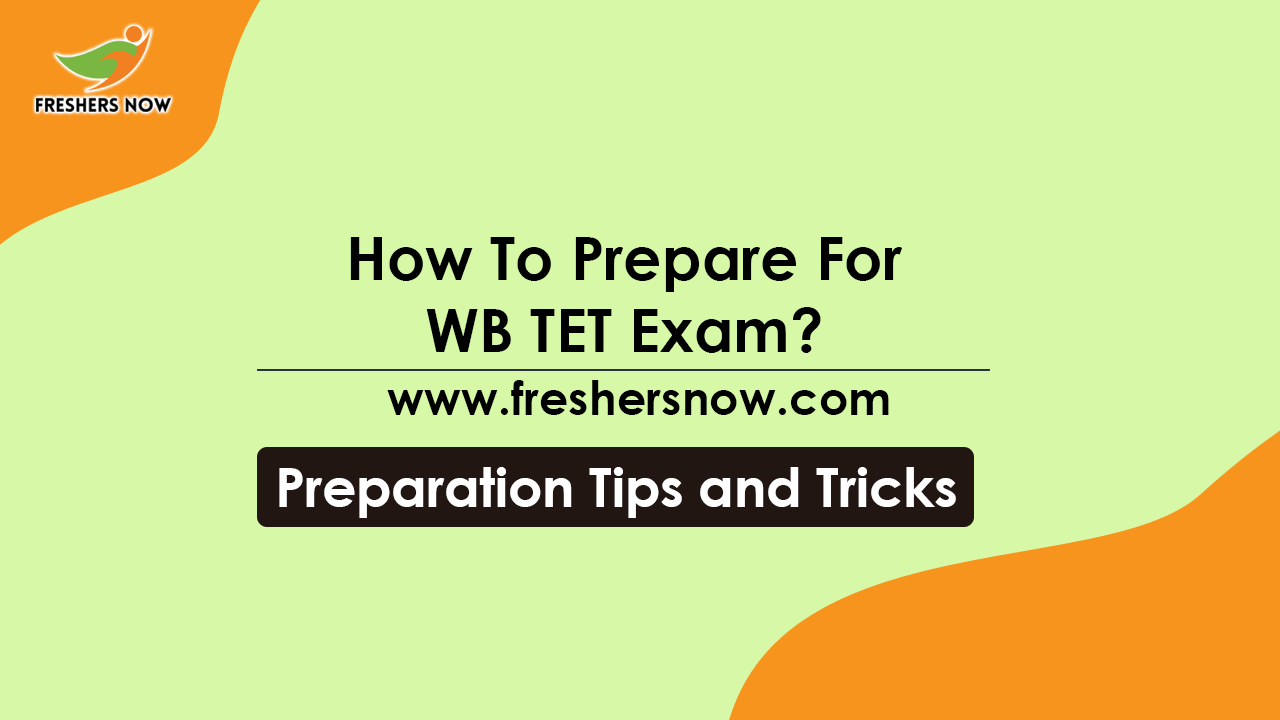 How To Prepare For WB TET Exam? Preparation Tips, Study Plan: Hey guys…!!! Our FreshersNow team is very excited and designed this page. From this page, you can easily check full information about the Weste Bengal Teachers Eligibility Test. Those who are preparing for the WB TET Exam shouldn't miss this article. You people can get the WB TET Preparation Tips, WB TET Exam Study Plan, Latest WB TET Test Pattern, WB TET Reference Books, and more. Before you gear up with your WB TET Exam Preparation check this page out to know How To Crack WB TET Exam? Scroll through this and know the techniques to make up a good WB TET Exam Preparation Time Table.
How To Prepare For WB TET Exam? Preparation Tips, Study Plan
How To Crack West Bengal TET Exam 
Organization Name
West Bengal Board of Primary Education (WBBPE)
Test Name
West Bengal Teachers Eligibility Test (WB TET)
Category
Preparation Tips
Selection Process
Written Test, Interview, or Document Verification
Location
West Bengal
Official Site
wbbpe.org
What Is WB TET Exam?
The West Bengal Teacher Eligibility Test (WB TET) is one of the state's most popular teacher examinations. The TET exam is taken by candidates who want to work as primary or secondary school teachers. Although the West Bengal TET exam is not difficult to pass, candidates can ace the exam with ease if they follow the right preparation strategy. To reach the goal check all the sections arranged on this page. Do read all the sections below for perfect planning.
West Bengal Teachers Eligibility Test Exam Syllabus
Child Development & Pedagogy

Social world and children (Teacher, Parents, Peers)
Concepts of child-centered and progressive education
Critical perspective of the construct of Intelligence
Understanding the Learning Process and Learners
Multi-Dimensional Intelligence
Language & Thought
Concept of development
The relationship with the learning of development
Principles of the development of children
Approaches to teaching and learning
Influence of Heredity and Environment
Socialization processes
Children's strategies of learning
Learning as a social activity
The social context of education.
Concept of Inclusive Education
Understanding Children with special needs
Cognition & Emotions
Motivation and learning
Factors contributing to learning – personal & environmental
Addressing the requirements of children and learning difficulties, 'impairment' etc.
Understanding the Child Development during Childhood (focus on children at the primary level)
Addressing the Talented, Creative, Specially abled Learners
Curriculum Teaching: Learning Approaches and Curriculum Teaching Evaluation
Child as a problem solver and a scientific investigator
Focus on Child Development (Upper Primary School Children)
Basic processes of teaching and learning

Language I

Vocabulary Test
Word formation from jumbled letters
Antonyms and synonyms
Contribution of famous literates for development of the language
Teaching Language
Assessment of Language
Learning a language at Upper Primary Level
Elements of the Language
Affixes
Language Comprehension
Pedagogy of Language Development
Learning and acquisition
Language items
Teaching, Reading, and Writing Skills
Principles of language Teaching
Role of listening and speaking
Assessment of learning language
Learning Language at the elementary level
Language Skills
Remedial Teaching
Idioms and phrases
The formation of short sentences from jumbled words
Test of grammatical knowledge on the following
Articles
Linkers
Phrasal verbs
Concord
Auxiliary Verbs
Interrogatives
Tense and time
Reflexive pronouns
Gerunds & Participle
Question Tags
Determiners
Prepositions

Language II

Learning and acquisition
Learning a language at Upper Primary Level
Pedagogy of Language Development verbally and in written form
The Language items
Language Learning
Skills in learning the language
Learning a language at the Elementary Level
Assessment of language
Assessment of learning the Language
Challenges of teaching a language in a diverse classroom
Difficulties of Language
Errors and disorders
Evaluating language comprehension and proficiency
Speaking, listening, reading and writing
Teaching-learning materials
Textbook
Multi-media materials
Development of Language Skills
Multilingual resource of the classroom
Language Skills
A critical perspective on the role of grammar in learning a language for communicating ideas
Comprehension
Principles of language Teaching
Remedial Teaching

Mathematics

Ratio and Proportion
Playing with Numbers
Shapes and Spatial Relationship
Knowing our Numbers
Algebra
Negative Numbers and Integers
Basic geometrical ideas (2-D)
Data handling and Patterns
Geometry
Construction (using Straight edge Scale, protractor, compasses)
Introduction to Algebra
Methods and Approaches to Teaching-Learning Mathematics
Fractions
Number System
Measurement
Fractions
Understanding Elementary Shapes (2-D and 3-D)
Symmetry: Reflection
Mensuration
Whole Numbers
Exponentiation
Mathematics – Trends and Developments
Learning Materials in Mathematics
Pedagogy
Mathematics Learning – Evaluation
Place of Mathematics in Curriculum
Learning of Mathematics – Strategies and Methods
Percentage
Average
Geometry
Algebra
Arithmetic
Assessment in Mathematics
Mathematics Education in Schools
Number System and Operation in Numbers
Nature of Mathematics
Quadrilaterals

Science

Evaluation in Science
Nature of Science
Physical Science
Cell
Energy
Pollution
Human nervous system
Animal nutrition
Biodiversity
Basic concepts of force
Magnetism
Transparent and opaque objects
Plant reproduction
Ecosystem
Agriculture
Germination of seed
Cardiovascular system
Cellular equilibrium
Diseases
Cleaning food
Natural Phenomena
Natural Resources
Materials of daily use
Materials
The World of the Living
Electric current and circuits
Sources of food
Food
Magnets
Components of food
Moving Things People and Ideas
Life Science
Methods and Approaches

Social Studies

Human Environment
Settlement, Transport, Communication
The Earliest Societies
Geography
Early States
Social Justice and the Marginalised
History
Making a Living
When, Where, and How
Regional Cultures
New Kings and Kingdoms
Creation of an Empire
Understanding Media
Diversity
The First Farmers and Herders
Globe
Sultans of Delhi
Social and Political Life
Political Developments
Resources: Types-Natural and Human
Local Government
Unpacking Gender
Air
Government
Culture and Science
Planet: Earth in the solar system
The Judiciary
Parliamentary Government
Water
The First Cities
Social Change
The Constitution
Architecture
Democracy
State GovernmentAims and Objectives of Teaching Social Studies
Evaluation in Social Science
Geography
Methods and Approaches
Motions of the Earth
Mineral and Power Resources
Life in the Temperate Grasslands
Social and Political Life
Political Science
Understanding Media
Diversity and Discrimination
Understanding Marginalisation
History
From Gathering to Growing Food
India after Independence
Rulers and Buildings

Environmental Studies

Evaluation in Environmental Studies
Governance
Physical Features of West Bengal and India
History of Freedom Struggle in West Bengal and India
Health and Diseases
Matter, Force, and Energy
Environment in its totality: natural and human environment
Methods and Approaches
Internal Systems of Human Body
Latest West Bengal TET Exam Pattern
It is vital to be aware of the exam pattern too. There are 150 Objective Type Questions (MCQs) in the WB TET Examination. The West Bengal TET Exam 2021 will be a 150-mark exam. There will be one mark awarded for each correct answer, with no negative marking for incorrect or unattempted questions.
WB TET Primary Exam Pattern
WB TET Paper I
30 multiple-choice questions in critical English
30 multiple-choice questions in Bengali
30 multiple-choice questions in mathematics
30 multiple-choice questions about the environment
| Subject Name | Questions | Marks |
| --- | --- | --- |
| Child Development & Pedagogy | 30 | 30 |
| Environmental Studies | 30 | 30 |
| Mathematics | 30 | 30 |
| Language I | 30 | 30 |
| Language II | 30 | 30 |
| Total | 150 Questions | 150 Marks |
WB TET Upper Primary Exam Pattern
WB TET Paper II
Divided into five sections, each of which is listed below with the number of questions:
Compulsory Child Development and Pedagogy
English is required as the first language.
Bengali is a compulsory second language.
Subject Name
Questions
Marks
Child Development & Pedagogy (Compulsory)
30
30
Language I (Compulsory)
30
30
Language II (Compulsory)
30
30

Mathematics & Science for Mathematics and Science Teachers
Social Studies for Social and Science Teachers
For other Teachers either 1 or 2

60
60
Total
150 Questions
150 Marks
WB TET Exam Study Plan
A study plan for any competitive exam should be according to the candidate's ability. As the level of human understanding of the subject or situation will be different, the tracking ability will also vary. So, before you start up a WB TET Exam Preparation fix one timetable and then proceed with your WB TET Exam Study Plan. There will be a day plan, an hour plan, or a monthly plan. Also, one can sit on to complete one whole subject syllabus, while a few others will take up an hour plan. Firstly, conclude yourself which plan to take. After preparation of the well-organized study plan. Constant concentration is also vital. And by taking mock tests helps you analyze your preparation. Prioritize your study plan, allow nothing to distract you till you reach your target.
WB TET Preparation Tips – West Bengal TET Exam
The candidate's first and most important task is to concentrate on the fundamentals. The WB TET examination is made up of everything a candidate has learned so far.
Learning the basics of each subject, Keeping this in mind, the candidate should devote the first few days to understand all the basics.
Also, try to figure out the topics that you should work hard on at the initial stage itself.
Time management is the only way to reach the goal. Work on it by taking mock tests.
Use the proper study materials aside from a strong determination, one thing that always aids candidates is the use of appropriate study materials.
Make use of all the resources available.
Previous year papers and question banks are must go through. Candidates should set aside some time to select appropriate study materials that reflect the theme.
Best WB TET Reference Books
Best Books For West Bengal Test Eligibility Test Exam
Books 
Author/ Publisher
CTET Child Development and Pedagogy for Paper I and Paper II
Pearson
Child Development and Pedagogy for Paper I and Paper II
Shyam Anand
West Bengal TET Math
Arvind Mohan Dwivedi
Mathematics for TET
Pearson
Chhaya West Bengal Primary TET Challenger in English
Chhaya Prakashani Editorial Team
English for TET
DT Editorial Services
Primary TET (Bengali) 2021
S K Jana
Oxizone Books New Primary TET Practice Plus in Bengali – 2nd Edition
Oxizone Editorial Team
TET Social Studies
Anshul Mangal
West Bengal TET (VI-VIII) Social Study
Sumona Chakravarty
Environmental Studies for CTET
DT Editorial
TET Environmental Studies
Arihant Experts
Do follow our website @ freshersnow.com to check more details on WB TET Exam.