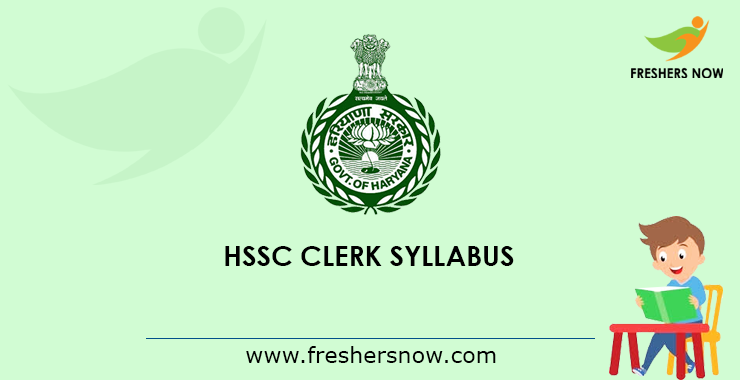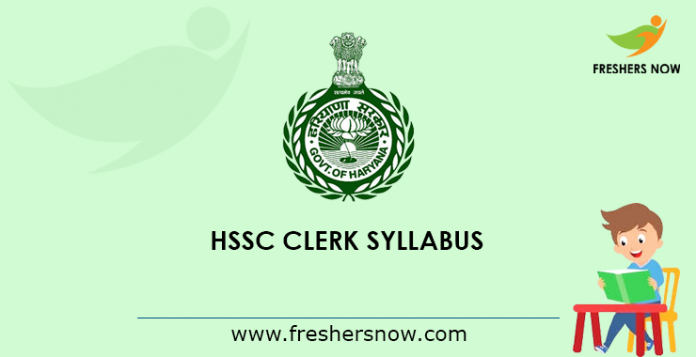 HSSC Clerk Syllabus 2019 & Exam Pattern PDF Download: Haryana Staff Selection Commission HSSC Clerk Syllabus 2019 PDF is available here for free download. The candidates who had applied for the HSSC for the post Clerk. Those competitors can get the HSSC Clerk Exam Syllabus from this page. So all the aspirants click on the given below link and then download the Haryana SSC Syllabus 2019 Quickly. All the applied candidates utilize this wonderful opportunity and get a job in the Haryana SSC. For helping the candidates we had provided the HSSC Clerk Selection Process and Haryana SSC Clerk Exam Pattern. For more information aspirants can also check the official web portal of the Haryana SSC that is www.hssc.gov.in.
You Can Also Check: ★ ★ HSSC Clerk Admit Card
So all the competitors must concentrate on the given HSSC Clerk Syllabus and prepare well for the HSSC Clerk written Exam. Before going to write any exam aspirants must check the Exam Syllabus and Exam Pattern of the particular exam. Because it gives you a brief idea on the Exam. At the end of this page, we have given a link to download the HSSC Clerk Syllabus 2019 in PDF format at free of cost. Further details aspirants can check this entire article.
HSSC Clerk Exam Syllabus 2019
Haryana SSC Clerk Syllabus 2019
Organization Name
Haryana Staff Selection Commission (HSSC)
Post Name
Clerk
Total Vacancies
4801 Posts
Category
Exam Syllabus
Selection Process

Written Test
Socio-Economic criteria and experience

Job Location
Haryana
Official Site
www.hssc.gov.in
You Can Also Check: ★ ★ HSSC Clerk Previous Papers
HSSC Clerk Selection Procedure
The officials of the Haryana Staff Selection Commission (HSSC) are going to hire the applied candidates by conducting two rounds. Those are written Exam and Socio-Economic criteria an experience. The candidates first need to qualify in the written exam. To qualify in the written test candidates first know the HSSC Clerk Exam syllabus because it helps you to learn the subjects which are asked in the Written Test. So aspirants check this article to know about the Haryana SSC Clerk Syllabus 2019. After the first round of selection, aspirants are going to attend the second round that is Socio-Economic criteria an experience.
Written Test
Socio-Economic criteria and experience
Haryana SSC Clerk Selection Process
S. No
Name of subject
Number of Marks
1
Written Test
90
2
Socio-Economic criteria and experience
10
3
Total
100
HSSC Clerk Exam Pattern 2019
The 90 marks of written examination shall be divided into to parts comprising of
The questions will Objective Type Multiple Choice Questions.
 75% weightage for General Awareness, Reasoning, Maths, Science,
Computer, English, Hindi and concerned or relevant subject, as applicable.
 25% weightage for History, Current Affairs, Literature, Geography, Civics,
Environment, Culture, etc. of Haryana.
The remaining 10 marks for socio-economic criteria and experience
Applied candidates can easily download the Haryana SSC Clerk Syllabus 2019 from the given below section. Aspirants can follow some preparation tips and shortcut methods for easy of your preparation. This helps you to gain good marks in the HSSC Clerk Written Exam.
You May Also Check: ★ ★ HSSC Clerk Jobs
Download HSSC Clerk Syllabus 2019 PDF
In the given, we had provided subject wise topics of the Haryana SSC Clerk written Exam Syllabus 2019. So all the aspirants are advised to download the HSSC Clerk Syllabus 2019. And also start your preparation from now onwards without late.
HSSC Clerk Syllabus For General knowledge
Inventions and Discoveries
Sports
General Science
Current Affairs
Rivers, Lakes, and Seas
Famous Places in India
Culture
Indian History
Indian Parliament
Countries and Capitals
Artists
Indian Economy
Famous Days & Dates
Famous Books & Authors
Indian Politics
Tourism
Haryana SSC Clerk Reasoning Syllabus
Classification
Coding and Decoding
Series
Direction and Distance
Time Sequence, Number and Ranking Test
Number Puzzle
Logical Sequence of Words
Venn Diagrams
Clock and Calendar
Matrix Reasoning
Statement and Reasoning
Completion of Figure
Visual Reasoning
Blood Relation
Analogy
Syllogism
Mathematical Operation
Arithmetical Reasoning
Cube and Dice
Paper Cutting and Folding
HSSC Clerk Aptitude Syllabus
Speed, time & Distance (Train, Boats & Stream)
Mensuration
Trigonometry
Geometry
Mixture & Allegations
Data Interpretation
HCF & LCM
Algebraic Expressions and in Equalities
Average
Percentage
Profit and Loss
Number System & Simplification
Probability
Simple & Compound interest
Ratio and Proportion & Partnership
Time and Work & Pipes and Cisterns
Number Series
Speed, Distance and Time
Time and Work
Number System
General English Syllabus For HSSC Clerk
Reading Comprehension
Jumbled Sentence
Phrase Replacement
Sentence Improvement
Cloze Test
Fill in the Blanks
Wrong Spelt
One Word Substitution
Error Spotting
Active Voice and Passive Voice
Direct and Indirect Speech
Match the following words
Choose the correct 'Synonyms'
Select the correct word
Fill in the blanks with suitable Article
Fill in the blanks with suitable Preposition
Select the correct Question Tag
Fill in the blanks
Identify the sentence pattern
Find out the Error
Select the correct Plural forms
Identify the sentence
Identify the correct Degree
Form a new word by blending the words
Form compound words
Alliteration
Allusion
Simile
Metaphor
Personification
Oxymoron
Onomatopoeia
Anaphora
Ellipsis
Repetition
Apostrophe
British English – American English
Computer Science Syllabus For Haryana SSC Exam
MS Word, Microsoft OneNote
Microsoft Access
Introduction to Computer Science
Boolean Algebra
Computer Networks
Emerging Technologies and Web Publishing
PC Software and Office Automation
Database Management System
Data Structures
MS PowerPoint
MS Visio and MS Excel
Microsoft Outlook
The Internet
Workplace Productivity Tools
MS Project, Microsoft Publisher
To Download HSSC Clerk Syllabus 2019 – Click Here
★ ★ Check Other Exam Syllabus Topics ★ ★
For more latest updates keep visiting our web site Freshers Now. Thank You.