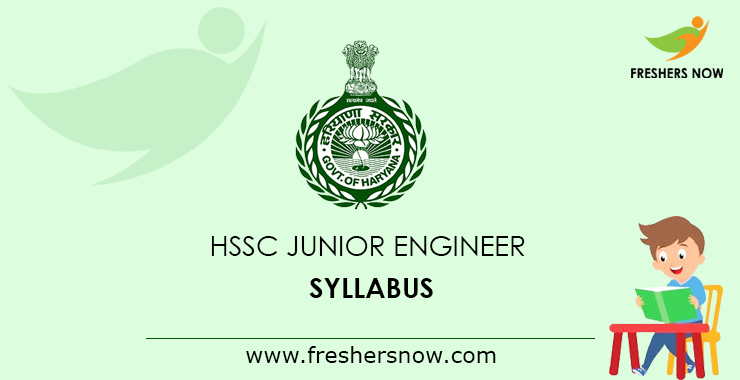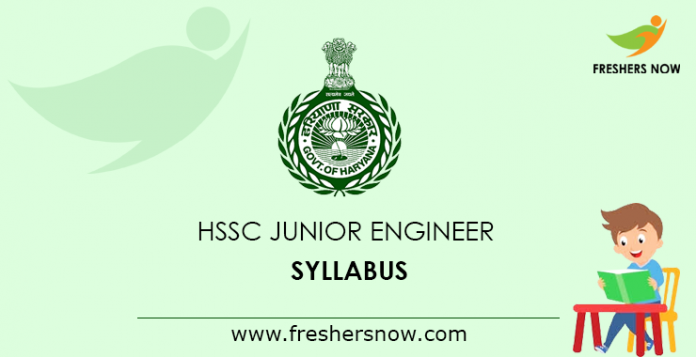 HSSC Junior Engineer Syllabus 2019 PDF: Haryana SSC JE Exam syllabus pdf had given here for the sake of the candidates. And also who had applied for the HSSC Junior Engineer Examination 2019. Get all the topics and subtopics of Haryana SSC Junior Engineer Exam Syllabus 2019 in the below sections. And to get an idea of how to make a plan for the preparation of the HSSC JE Written Exam. This year the officials of the Haryana Staff Selection Commission (HSSC) has published an advertisement to select 1624 vacancies. In this article, we had given total information regarding the Haryana SSC JE Syllabus. And also HSSC Junior Exam Pattern along with the Haryana SSC Selection Procedure.
This article is to help the aspirants to get Haryana SSC Junior Engineer complete Exam Syllabus 2019. For any exam, Exam Syllabus plays a vital role. So all the aspirants must know about the Exam Syllabus before going to take the written Exam. For more details, aspirants can go through the official web site of the Haryana SSC @ www.hssc.gov.in.
HSSC JE Exam Syllabus 2019
Haryana SSC JE Syllabus 2019
Organization Name
Haryana Staff Selection Commission (HSSC)
Post Name
Junior Engineer (JE)
Total Vacancies
1624 Posts
Category
Exam Syllabus
Selection Process

Written Test
Socio-Economic criteria and experience

Job Location
Haryana
Official Site
www.hssc.gov.in
Haryana SSC Junior Engineer Selection Procedure
The Officials of Haryana Staff Selection Commission (HSSC) are going to conduct the Written Test as a part of the selection process. Competitors who had cleared the first round that is Written Test. Those candidates only move to the final process of selection that is Socio-Economic criteria and Experience. Aspirants to clear the first round you need to know the HSSC Exam Syllabus to study. Complete all the topics within the time.
Written Test
Socio-Economic criteria and experience
Haryana SSC JE Selection
S. No
Name of subject
Number of Marks
1
Written Test
90
2
Socio-Economic criteria and experience
10
HSSC Junior Engineer Exam Pattern 2019
75% weightage for General awareness, Reasoning, Maths, science, English, Hindi, etc. (the word, etc. means and includes concerned relevant subject).
25 % weightage for History, Current Affairs, Literature, Geography, Civics, Environment, Culture, etc. of Haryana.
For the sake of aspirants, we had given the subject wise topics regarding the Haryana SSC Junior Engineer Exam Syllabus 2019. So all the candidates must prepare for the exam before going to attend. Prepare a schedule for preparing the HSSC JE Exam and follow some tips during your preparation.
You Can also check: ★ ★ HSSC JE Jobs
Download HSSC Junior Engineer Syllabus 2019 PDF
Aspirants click on given below link to get subject wise HSSC Junior Engineer Exam syllabus 2019. Download the Syllabus And then immediately start your preparation. By studying the given HSSC JE Exam Syllabus topics, aspirants can easily get a job in the Haryana SSC as a Junior Engineer.
Haryana SSC JE Syllabus 2019 – General Abilities
Reasoning
Directions.
Visual Memory.
Clocks & Calendars.
Analogies.
Cubes and Dice
Coding-Decoding.
Blood Relations.
Problem Solving.
Non-Verbal Series.
Decision Making.
Judgment.
Alphabet Series.
Embedded Figures
Number Series.
Mirror Images.
Arithmetical Reasoning.
Number Ranking.
Syllogistic Reasoning.
Arrangements
Aptitude
Time & work.
Regular Polygons.
Interest
Square roots.
Discount.
Circle and its chords.
Graphs of Linear Equations.
Averages.
Mixture and Allegation
Trigonometric ratio.
Quadrilaterals.
Percentages.
Ratio and Proportion.
Profit & Loss.
Standard Identities
Time and distance.
English
Unseen passage.
Prepositions.
Verbs.
Pronouns.
Active and Passive voice.
Noun.
Subject-verb Agreement.
Articles.
Direct & Indirect speech.
Tenses.
Types of sentences.
Connectors.
www.hssc.gov.in Junior Engineer Syllabus 2019 – Civil
Structural Engineering.
Water Resources Engineering.
Transportation Engineering.
Environmental Engineering.
Soil Mechanics and Foundation Engineering.
Surveying.
HSSC JE (Electrical) Syllabus 2019
Control Systems.
Power Systems.
Communication Engineering.
Computer Control of Processes, Networks.
Electrical Machines.
Power Electronics and Drives.
Digital Signal Processing.
Electrical Circuits and Fields.
Digital Electronics.
Haryana SSC Junior Engineer General Knowledge Syllabus
Inventions and Discoveries
Sports
General Science
Current Affairs
Famous Days & Dates
Famous Books & Authors
Indian Politics
Tourism
Rivers, Lakes, and Seas
Famous Places in India
Culture
Indian History
Indian Parliament
Countries and Capitals
Artists
Indian Economy
Literature Syllabus Topics For HSSC JE
Archetypes
Censorship
Coming of Age
The Craft of Writing
Gender & Sexuality
Heroes, Heroines & The Protagonist
Identity
Ancient
Classical
Medieval
Mythology
The Protagonist
Realism
Sports
Villains & The Antagonist
Geography & Environment Syllabus For Haryana JE Syllabus
Acid rain
Air pollution
Algae bloom
Alternative fuels
Beach erosion
Biofouling
Carbon footprint
Climate forcing
Compostable plastic
Coral reefs
Dismal Swamp
Drought
Dymaxion House
Earth-sheltered structures
Ecotourism
Fertilizers
Green cities
Green infrastructure
Natural resource conservation
Nitrogen farming
Oceans
Oil Spills
Organic farming
Ozone depletion
Pesticides
Pollution reduction
Radioactive waste
Rip currents
Soil contamination
Sustainable design
Three Gorges Dam
Tiny houses
Toxic dumping in oceans
Tsunami
Water conservation
Water pollution
To Download HSSC Junior Engineer Syllabus 2019 PDF – Click Here
★ ★ View More Exam Syllabus ★ ★
For more information keep visiting our web site Freshers Now regularly. Thank You.