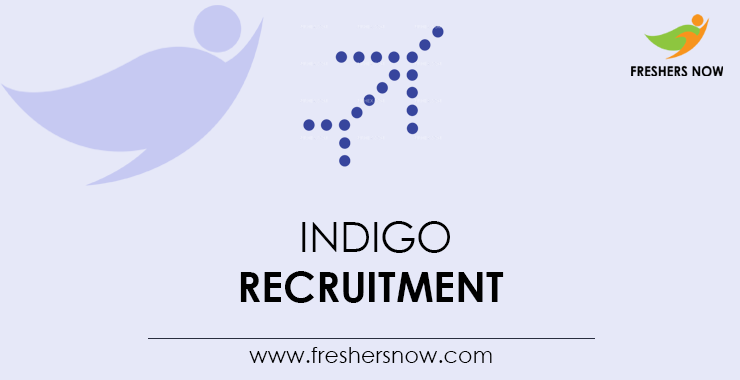 IndiGo Recruitment 2022: Hello Guys! Are you looking for a better opportunity to gain experience in the world of work? If so, check this article and get brief information about Cabin Crew Airbus's role in IndiGo company. The recruiters of IndiGo company are ready to take on candidates who desire for the Cabin Crew Airbus Openings. Interested candidates should have Passed the 10+2 examination with 0 to 3 years of experience to be eligible for IndiGo Recruitment 2022. Candidates who want to make an impact on the world of technology, don't miss this chance and get a direct link to apply for the IndiGo Cabin Crew Jobs.
IndiGo Recruitment 2022
By scrolling through the article, you will get details of Eligibility Criteria, Job Description, Roles & Responsibilities, and other details of IndiGo Careers. For updated information regarding the IndiGo Cabin Crew Job Openings, bookmark this page and follow us regularly.
IndiGo Recruitment 2022 | Openings for Freshers in Delhi
| | |
| --- | --- |
| Company Name | IndiGo |
| Role Name | Cabin Crew Airbus |
| Job ID | 24192 |
| Qualifications | Passed 10+2 examination |
| Experience | 0 to 3 Years |
| Salary | Not Mentioned |
| Category | IT Jobs |
| Job Location | Delhi |
| Official Website | www.goindigo.in |
IndiGo Recruitment Eligibility Criteria
Female Indian nationals, with an Indian Passport, between 18 to 27 years of age.
Educational Qualification: Passed 10+2 examination, from a recognized Board or University.
Communication: Fluency and clarity of speech in both English and Hindi respectively.
Height and Weight: Minimum of 155 CMs, and weight proportionate to BMI.
Appearance: Positive body language and well-groomed. No tattoos should be visible while in uniform.
IndiGo Job Requirements
On the assessment day, the candidate must come well-prepared with complete knowledge of the eligibility criteria, cabin crew profile, and the company.
The dress code for the interview is a half-sleeve shirt; a knee-length well fitted skirt with skin color stockings and with makeup. However, candidates can take adequate precautions against any adverse weather conditions.
Candidate must carry 2 passport-size photographs, a soft copy along with 1 hard copy of updated resume and photocopies of 10th and 12th mark sheets from a recognized board or university, Aadhar Card, PAN Card, and Passport.
Candidates are required to wear masks at all times. Entry will be strictly prohibited without the mask
Candidates are requested to download Aarogya Setu App before entering the interview venue & ensure to carry their final vaccination certificate
IndiGo Recruitment 2022 – Responsibilities
Ensure to comply with all DGCA regulations and keep all the required licenses up-to-date.
Following your agreement to your best abilities and ensure you drive all ethical practices.
Be always medically fit and follow all your rest regulations to comply with flying duties.
Be responsible to follow all your roster guidelines and adhere to all reporting on time.
Ensuring you know all your circulations and be knowledgeable on your product & service.
Fulfill all regulations on time and ensure you follow all standard operating procedures.
Comply with all Service Level Agreements and adhere to all best practices at all times.
Attending every flight Briefing on time and being able to share all the knowledge updates.
Reporting to Flight on time and preparing the Flight for takeoff by ensuring the Aircraft is clean and fresh. Ensuring your catering is correct and completing all your safety checks.
You have to ensure you will keep your grooming image at its best and always look fresh.
Always connect with your Customers with exemplary customer service standards and offer to always help and show that you care for them by being friendly. Build on creating a great environment with your positive attitude and drive our culture for each other.
You have to ensure that you have briefed all customers on all safety and security guidelines.
Be able to answer all queries raised by the Customers and always share the right information.
At all times follow all guidelines and be mindful to take over any emergencies.
Be confident in making announcements whenever required and show confidence.
Bring in the finest Customer delight factor, wherein you will display your passion to be people-centric and above all present the best version of you in dealing with them.
Create WOW moments for your customers and celebrate their journey together.
Display the highest standards in handling and presenting food and beverage.
Ensure you will follow all service guidelines and take ownership on board to make sure all customers are served and their demands are met.
Give particular attention to passengers with special needs (children, disabled, elders, etc).
Displaying a courteous attitude and always being helpful towards your customers.
Being able to always provide assistance to your customer's needs on time will be your priority and also monitor the cabin during and after service.
Monitoring the cabin throughout the flight and keeping the aircraft clean at all
times.
Always promote the airline as a brand and share all the options available which will enhance their overall experience. Be able to sell the extra services onboard.
Demonstrated all your safety, Security, and First Aid related duties and be vigilant at all times.
Always follow the code of conduct and ensure to practice only ethical practices at all times.
Make note of all special requests from customers and deliver the same.
Always thank your customers before landing and bid farewell to see them again.
After the flight ensures you finish all reports and requirement's before you sign off.
IndiGo Recruitment 2022 – Important Link
To Check & Apply for IndiGo Recruitment 2022 Cabin Crew Airbus Job Openings
Click Here
Hope aspirants get plenty of information for the role of Cabin Crew Airbus in IndiGo. For more updates do follow this site @ freshersnow.com regularly.