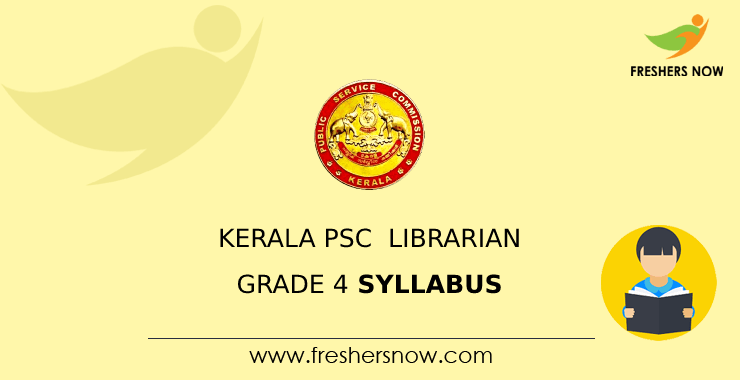 Kerala PSC Librarian Grade 4 Syllabus 2022 & Exam Pattern PDF Download: Applicants who are eagerly waiting for the Kerala PSC Librarian Grade 4 Syllabus 2022 can check out this page. This page has given accurate data on the Kerala PSC Syllabus 2022 for all the candidates who are searching on the internet. To make it easy for such aspirants we have collected the information from the official portal and placed it here for the applicants. Aspirants can also click on the direct link to download the Kerala PSC Librarian Syllabus 2022 in the form of a pdf.
The exam is divided into two parts and the total mark for the exam is 100. The time duration of the exam is 1 hour 30 minutes with questions relating to only Educational Qualification. The part I question paper shall be in English and part II shall be in Kannada. The questions will be Objective Type with multiple-choice questions. The subjects included are Library Science & Kannada Language. Check out the section exam pattern for a more detailed explanation of the pattern of this exam.
Kerala PSC Librarian Grade 4 Syllabus 2022 – Overview
Kerala PSC Librarian Grade 4 Syllabus 2022 & Exam Pattern PDF Download
Name of the Organization
Kerala Public Service Commission (Kerala PSC)
Posts Name
Librarian Grade 4
Category
Syllabus
Job Location
Kerala
Official Website
keralapsc.gov.in
Kerala PSC Librarian Grade 4 Exam Pattern 2022
To help all the aspirants who have applied for the post of Librarian Grade 4 Exam 2022, we have given the complete details of the Kerala PSC Exam Pattern 2022 here. Candidates can download the Kerala PSC Librarian Exam Pattern 2022 along with the Kerala PSC Librarian Syllabus 2022. This will be very helpful for all the applicants to gain complete knowledge of the topics which will be helpful during preparation to gain better marks. Getting a good score will help candidates get selected for the Librarian Grade 4 post. Down here, from the table check the details of the name of the subjects, total number of questions, papers, time duration, and the total marks.
The maximum marks are 100.
The time allotted is 1 hour and 30 minutes.
The medium of the question paper is in English and Kannada.
The mode of the exam is OMR (Multiple Choice Questions).
The question paper contains two parts.
Part
Subjects
Total Marks
Part I
Questions based on Certificate in Library Science
80 marks
Part II
Kannada Language
20 marks
Total Marks
100 Marks
Kerala PSC Librarian Grade 4 Syllabus 2022 PDF
Download the Kerala PSC Librarian Grade 4 Syllabus 2022 from this section of this page. This Kerala PSC Syllabus 2022 plays a prominent role for all the candidates preparing for the exam. Take a look at the Kerala PSC Librarian Syllabus 2022 which has been given for the sake of the applicants so, take a look at the below-listed topics and collect the required data. Aspirants should note that the Kerala PSC Librarian Grade 4 Kannada Knowing Exam Syllabus 2022 is taken from the official site and applicants can also visit it @ keralapsc.gov.in for more queries.
Module 1 Foundations of Library and Information Science
Social and historical foundations of the library; Different types of libraries: their distinguishing features and functions; Role of the library in formal and informal education.
The changing concept of librarianship.
Five Laws of Library Science; Implications of the five laws in library and information activities.
Development libraries with special reference to India; Library movement of Kerala. Resource sharing and Library Networking.
Library legislation: need and essential features' Library legislation in India, Kerala Public Libraries Act; Press and Registration Act and Delivery of Books (Public Libraries) Act.
Professional associations and their role: ILA, IASLIC, IATLIS, CILIP, SLA, ALA, ASLIB.Promoters of LIS: UNESCO, FID, IFLA, UGC.
Module 2 Principles of Management
Classical, Neo-classical, and Modern management theories; Principles of scientific management; Fayol's principles; Functions of management.
Organizational structure; job analysis and description; recruitment, selection, and induction; training; performance appraisal; motivation; group dynamics; stress management.
Module 3 Knowledge of Organization: Library Classification Theory
Structure and attributes, modes of formation of subjects.
Library classification and its functions. Enumerative and faceted schemes Mapping of the Universe of subjects in the major schemes of Library Classification (DDC, UDC, CC, and LC).
Normative Principles for Idea Plane and Verbal Plane; Principles for Helpful Sequence Facet Analysis as used in the CC; Principles for Facet Sequence; Postulational procedure; Devices to form and sharpen isolate numbers.
Notation system and its functions; Qualities of a good notation system – Hospitality and Mnemonics; Zone analysis.
Module 4 Information and Communication
Information: Characteristics, nature, value, and uses; Conceptual difference between data, information, and knowledge.
Communication: Channels – formal and informal; models; barriers, Trends in scientific communication.
Information industry: generators, providers, and intermediaries; Information audit.
Information management; Knowledge management.
Module 5 Information Sources
Evolution of physical media; Classification of information sources – Print and nonprint; Documentary and Non-Documentary; Primary, Secondary and Tertiary Sources of Information – their categories and characteristics.
Evaluation Criteria; Detailed Study of dictionaries, encyclopedias, yearbooks, directories, biographical sources, geographical sources, statistical sources, sources of current information.
Databases, Portals, Subject Gateways; Open Access Resources.
Search Engines, Search Techniques.
Module 6 Information Products and Services
Categories of information users; Information needs, definition; Types and models; Information seeking behavior.
User studies, methods, technique, and evaluation.
Concept, definition and trends, virtual reference service, examples of Electronic reference service; Reference Interview, and search techniques.
Information services, concept, definition need,s and trends Alerting services – CAS, SDI, technique, evaluation Bibliographic, Referral, Document Delivery, Referral centers.
Abstracting and Indexing services; Document Delivery Services.
Translation, Reprography.
Study of national, International Systems and Services, NISCAIR, DESIDOC, NASSDOC, SENDOC, UNISIST, AGRIS, MEDLARS, OCLC.
Module 7 Library and Information Center Management
Different sections of library and information centers and their functions.
Collection development: Acquisition procedures: selection, ordering, accessioning, and stock editing.
Technical processing: Classification, Cataloguing, and physical processing.
Maintenance of documents: work with new, returned, damaged, and lost documents. Stock verification, binding, care, preservation, and restoration of print and electronic documents.
Circulation control: Charging systems, interlibrary lending.
Serials control: Selection, ordering, receipt, and display.
Special collections.
Sources of Finance; Library Budget, Budgeting, and Accounting.
Building: Layout and space estimation; Furniture and equipment.
Library rules; Staff Manual; Library Statistics.
Types of Report: Annual report, Progress / Review reports.
Module 8 Cataloguing and Metadata
Bibliographic record and its structure and functions; Different kinds of bibliographic files; The library catalog and its functions; Classified and Dictionary Catalogues; OPACs.
Principles of Description; Standards for Description: ISBDs, AACR-2, RDA.
Bibliographic Record Formats – ISO 2709 and the MARC family of Formats, MARC XML.
Problems in subject search and retrieval; vocabulary control; Thesauri.
The general theory of subject indexing languages (SIL) of G. Bhattacharyya; Indexing Systems – Lists of Subject Headings, Chain Indexing.
Module 9 Information Technology Applications in LIS
Planning and implementation; Automation of in-house operations – file requirements for Acquisition, Cataloguing, Circulation control, Serials Control, OPAC.
Library Automation packages: KOHA, E-Granthalaya.
Web 2.0 tools and services; Internet security.
Module 10 Digital Libraries
Concept and definition; Historical Development of Digital Libraries.
Open-source software; DSpace.
Kannada
Word Purity / Correct Word
Correct Sentence
Translation
One Word / Single Word / One Word Substitution
Synonyms
Antonyms
Idioms and Proverbs
Equivalent Word
Join the Word
Feminine Gender, Masculine Gender
Number
Sort and Write
Kerala PSC Librarian Grade 4 Syllabus 2022 & Exam Pattern PDF – Important Link
To Check And Download Kerala PSC Librarian Grade 4 Syllabus 2022 & Exam Pattern PDF
Click Here
We hope that the data presented here is accurate regarding Kerala PSC Librarian Grade 4 Syllabus & Exam Pattern 2022 for more updates keep visiting our site @ Freshersnow.com.