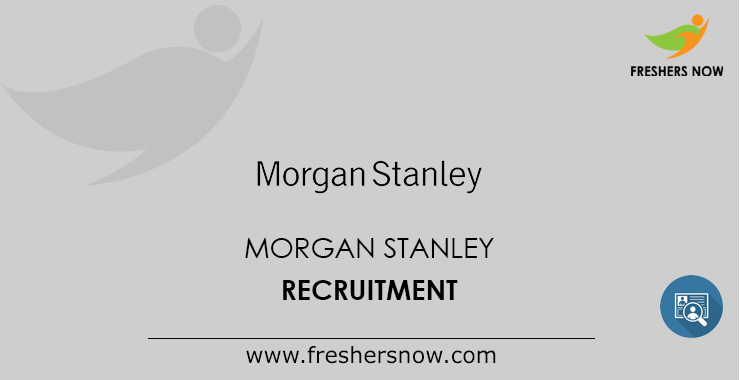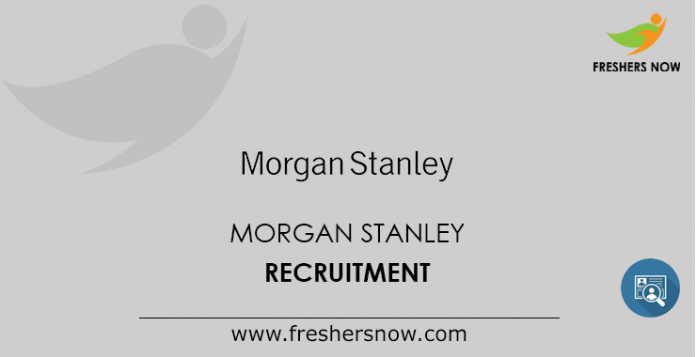 Latest Morgan Stanley Recruitment 2019 details were available in this page. The recruiters of the Morgan Stanley are looking for the Bachelor's Degree candidate for the Analyst post. So, all the candidates who are searching for the latest Morgan Stanley Jobs in Mumbai must refer to this page to know the current openings. The direct link to apply for the Morgan Stanley Recruitment 2019 Drive is attached to the end of this page.
★ ★ IT Software Jobs – India ★ ★
Candidates who are having a minimum of 3 years of experience can have the eligibility to apply for the Morgan Stanley Recruitment in Mumbai. If your profile matches with the details of the current Morgan Stanley Recruitment 2019 Drive, then you can apply for the recruitment. It is very important to check the Morgan Stanley Eligibility Criteria 2019 that is given on our Freshers Now page before applying.
Morgan Stanley Recruitment 2019 – Information
| | |
| --- | --- |
| Company Name | Morgan Stanley |
| Job Role | Analyst |
| Qualification | Any Bachelor's Degree |
| Primary Location | Non-Japan Asia-India-Maharashtra-Mumbai (MSA) |
| Job Family | Market Risk |
| Category | IT Software |
| Experience | 0 – 3 Years |
| Location | Mumbai |
| Employment Type | Full Time |
| Website | www.morganstanley.com |
Morgan Stanley Eligibility Criteria 2019
0-3 years of relevant operational experience with a Bachelor's degree in finance, technology, engineering or a related field
Proven experience in managing and improving processes preferably for a financial risk department
Good understanding of financial concepts is desired
Strong organizational skills and ability to handle several complex tasks in parallel
Familiarity with regulatory requirements with respect to market risk is a plus
Comfortable with programming concepts using tools such as VBA or SQL.
You Can Also Check: ★ Placement Papers
Skills Required: To be successful, candidates will benefit from relevant operational and control experience, a strong desire to learn, and the ability to work independently. Strong oral and written communication skills will aid the effort to communicate risks and challenges across the Market Risk Department.
Job Description | Background On the Position
Morgan Stanley seeks a professional (Analyst) for a multi-disciplined Risk Governance function for the Market Risk department.
The individual will cover a diverse range of operational responsibilities related to the management of regular and ad-hoc tasks for the Global Market Risk Function.
To be successful, candidates will need to have a relevant educational background and experience, a strong desire to learn, and the ability to work independently on a multidisciplinary, multi-regional team.
Information processed in the department is confidential and thus the candidate must demonstrate integrity.
Company Profile
Morgan Stanley is a leading global financial services firm providing a wide range of investment banking, securities, investment management, and wealth management services. The Firm's employees serve clients worldwide including corporations, governments, and individuals from more than 1,200 offices in 43 countries.
As a market leader, the talent and passion of our people are critical to our success. Together, we share a common set of values rooted in integrity, excellence and strong team ethic. Morgan Stanley can provide a superior foundation for building a professional career – a place for people to learn, to achieve and grow.
You Can Also Check: ★ Interview Questions
Primary Responsibilities
Monitor and control core Market Risk processes to ensure they are performed properly and timely. This includes but it is not limited to monitoring the Sign-Off process for risk metrics, the Entitlement process, the New Product Approval tasks, and Operational Risk Incidents review.
Perform several tasks related to the Market Risk Department governance including preparing department committees, providing support for annual reviews (e.g. Board Effectiveness process, Risk Control Self-Assessment and other ad-hoc requests.)
Provide support to cover Regulatory and Audit matters including monitoring of remediation, reporting overdue items, coordinate, gather and control information requested by Regulators or Auditors.
Provide regular updates to the Market Risk COO team on the status of the controls being monitored and produce relevant reporting highlighting issues and risks.
Interact with Market Risk worldwide but also with external teams such as Reporting and Technology to help enhance the quality of Market Risk processes.
To Apply For Morgan Stanley Recruitment 2019 in Mumbai: Click Here