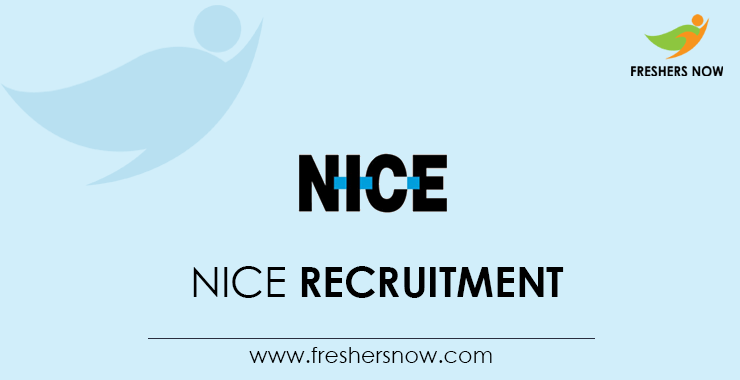 NICE Recruitment 2021 for Freshers, Experienced in Pune – nice.com: Looking for an exciting opportunity that promises you a long-term career in an innovative, friendly and rewarding environment? If yes, start applying for the NICE Systems Jobs without any delay. The HR Team of the company has announced the NICE Openings for Associate Professional Services Engineer role in Pune. And the NICE Eligibility Criteria is candidates should have 0-2 years of proven experience and BS in Computer Science, Electrical Engineering, or equivalent technical degree as an educational qualification. In the end, aspirants can find the direct link to apply for the NICE Recruitment 2021/ NICE Careers. Give a gentle click on the below link to complete the registration process in an easy manner.
NICE Recruitment 2021 – Particulars
| | |
| --- | --- |
| Name Of The Company | NICE |
| Job Role | Associate Professional Services Engineer |
| Qualification | BS in Computer Science, Electrical Engineering, or equivalent technical degree preferred |
| Experience | 0-2 Years |
| Category | IT Jobs |
| Salary | Not Disclosed |
| Job Location | Pune, India |
| Official Website | nice.com |
NICE Openings | Associate Professional Services Engineer Roles and Responsibilities
Installation and integration of NICE software solutions at customer's site, while following defined methodology, processes, system requirements, and customer-specific needs.
Ensure that all components of the technical architecture are properly integrated and implemented.
Work directly with the project manager to assist with any technical questions regarding the solution from the kick-off of the project until turnover of the delivered solution to our support center.
Assist customers and their vendors with configuration requirements for all Nice Integration points in their environment.
Ability to remotely implement Nice solutions efficiently with quality and care
Provide technical support and technical quality control throughout all stages of the project.
Perform NICE system maintenance across all sites as required.
Provide technical expertise of the entire Nice product suite, implementation methodology, and/ or related technology.
Provide advanced expertise in Nice NIM/Engage, WFM, and EEM solutions
Conduct systems testing for performance and reliability.
Report issues found during implementation and engage support teams for assistance as well as escalate to higher tiers and management as appropriate.
Communication with R&D about customer technical feedback on the implementation of product-related enhancements and fixes.
Document and communicate issue resolution and lessons learned.
Document and add Symptoms and Resolutions to the Nice Knowledge Base.
Assist client Administrators with questions and problems associated with the configuration, administration, and management of users in the NICE system.
Provide basic application training and support the client's Engineers on the NICE applications as required.
Document and maintain NICE system specifications (Site Documentation) across all sites.
Assist with NICE projects, installations, and change management as a Subject Matter
Expert (SME) to the client's environment and infrastructure.
Effectively manage time and maintain regular communication and updates to both customers and management.
The PSE is expected to manage the customer relationship and expectations, communicate effectively, troubleshoot, and resolve technical issues.
The PSE must maintain technical ownership of the project from start to finish.
Participate in training classes or special projects as needed.
NICE Eligibility Criteria
BS in Computer Science, Electrical Engineering or equivalent technical degree preferred
NIM, Engage, IEX, NICE WFM Product Certifications preferred or experience with competitive solutions
HP, Dell, VMWare, and Citrix certifications are a plus
CCNA and MCSE certifications are a plus
Must have a minimum of 0-2 years of proven experience with 3 of the 5 following technical areas
NICE NIM/ Engage Recording, WFM or Competitive Workforce Management Experience (Preferred)
Experience with Advanced Solutions – Recording/ Telephony Integrations, Forecasting/ Scheduling, LDAP, SSO, ACD, DB migrations, Smart Sync, Disaster Recovery or HA solutions
Experience with the Installation and Integration of Nice Recording or WFM solutions into Customer Environments
Microsoft Windows Server Installation and Configuration – IIS
RedHat Server Installation and Configuration – Apache
Server Hardware – HP, Dell, IBM
Microsoft Security – Active Directory, Security Policies, Hardening, Encryption
Virtual Servers – VMWare – ESX, VSX Clusters, VMotion
Citrix Servers – Configuration and Optimization
Microsoft SQL Server Installation and Configuration
Maintenance – Backups and Recovery, Security
Oracle Installation/ Configuration
Scripting – Basic Query and Update knowledge
Network Principles – 7 Layer OSI Model, TCP, UDP
Troubleshooting – Sniffers and various other Network Testing and Analysis tools
Network Devices – NICs, Switches, Routers, MPLS
Telephony Experience – PBX, Switch, and ACD Vendors – Avaya, Nortel, Aspect, Siemens, and Cisco
VoIP Experience – Avaya, Cisco, Nortel
Steps To Apply for NICE Recruitment 2021
Initially, all the desired candidates should open the companies web portal @ nice.com
Then the Home Page appears on the screen
At the top right corner of the page, candidates can find the Careers Menu
Tap on that and the @ NICE Careers Page gets opened
On that page, aspirants can observe the "Join Us" Button
Then the list of NICE Careers/ NICE Systems Jobs/ NICE Openings gets displayed
From that search for Associate Professional Services Engineer Role in Pune
Then the required link will be out
At last, if the aspirants are met with the NICE Eligibility Criteria start applying for the NICE Careers/ NICE Systems Jobs/ NICE Openings/ NICE Recruitment 2021 without any delay
NICE Recruitment 2021 – Important Links
To apply for NICE Recruitment 2021
Click Here
For more details on NICE Recruitment 2021
Click Here
Keep following our web portal @ Freshers Now on a regular basis to fetch all the fresh updates and information on NICE Recruitment 2021.