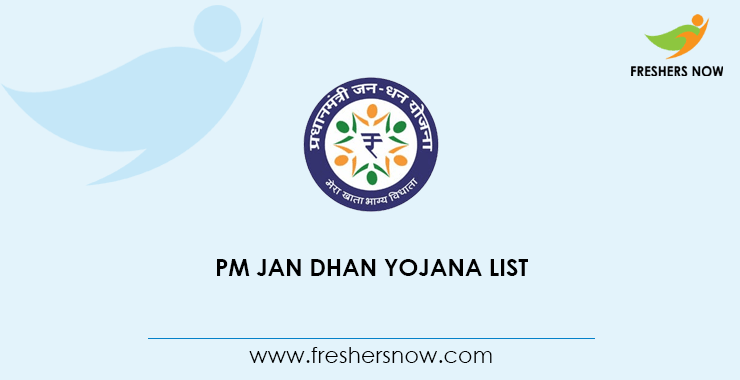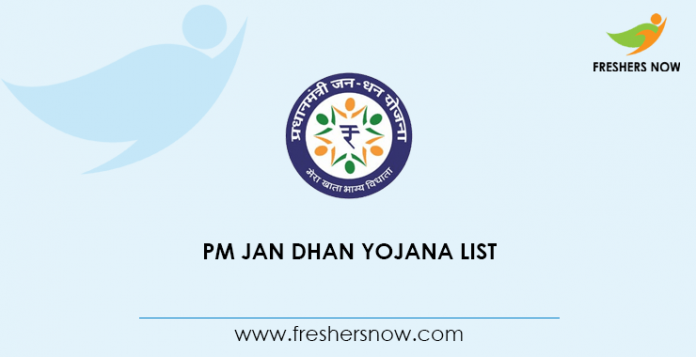 PM Jan Dhan Yojana List 2020 @ pmjdy.gov.in – PMJDY Scheme, Beneficiary Status, Application Link: Pradhan Mantri Jan Dhan Yojana (PMJDY) is the program launched by the Indian Government. This program was launched for the Indian Govt officials who are excluded from the benefits and facilities of the banking sector. Here we provide you the required details regarding the PM Jan Dhan Yojana List 2020 on our website below.
Also, we have provided the direct link below to this page. So, go ahead and then get all the details. PM Narendra Modi announced that every woman of India who has Jan Dhana account holders will get Rs. 500 for the next three months under the scheme of PMGKY. This scheme is creating lights for many Indian women to lead their life.
PM Jan Dhan Yojana List 2020 – Overview
| | |
| --- | --- |
| Scheme Name | Pradhan Mantri Jan Dhan Yojana(PMJDY) |
| Announced by | The Government of Andhra Pradesh |
| Category | Govt Schemes |
| Launched on | 28th August 2014 |
| Official Website | pmjdy.gov.in |
Benefits – PM Jan Dhan Yojana 2020
This scheme is to cover all the households of every family and every citizen should maintain the Bank account. To meet these goals the provided benefits are:
Deposit is provided on their interest.
It does not require the minimum balance.
This scheme can be accessible for pension and insurance products.
PMJDY covers the accidental insurance of Rs. 2 Lakh.
The benefit of providing Rs 30,000 as a life cover will be provided on the death of the account holder.
Once the holder successfully completed the six months of continuation then they are eligible for an overdraft facility of Rs 10,000 in the place of Rs 5000.
Rs. 10,000 is provided for only one account per household and preference given to the lady households.
PM Jan Dhan Yojana 2020 – Eligibility Criteria
Now by knowing of the benefits of the PMJDY do you want to know the eligibility of this PM Jan Dhan Yojana List 2020 Scheme. Don't worry there is no age restriction dor this scheme and everyone can apply for this. There no restrictions on age and any other factors.
You can open a new account at your nearest bank branch by taking the help of the bank employees.
If anyone of you possesses any saving bank account then you have to close it within 30 days of opening the bank deposit account.
There are valuable opportunities to the citizens of India who can be pleasured by the PMJDY scheme.
How To Check Pradhan Mantri Jan Dhan Yojana Status?
In order to know the status of the PM Jan Dhan Yojana List 2020 scroll down and take a look at the provided brief information.
Go to the official site of Bank that where you are accessing the PMJDY Account.
Then, click on internet banking.
Log in with your username & password.
Now, you can check the last transaction and the Account Balance of this Bank Account.
Documents Required
Passport size photos
Aadhar Card
Driving License
Permanent Account Number
Voter Identity Card
Job card issued by the NREGA
Factors – PM Jan Dhan Yojana List 2020
While providing the PMJDY scheme to the citizens within the reasonable distance of the banking services. These comprise of 6 factors that are:
Accessible To Banking Facilities
This factor is to cover one to two thousand households covered within a reasonable range of 5 km.
Basic Banking Facility
This is to aim that every unheld household should hold at least one bank account and save their hard-earned money in that account as saving of their hard work.
Financial Literacy Program
Making everyone to know about the benefits of holding the account and operating of the ATM card with this financial literacy.
Micro-Credit
After successful six months of accessing this PMJDY then you are eligible for the hassle-free credit facility of Rs 5000 and for that bank will not ask you for the kind of security, purpose, or use of credit.
Micro Insurance Facility
The basic saving bank deposit account holder is eligible for the two insurance schemes with this Micro Insurance Facility.
PM Jeevan Bima Yojana (PMJBY)
Life insurance cover of Rs 2 lakhs under this PMJBY and for that, they had to pay only 330/- per year.
PM Suraksha Bima Yojana (PMSBY)
This insurance scheme will give you the accidental cover of Rs 2 lakhs and for this, you have to pay only Rs 12/- per year.
RuPay Debit Card
After opening the account you will get the ATM Card which also covers the accidental insurance of Rs 2 lakh only.
Important Links – PMJDY Status
To Check PMJDY Application & Status Details: Click Here (Available Now)
If you want to get more details on the PMJDY account 2020, then you can visit our portal at Freshers Now.
PM Jan Dhan Yojana List 2020 – Frequently Asked Questions
If I do not have any KYC document, then am I eligible for the PMJDY account 2020?
Yes, in that case, small accounts can be opened with limited facilities.
What are the documents required to open the Account?
Aadhar card, Address Proof, Voter id, Ration Card, PAN Card, Driving License, Passport size Photos
Is there any age limit to open the Bank account for the PM Jan Dhan Yojana List 2020?
No, there is no age limit for this scheme of PM Jan Dhan Yojana List 2020.
Will the illiterate people get the facility of the Rupay Card of PMJDY 2020?
Yes, but the bank will provide them every detail of it so that no one misuses it.