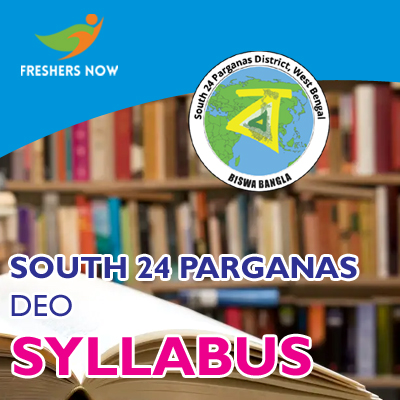 South 24 Parganas DEO Syllabus 2019: Download subject wise South 24 Parganas DEO Accountant Syllabus 2019 PDF from this page. For the sake of the appearing candidates, we have furnished out complete details of the South 24 Parganas DEO Exam Pattern 2019 in the below sections. Candidates can make use of this information and attend the written Test tentatively in the month of April 2019. The Officials of the s24pgs.gov.in are making arrangements to recruit for the post of Data Entry Operator, Accountant. So, check the details of the South 24 Parganas DEO Selection Process 2019 incorporated in the below sections. Also, get the PDF Download link of South 24 Parganas Accountant Syllabus 2019 from the bottom of the page
South 24 Parganas DEO Accountant Syllabus 2019 – Details
South 24 Parganas Deo Accountant Syllabus 2019 | Latest Exam Pattern
Organization Name
South 24 Parganas
Post Name
Data Entry Operator, Accountant Posts
Total Vacancies
36 Posts
Exam Date
April 2019
Category
Exam Syllabus
Selection Process

Written Test
Computer Test
Viva-voce Test
Document Verification

Job Location
West Bengal
Official Site
s24pgs.gov.in
South 24 Parganas Exam Pattern 2019 – DEO, Accountant Posts
The Exam Pattern for the Data Entry Operator, Accountant Posts are incorporated in this article for the sake of the appearing candidates. Since the officials of South 24 Parganas decided the South 24 Parganas DEO Exam Pattern 2019 for both vacancies separately. By checking the Exam Pattern, candidates will get a clear idea of the structure of the examination. That is the number of questions asked, time duration, subject name, and test pattern etc can be known from the Exam Pattern 2019
South 24 Parganas Accountant Exam Pattern 2019
S.No
Subject Name
Number of Questions
1
GK, Current Affairs, General Mental ability, Arithmetic, English, and Accountancy
50 Questions
2
Computer Test
40 Questions
3
Viva-voce
10 Questions
Total
100 Questions
South 24 Parganas DEO Exam Pattern 2019
S.No
Subject Name
Number of Questions
1
GK, Current Affairs, General Mental ability, Arithmetic, English, and Accountancy
40 Questions
2
Computer Test
50 Questions
3
Viva-voce
10 Questions
Total
100 Questions
South 24 Parganas DEO Selection Process 2019 – Accountant
The South 24 Parganas DEO Selection Process 2019 for the posts of Data Entry Operator, Accountant includes Written Test, Computer Test followed by Viva-voce test. So, the candidates first need to participate in the Written Test and then the selected candidates will be called to the Computer Test. The final merit list will be prepared based on the marks obtained in all 2 tests. The selection committee has the right to reject an application in case of a mismatch. Also, it has the right to conduct written exam for all post on a single date. Moreover, the shortlisted candidates in the viva-voce test have to bring their original documents and self-attested copies of the certificates to the final round that is the Verification process.
Written Test
Computer Test
Viva-voce Test
Document Verification
Download South 24 Parganas DEO Accountant Syllabus 2019 PDF
Many of you are searching where to get the correct information regarding the South 24 Parganas Accountant Syllabus 2019 and the South 24 Parganas DEO Syllabus 2019. Don't worry, we are here to provide the candidates with all subject wise South 24 Parganas DEO Accountant Syllabus PDF. Check the entire page at first to have an idea of the South 24 Parganas DEO Selection Process 2019 and the South 24 Parganas DEO Exam Pattern 2019. Down here, we furnished the topics for each and every subject included in the Test Pattern. So, kindly make a note of all those topics, moreover, you can simply download the South 24 Parganas DEO Accountant Syllabus from the link attached in the below section.
s24pgs.gov.in DEO Accountant GK Syllabus
Important Days
Indian History
Rivers
Mountains
Ports
Inland Harbours
Number of Players
Culture
Books and Authors
Awards and Honors
Capitals of India
Indian Economy
Budget and Five Year Plans
Countries and Capitals
Freedom Movement
Championships
Winners
Terms
Common Names
Full forms
Soil
Religion
Dance
Heritage and Arts
International and National Organizations
Important National Facts
Heritage and Arts
Dance
Currencies
Bird
Animal
Abbreviations
Discoveries
Diseases and Nutrition
Song
Flag
Monuments
Personalities
Indian National Movement
Sports
Current Affairs – National and International
Abbreviations
General Policy
Defense
Culture
Religion
Languages
Capitals
Wars and
Neighbors
Current Affairs
Science and Technology
Science – Inventions & Discoveries
Awards
Authors
Flower
History
Anthem
South 24 Parganas Current Affairs Topics
Books & Authors
Finance
Science & Technology
Environment
Economy
Banking
Awards
Politics
Capitals & Currencies
Education
Government Schemes
Abbreviations and Economic Terminologies
Summits & Conferences, etc
Obituary
Talkies
Sports & General
Festivity
Current Events
Current Ministers & Governors
Business
Indian Financial System
General Mental ability Syllabus Topics
Verbal Reasoning.
Logical (Non-Verbal) Reasoning
Data Interpretation
Puzzles
Guesstimates
Puzzles and Seating Arrangement
Syllogism
Data Sufficiency
Coding-decoding
Blood Relation
Order and Ranking
Alpha Numeric Symbol Series
Logical Reasoning
South 24 Parganas Arithmetic Exam Syllabi
Simple Equations
Quadratic Equations
Volumes Profit and Loss
Races and Games
Mixtures and Allegations
Boats and Streams
Permutations and Combinations
Indices and Surds
Mensuration
Percentages
Ratio and Proportion
Simple Interest
Probability
Averages
Problems on L.C.M and H.C.F
Problems on Numbers
Compound Interest
Areas
Time and Distance
Problems on Trains
Odd Man Out
Numbers and Ages
Pipes and Cisterns
Time and Work Partnership
Simplification and Approximation
South 24 Parganas DEO Accountant Syllabus – General English
Transformation
Prepositions
Sentence Arrangement
Fill in the blanks
Spotting Errors
Para Completion
Joining Sentences
Error Correction (Phrase in Bold)
Sentence Improvement
Synonyms
Antonyms
Active and Passive Voice
Substitution
Error Correction (Underlined Part)
Spelling Test
Substitution
Passage Completion
Idioms and Phrases
Sentence
Completion
Syllabus Topics – Computer Test
Knowledge of C++
Operating Systems – DOS
PHP
JavaScript
Networking with LAN/WAN
Novel
Window OS client & server & Linux OS-client & server.
Web Services
Embedded System
MS SQL Server
Oracle PL_SQL Architecture
ASP.NET
Window Services
JSON
The query will be an added plus
Grid Computing, Distributed
OS
Image processing, Digital signal processing
Image processing
VLSI
ADO.NET
Java & JavaScript
Manageable switch/router & wireless LAN with the network security
Firewall & anti virus
UML
Object-Oriented designing
Proposing and creating architecture and re-usable libraries in.NET
South 24 Parganas DEO Syllabus Topics – Accountancy
Absorption and re-construction
Accounting Standards
Consignment
Bank Reconciliation Statement
Branch Accounts
Valuation of goodwill and shares and Ratio Analysis
Basic concepts and conventions
Depreciation
Final Statements of Accounts
Life Insurance Companies Bank Accounts
Hire Purchases Installment Systems
Self Balancing Ledgers, Royalties
Accounting process up to and including preparation of financial accounts
Issues and forfeiture of Shares and Debentures
Errors and their rectification
Single entry
Bonus shares and final accounts
Company Account
Preparation of Trial Balance
Accounts of non-trading concerns
Amalgamation
Provision and Reserves and Accounting Standards in India
Bills of Exchange
Non-trading concerns
Accounts from incomplete records
Liquidation of Companies
Partnership Accounts (including admission, retirement, death, and dissolution)
Redemption of debentures
Joint ventures
To Get South 24 Parganas DEO Accountant Syllabus 2019 PDF: Click Here
★★★ Check Other Latest Exam Syllabus ★★★
Hence, download the PDF of South 24 Parganas DEO Accountant Syllabus 2019. And, moreover, come back to our website Freshers Now for more similar details and updates.