Government Job Updates in Uttarakhand
Uttarakhand Employment News 2021 in Hindi: The aspirants who are eagerly waiting for the latest job notifications in Uttarakhand can now check out this web page. The main aim of our web page is to create awareness for all the contenders who are going to participate in the Government Jobs in Uttarakhand. So, the aspirants can now visit the official site of Uttarakhand or our website for more important details regarding this employment news. Many aspirants are now searching for Samvida jobs in Uttarakhand.
rojgar.uk.gov.in Employment News
Every year Uttarakhand is releasing government job posts in both Government and Private Sectors in various fields. The various fields include Fisheries, Telecommunications, Teaching, Postal, Railways, Manufacturing, Designing, Revenue, Banking, Defence, Social welfare, NGO's, etc. Therefore, the aspirants can now check this web page for the important details regarding the Uttarakhand Employment News 2021 in Hindi.
And the contenders, who are Graduates and Postgraduates can now visit each and every notification to know the important details about the registration process and the required details about the drive. Hence, the contenders can select the job post according to their interests. Moreover, we are here to update you with the latest information about these Govt Jobs in Uttarakhand.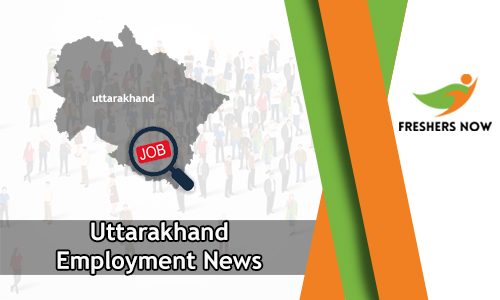 Uttarakhand Govt Employment News 2021
Therefore, we are providing Uttarakhand Employment News 2021 in Hindi. Many aspirants are unable to understand the News in English. So, keeping them in mind we have provided them with useful information and the important details in Hindi in a pdf format. Moreover, these important details include important details, eligibility criteria, registration process, requirement details, selection process, the application process, application details, etc. Furthermore, we suggest the candidates apply for any job post if only they satisfy the eligibility criteria. In case of any mismatch, the student's profile will be rejected by the higher authorities.
Uttarakhand Hindi Employment News Paper
इसके अलावा, हमने सुना है कि कई अन्य वेबसाइटें बेकार और अवैध सूचनाएं प्रदान कर रही हैं जो नकली हैं। इसलिए, हम आपको उपयोगी और गैर-नकली सूचनाएं प्रदान करने के लिए यहां हैं। हम विभिन्न स्रोतों और आधिकारिक वेबसाइटों से उत्तराखंड में नौकरी की अधिसूचनाओं के बारे में प्रत्येक विवरण इकट्ठा करते हैं और हमारी वेबसाइट पर प्रस्तुत करेंगे। और इसके अलावा, हमने जानकारी अपलोड करके और पंजीकरण लिंक भी आसान बना दिया है जिसके माध्यम से आप आसानी से उन पर क्लिक कर सकते हैं और रोजगार समाचार के लिए पंजीकरण कर सकते हैं नवीनतम सरकार नौकरी अधिसूचनाओं के साथ सूचित करने के लिए;
Uttarakhand Employment Exchange Portal
Moreover, we help you out with Uttarakhand employment exchange card registration, how to apply for unemployment allowance in Uttarakhand, employment card online registration Uttarakhand, Uttarakhand online registration status. Furthermore, the contenders can now apply to the Uttarakhand Employment Exchange Portal. In order to, gain important information regarding the government job posts. Aspirants can visit our web page before applying for any job post. Mainly, we are aiming to create awareness for all the candidates about this Uttarakhand Employment Exchange Portal. This type of action helps the contenders who are jobless and unaware of this Employment Exchange portal of Uttarakhand. Therefore, this exchange portal is now offering a number of opportunities for all the contenders.
Uttarakhand Employment Exchange Portal Registration Process | Online Mode
Visit the official web portal of Uttarakhand Employment Exchange @ rojgar.uk.gov.in
If you are new applicant click on " Register Here ".
Click on " New Registration ".
Empty particulars will be displayed on the screen.
These particulars include educational qualifications, email id, the name of the candidate, phone number.
Fill those particulars with the appropriate details.
And also, the contenders have to fill in the details regarding the job qualification, job experience.
Upload Caste certificate, income certificate, a letter from higher officials etc.
Submit the original documents of address proofs like Adhaar card/ PAN Card/ Passport/ Ration card/ Address Proof etc.
Upload your CV and photographs if required.
Click on SUBMIT.
You will receive a unique registration id and password.
Save them for further use.
Contenders can also register offline by reaching the nearest Uttarakhand Employment Exchange portal. And also, the aspirants can visit the official web portal @ rojgar.uk.gov.in in order to gain additional information.
Uttarakhand Employment News Alerts 2021
The contenders who are willing to apply for the Uttarakhand Employment Exchange Portal 2021. And also now check our web page for information regarding Uttarakhand Employment News. For more updates, and useful information regarding Uttarakhand Employment News 2021 in Hindi | Uttarakhand State Employment Exchange Portal closely follow our website Freshersnow.com
Crack TCS NQT with the best course & faculties | Learn everything for TCS NQT at your own pace with 1-1 live doubt support. Click Here